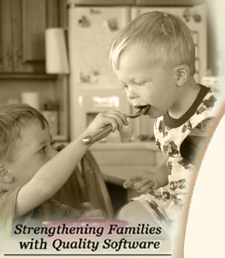 Cook'n Club Home
Subscribe Now!

Cook'n Forum
HomeCook'n Archive
Give-Aways

I have spent the last 2 hours reading your newsletter and wonderful recipes. I have already printed a whole bunch I want to try. I love them because they are using ingredients one has on hand. I love that and just wanted you to know how much we appreciate all your hard work in putting together this newsletter. Thank you very much.

Anna

Volume I - January 19, 2007
January, the "Ho-Hum" Month
A Focus On The Family
by Patty Liston

---


Poor January: cold, grey, post holiday-party, January. The only person we have ever met who likes this month is my daughter, Sarah—-who was born on the 29th. (Party!) Everyone else seems to grit their teeth as they count the days until it is over. Let's face it; if we could jump from Christmas right into Valentine's Day, we would all vote "Yes!"

Inasmuch as we don't foresee a constitutional amendment for this idea taking place any time soon, here are a few ideas to help you and your family put some fun back into this much maligned month.


Have a picnic for dinner. We've suggested this before. Spread a blanket on the floor, fry up some chicken and talk about your plans for the summer.
Have a "Backwards Dinner". Start with dessert, then entrée, then salad.
Put a host of ingredients on your kitchen counter. Have the children make up a menu based on what is there. This is not only fun, but this exercise will also foster their creativity.
Have breakfast for dinner, and dinner for breakfast!
Develop a "My Favorite Country Is…" dinner. Have your family pick their favorite country to celebrate that week. Go to the library and check out music as well as any available pictures that depict your country of choice. Make some decorations and prepare an appropriate dinner. You may even want to "google" the language and learn a few words as you sit around the dinner table. Nes pas?
Teach your family how to behave in a "fancy" restaurant by preparing a meal using your best china and crystal. Dim (or turn off) the lights, light the candles, and talk about the use of various forks, and spoons. Which is the salad plate? The bread and butter plate? Dessert plate?
Celebrate the birthday of an ancestor…even if it isn't their birthday. This is a fun way to acquaint children with their heritage. Show a picture of the person if you have one, relate a story, talk about what their life must have been like compared to yours. Were there airplanes, telephones, dishwashers? At the end of dinner, have a birthday cake and sing "Happy Birthday!"
Schedule an after dinner game night. Each member picks their favorite game to play. Everyone must agree to play for at least 30 minutes. Yes, even "Old Maid".
Instead of always asking, "What did you learn in school today?" set aside one night to ask, "What DIDN'T you learn in school today." Make sure the children know what day the "Didn't Night" will be. You'll be amazed at what they will come up with!
When all else fails, look around your dinner table and remind everyone that there are only 11 more days left in January.
---
Contribute to the Cook'n Club!
DVO would love to publish your article, prose, photography and art as well as your cooking, kitchen and nutrition tips, tricks and secrets. Visit the Newsletter Submission / Win Win for All section in our Forum for more information and details.
---
---