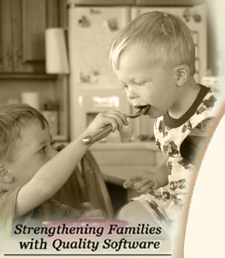 Cook'n Club Home
Subscribe Now!

Cook'n Forum
HomeCook'n Archive
Give-Aways

I have spent the last 2 hours reading your newsletter and wonderful recipes. I have already printed a whole bunch I want to try. I love them because they are using ingredients one has on hand. I love that and just wanted you to know how much we appreciate all your hard work in putting together this newsletter. Thank you very much.

Anna

Volume I - January 19, 2007
I read. I care.



Dan,

You made me laugh out loud as I was reading your help topics (specifically how to edit units) and came across this:

"Programmer's Note

This stuff was not real simple to program. I am kind of curious to know if anyone cares about how this all works. I am also curious to know if anyone reads this text. If you do read it and care...or at least, if you read it (and you get a chance) maybe send me an e-mail..."

Well, rest assured that I care about how it works. And I realize that it is difficult to program. I try to help people make their blogs more personal which involves editing templates. It can make me crazy on a good day. So, I do have some understanding about the work that is involved in making your program.

I'm just starting with Cook'n this evening...adding recipes and cookbooks. It is an awesome program. I chose your program over all the others for a couple of reasons. I wanted 3 things from my program:

to be able to enter my own recipes
to be able to create weekly menus from those recipes
to somehow have the program magically know if I make spaghetti one night and meatloaf another that the shopping list should indicate that I need to buy 2 lbs of hamburger (vs some programs that simply said 'hamburger')

Your program does it all. An added bonus (which I have yet to play with) is the 'Send to Palm' feature!! So, I'm reading your help files and learning. Keep up the good work and know it is appreciated.

peace...
annie








---
Contribute to the Cook'n Club!
DVO would love to publish your article, prose, photography and art as well as your cooking, kitchen and nutrition tips, tricks and secrets. Visit the Newsletter Submission / Win Win for All section in our Forum for more information and details.
---
---