You can have your Smoothie and EAT it too!
I'm willing to bet that most of you have drunk a smoothie out of a cup, but have you ever eaten a smoothie out of a bowl?! Smoothie bowls are a newer breakfast trend that many people are finding extra delicious.
To create a smoothie bowl, you will still need a blender. You blend together several ingredients to create a thick smoothie. You pour the smoothie in a bowl and then top it with a variety of toppings. Topping may include things like fresh fruit, veggies, nuts, seeds, shredded coconut or granola. You eat the smoothie bowl with a spoon just like you would a bowl of yogurt or cottage cheese.
Just like regular smoothies, smoothie bowls come in a large assortment of flavors. Pretty much any regular smoothie can be turned into a smoothie bowl. After a quick Internet search, I found hundreds of recipes. There were recipes for a green smoothie bowl, an acai berry smoothie bowl, a chocolate hazelnut smoothie bowl, an avocado cream smoothie bowl, a carrot cake smoothie bowl and so much more!
So next time you fire up the Blendtec, try eating your smoothie out of a bowl. Toppings can only make it better, right? Enjoy!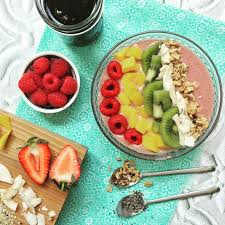 Sources:
http://greatist.com/eat/smoothie-bowl-recipes
http://minimalistbaker.com/super-green-smoothie-bowl/
http://www.buzzfeed.com/lindsayhunt/smoothie-bowls#.lm0PEmaR8

Cristina Duke
Monthly Newsletter Contributor since 2014
Email the author! cristina@dvo.com