Cookbook Reviews for May
Next week two great and very different cookbooks are scheduled to be released. If you're looking to purchase one of our new cookbooks this month, or are just interested in what they're about, let me give you some information on them.
Raw Food Made Easy for 1 or 2 People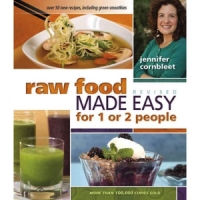 This cookbook follows a new food trend that we are seeing more and more, and for good reason. The whole goal of eating Raw Foods is to not leach or cook out the great vitamins, minerals and phytonutrients that are contained within the foods.
This cookbook is very informative about the Raw Foods method, and even instructs you in how to heat foods to lose minimal amounts of the good stuff.
Raw Foods contains recipes for Green Smoothies, fruit smoothies, entrees, side dishes, appetizers and even desserts. There are some great options for those with sugar sensitivities as well.
I am really impressed by the authors inclusion of a "what you need" section for each recipe, which lists all the tools you might need to prepare the recipe. This could include strainers, juicers, mandolin, or other tools, and helps a lot when you are deciding if it's something you could pull off without buying new kitchen tools. Jennifer Cornbleet, the author, has also given very clear directions for any new techniques that might be different than ones we typically use.
Recipes are cut down to serve one or two people easily and many recipes also include hints to help us know how long a prepared recipe will last on a shelf or in the refrigerator.
This cookbook will have your body eating in a healthy but satisfied way!
---
Gooseberry Patch: 101 Cupcake, Cookie & Brownie Recipes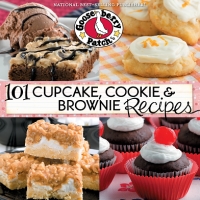 This book contains 101 mouthwatering desserts for you, or your friends and family, to indulge in. It is separated into four sections covering Tasty Little Cakes, Cookie Jar, Best-Loved Brownies & Bars and Sweet Celebrations. The cupcakes contained in Tasty Little Cakes sound completely delicious, with options such as Pineapple Upside-Down Cupcakes or Orange Puff Cupcakes, not to mention all of the more traditional options as well. In the cookie jar chapter you could fill up your own cookie jar with the many amazing cookie options available
If you prefer a bar or brownie, well Gooseberry Patch covers that too! The last chapter gives some adorable recipes and designs for Celebration time, including Birthday Cake Cookies, Flowerpot Cupcakes, "Oh, Christmas Tree" Cookies and even a Frosty The Cupcake. Whichever you choose, the beautiful photos of every recipe will help you decide, or maybe make it harder!
---

Sharon Ng
Monthly Newsletter Contributer since 2012