Wholly Delicious Whole Grain Whole Wheat Bread
If you're like me, you sometimes stroll down the bread isle at the grocery store and feel completely overwhelmed. There the hundred loaves of bread sit staring you in the face. Which one to choose? There is the obvious no-go: the cheap white bread made with nearly 50 unpronounceable, non-nutritional ingredients. Next there is the white bread claiming to be 100% wheat which always puzzles me. Then of course there are the ten different varieties of "whole wheat" bread. To top it all off, we see the "whole grain whole wheat" bread label. What's the difference and does it really matter? Well, it turns out there really is a difference and that difference could be affecting your health.
Whole grain whole wheat bread flour is made without the use of the refinery process. Grains that have undergone the refinery process are stripped of important nutritional value and content. Whole grain implies just that-the utilization of the entire grain. A whole grain of wheat contains three parts: the germ, the bran, and the endosperm. Therefore, whole grain wheat flour contains all three of these important parts of the grain as opposed to processed flours which only contain the endosperm. By taking out the germ and the bran we lose vital minerals, vitamins, and fiber. Whole grains are also a natural source of calcium and iron. Starting to see the difference?
If we take this a step further, we also learn that whole grains retain the highest nutritional content if used just after being ground. The longer whole grain flour sits, the more vitamins and minerals are lost. Since there is no way of measuring how long the whole grain whole wheat flour has been sitting before it was placed into that bag of bread we see on the shelf at the store, it seems the only way of monitoring this process is to make our own whole grain whole wheat bread.
Making homemade whole grain whole wheat bread is really not as intimidating as it sounds. The only true investment in this endeavor is the need for a wheat grinder. There are many different types and models of wheat grinders to choose from. If using a hand-crank wheat grinder this may be more of a time-investment than if you used a more updated model. As for me, I absolutely love throwing wheat into my Blendtec blender and having whole grain wheat flour 40 seconds later. Ah the marvels of modern technology! However, any wheat grinder will do just fine.
This is your lucky day because I have the perfect whole grain whole wheat bread recipe for you. I feel as if I'm giving away one of my most treasured possessions by sharing this family-loved recipe. Not only is this bread recipe way more nutritious than anything you can find on the shelves of your grocery store, it is also 100 times more delicious. It's soft, hearty, surprisingly light for whole grain wheat bread, and the taste is amazing. You will love this recipe!
Wholly Delicious Whole Grain Whole Wheat Bread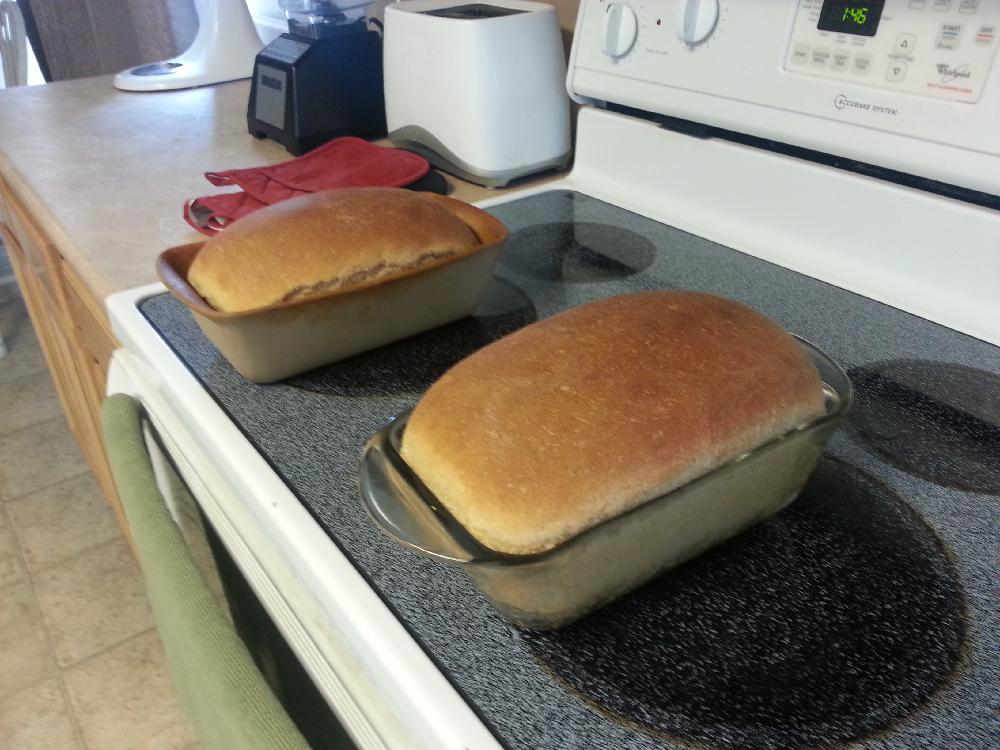 Ingredients:
2 3/4 cups

hot

water
1/3 cup
olive oil
1/4 cup

agave

nectar (honey works fine as well)
2 tablespoons
molasses
1 tablespoon
salt
2 tablespoons

dry active

yeast
5 1/2 - 7 1/2 cups

100%

whole wheat flour
6 tablespoons

vital

wheat gluten
Directions:
1. Place the first five ingredients in a bowl and stir together
2. Add yeast, stir around, and let sit for a few minutes to "proof"
3. Combine five cups flour with the vital wheat gluten and whisk together
4. Slowly stir in flour/wheat gluten mixture to the bowl 1/2 cup at a time
5. Knead in remaining whole wheat flour just until the dough is tacky to the touch, but not sticky. This will keep the bread light and fluffy. It will likely not exceed 6 1/2 cups of flour, but if it still feels too sticky, knead in more flour. Never add more than the 7 1/2 cups of flour. Be careful not to over mix the dough as this will make the bread too tough.
6. Place the dough in a bowl sprayed with non-stick cooking spray and cover with a towel. Let the dough sit for 30-40 minutes in a warm place.
7. Grease two bread pans generously with shortening
8. Once dough has nearly doubled in size, punch the dough down and place it onto a lightly floured surface
9. Divide dough in half and form into two balls
10. Roll out balls one at a time on a lightly floured surface into a long rectangular shape. Roll the rectangles of dough lengthwise until you form a loaf. Pinch the ends to help them stick together. Place the loaves seam-side down into the greased bread pans.
11. Cover loaves of dough with a towel and let rise in a warm place for about 35 minutes or until doubled in size
12. Preheat oven to 350 degrees F
13. Bake both loaves of bread at the same time for 31-35 minutes or until bread sounds hollow when tapped on the top
14. Brush the tops of the loaves with butter immediately after being taken out of the oven and let cool on a cooling rack
15. Can eat immediately or wait until completely cooled down before storing in bread bags
Enjoy!
Adapted from: http://www.food.com/recipe/100-whole-grain-wheat-bread-181106

Recipe formatted with the Cook'n Recipe Software from DVO Enterprises.
---
---
An unbeatable value with exclusive benefits for members only.
Get a newsletter like this each week when you join the Cook'n Club.