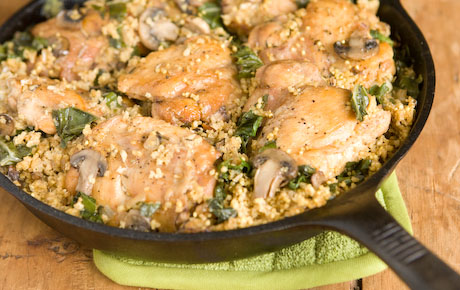 Many of your family's favorite meals can be prepared with the ease of using one pan. Using just a skillet will no doubt will make for a trouble-free cleanup. Another constructive reason for making one-skillet dinners is the simplicity of being able to serve the meal directly from the pan to the plate.
Although serving from the skillet creates a casual setting, it also gives the warm feeling of a casual family dinner. Skillet meals are very much like making a casserole only without having to use as many pans and bowls. Cooking in one pan unquestionably makes for shorter preparation time. If you aren't already doing some skillet dinners I highly endorse them.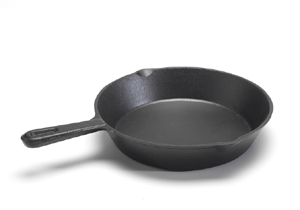 1.
First, you need to have a large skillet. I prefer a stainless steel or cast iron pan over aluminum or Teflon coated. A stainless steel or cast iron pan will not only conduct the heat better but also has the advantage of outlasting the other skillets but, of course, this is a personal choice.
2.
Once you have established a few recipes your family will thoroughly enjoy, skillet dinners will become a no-brainer to serve for many of your family meals.
Tex Mex One-Skillet Dinner
1 pound lean ground beef
½ cup of chopped onion
16 ounces pinto beans
1 cup water
½ cup white rice
1 teaspoon chili powder
½ Teaspoon cumin powder
2 – 10 ounce cans of diced tomatoes with green chilies
¾ cup of shredded cheddar cheese
1 cup frozen corn
In a skillet, cook the ground beef and onion. Drain off any oils.
Stir in undrained tomatoes with chilies, pinto beans, water, rice, chili powder, cumin and corn and bring to a boil, reduce heat and simmer about 20 – 25 minutes until the rice is cooked. Sprinkle with cheese and serve.
Beef and Zucchini One-Skillet Dinner
1 pound ground beef
½ cup of chopped onion
2 cloves of garlic (minced)
1 (8 ounce) can of diced tomatoes
1 Teaspoon Worcestershire sauce
½ Teaspoon oregano
1/8 Teaspoon nutmeg
6 cups of small cut-up zucchini
½ cup of grated Parmesan cheese
¼ cup bulgur (cracked, dehydrated wheat; can be bought at most grocery stores)
In a large skillet, cook the ground beef, onion, and garlic until meat is cooked. Drain off oils.
Stir in un-drained tomatoes, Worcestershire sauce, Oregano and Nutmeg into your skillet and bring to a boil. Reduce heat and simmer uncovered for 5 minutes. Stir in zucchini, bulgur and ¼ cup cheese. Sprinkle the remaining ¼ cup of cheese on top.
Ramen Noodle Chicken Lo Mein
2 packages ramen noodle soup mix
3 cups boiling water
2 cups chicken broth
2 Tablespoons corn starch
1 red pepper (sliced)
1 green pepper (sliced)
3 cloves of minced garlic
2 cup mushrooms
1 ½ cups snow peas
2 skinless chicken breast (sliced)
2 Tablespoons olive oil
2 Tablespoons soy sauce
Break the noodles in a large bowl and sprinkle with 1 seasoning packet and cover with the 3 cups of boiling water, set aside.
In a bowl, combine chicken broth and corn starch.
In a large skillet, heat oil and stir fry all vegetables until tender. Remove from skillet and set aside.
Add remaining 1 Tablespoon oil into the skillet and cook the thinly sliced strips of chicken. Cook for 3-5 minutes
Stir in the chicken broth and corn starch mixture into the skillet; bring to a boil and add vegetables. Drain noodles from bowl and add to skillet along with soy sauce. Continue cooking until the mixture is heat through and sauce is thick.
Serve these recipes with a dinner salad and rolls to complete your meal!
---
* DVO welcomes your kitchen hints and cooking or nutrition questions! Email us and we'll post your hints and Q/A's in upcoming newsletters! *