Breakfast For Dinner
By Camille Rhoades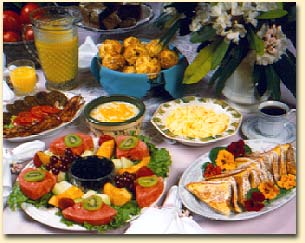 Two years ago, as my son's birthday approached, I told him that all of his grandparents were coming over for a special birthday dinner and he could choose anything he wanted for the night's special menu. It didn't take him long at all to come back with a very enthusiastic answer.

"Daddy's French Toast," is what he wanted! He then went on to plan quite the spread, including Daddy's special French Toast, fresh fruit with a yummy dip, bacon, eggs, and several juices. I ran a couple, more traditional dinner suggestions past him, but it was clear – this is what he wanted and he had planned his menu.

The birthday came along and all of his grandparents arrived and dinner was served. Everyone absolutely loved it. Since then this meal has become a classic favorite around our home and with our extended family. I am not sure that my husband appreciates that he will always be the official French Toast chef, but I sure do enjoy it!

Maybe your favorite isn't French Toast, but playing mealtime mix-up is a fun way to add variety to dinnertime and give you more opportunities to eat those favorite breakfast foods. With school, work, and a house full of people with different directions to go we don't always have time in the morning to really indulge in our favorites so adding them to the dinner meal plan helps us to enjoy them more often – without Mom waking up at 5:00 a.m. to get cooking. And boy am I thankful for that!

Foods that we traditionally consider to be breakfast foods generally contain a lot of protein, vitamins, and nice hearty ingredients so they make great options for any time of day. Other "breakfast for dinner" favorites in our home include Breakfast Burritos, Homemade Waffles, Pancakes, Smoothies, Hash Browns, and fruit, fruit and more fruit. What are your favorites?

Today our family enjoyed breakfast for dinner and much to my husband's dismay I want to share the recipes we used for this family pleasing favorite! Team them up with some bacon or sausage and some simple scrambled eggs and this will make a wonderful, fun, balanced meal.

Daddy's French Toast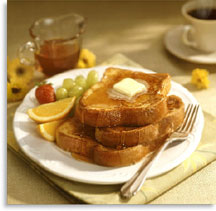 2 eggs
½ c. milk
1/8 tsp salt
1 tsp vanilla
3 T. flour
6 slices of thick sliced French bread
Cinnamon for sprinkling

First beat eggs, then add remaining ingredients with electric mixer. Dip both sides of bread and place in hot buttered pan. Sprinkle lightly with cinnamon. Flip over when browned. Serves 6.



Homemade Cinnamon Syrup

1/2 cup white sugar
1/2 cup packed brown sugar
2 tablespoons all-purpose flour
1/2 teaspoon ground cinnamon
1 teaspoon vanilla extract
1 cup water

Stir together the white sugar, brown sugar, flour, and cinnamon in a small saucepan. Stir in vanilla extract and water. Bring to a rolling boil, stirring often. Continue to boil and stir until mixture thickens to syrup consistency. Remove from heat; cool 10 minutes before serving. Yields 1 cup.

Fresh Fruit with Yogurt Dip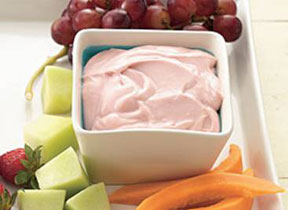 Apples, sliced
Bananas, sliced
Pineapple, cut in chunks
Oranges, peeled and segmented
Strawberries
Any other fruit you want

Yogurt (your favorite fruit flavor)
Cool Whip

To make the dip simply mix equal parts Cool Whip and yogurt. Then dip sliced fruit in this deliciously easy dip!





---
Join the Cook'n Club!An unbeatable value with exclusive benefits for members only.
Enjoy articles like this and many other benefits when you join the Cook'n Club.