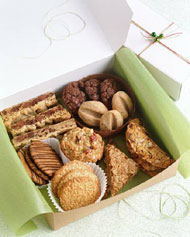 A party with great food is really fantastic, but a party with good food and all about good food is even better! That is why I love this fun idea. Cookie Exchange! A fun gathering of friends, where you get to share a delicious meal, chat, have some fun, and then swap your favorite cookies and recipes. Quite frankly that sounds like Heaven to me!
Last year I was invited to just such a party and, as you can imagine, it was a blast. There were about twelve women and we each brought four dozen cookies to the party and left with four dozen cookies, but with a lot more variety! We met at a friend's home, ate some lunch prepared by the fabulous host (who also happens to be a fabulous cook!), and then played some games, and swapped our cookies. We each took our containers and walked around the table taking four cookies from each recipe.
These tips and ideas will help you plan and carry out a fabulous Cookie Exchange that will have your friends talking until, well…the next great party you throw!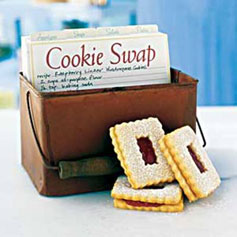 1.
Ask each guest to bring either a dozen or half dozen cookies for each attendee, plus a dozen for the party.
2.
Supply plastic storage bags or paper plates and foil just in case guests forget to bring a container for transporting their cookies home. Remind guests to store each cookie variety in separate containers until serving. Mixed cookie varieties lose their flavor and texture.
3.
Remind participants to bring copies of their recipe to share with others. That will avoid the necessity of mailing out copies at a later date after everyone inevitably requests them at the party!
4.
Prepare a large table for everyone to set out their cookies. Decorate the table for whatever holiday or season is approaching. Place one large basket, tray or plate on the table for each guest to place their contributions.
5.
Place an extra platter on the table for the cookies that will be enjoyed during the party.
6.
Play music, decorate with fun décor, and have activities to keep people entertained before or after the actual exchange.
7.
A cookie exchange can be held any time of the year though they are most common during the holidays. You can plan one any time and have some really fun themes. Christmas swaps are fun, but that time of year is so busy so why not spread the fun?
8.
Plan to serve refreshments that can be prepared in advance and merely reheated at the party. You shouldn't be cooking during this party. It's more important to enjoy your guests and have some fun yourself. The party I went to have wonderful slow cooker soups for our lunch. It was fabulous!
9.
Door prizes are really a fun way to get things going and get people excited and involved. They can be anything and can be very inexpensive, but big hits at our party were just small little tools for the kitchen to make our future cookie baking more simple and more fun!
10.
A great way to share the cookie love is to ask guests to bring a package of sealed, store bought cookies or canned foods. Gather them at the swap and donate them to the local Food Bank so those in need can benefit from your cookie swap fun!
Most importantly –
HAVE FUN!
Enjoy your friends, laughing, chatting, sharing, and certainly enjoy eating those wonderful cookies!
---
Join the Cook'n Club!An unbeatable value with exclusive benefits for members only.
Enjoy articles like this and many other benefits when you join the Cook'n Club.