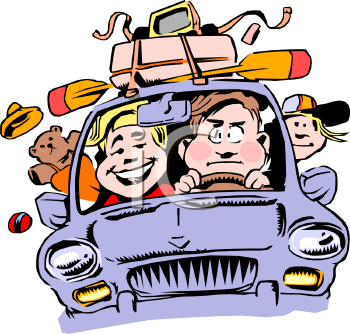 Summer is fast approaching and for most of us its time to do some traveling. Whether the getaway is for the day or you are venturing out on a genuine vacation, there is every probability that you'll be stopping at a gas station or convenience store for a break.
Most likely, you'll pick up some snacks if you haven't thought ahead and packed some snacks that won't make you feel like Jabba the Hutt by the end of the day. You might actually like stopping at the gas station for snacks as you travel, but for me the first stop is fun and then I wish I would have brought what I refer to as "real food."
I remember traveling on occasion with my mother-in-law. I always looked forward to her assortment of foods prepared and packed to make the road trip even more enjoyable. She seemed to think of everything, right down to the wet wipes and paper towels. I used to marvel at how well prepared she was.
If you traveled to mom's home for a visit, you could plan upon your leaving, foods prepared for your journey, along with a large jug of cold water. Mom would always say "If you get stuck or your car breaks down or you end up in a location that has no place to stop for food and water, it's a smart idea to have some supplies in your car."
I learned the art of packing for a road trip from the "Best of the Best." Mom always had something homemade, satisfying and interesting to keep us content while we traveled to our destination and we could plan on arriving home without having had to take any antacids.
I have been putting my mind to work and thinking of snacks that are easy to prepare, easy to pack, not real messy and will satisfy everyone's need to snack without making them feel sugar loaded for the rest of the day, but let's face it what's a road trip without snacks?
Snack Size Sandwiches
Little bite-size sandwiches are always a hit. Cut them in quarters or get fancy with some cookie cutters.
Good ole' Peanut Butter & Jelly
or honey is always a hit. When you make peanut butter, jam or honey sandwiches, its best if you mix the peanut butter and jam in a bowl before you spread it on the bread. This keeps the jam from soaking through the bread.
Whipped Cream Cheese and Thinly Sliced Cucumber
. Whipped cream cheese and cucumber sandwiches are best done if you spread the whipped cream cheese on both sides of the bread and then layer thin slices of cucumber in the middle.
Deviled Ham
is another delicious and easy way to eat a sandwich in the car. Deviled Ham is found in the can meat section of the grocery store. It's delicious with a little pickle and/or olives.
Salami and Cheese
work well on a bun. If mustard is desired, add a small amount in between the meat and cheese. This is a sandwich that holds up well and doesn't spoil quickly.
Homemade Trail Mix
The great thing about trail mix is that you don't need a recipe. You add whatever ingredients you want. It satisfies the desire for munching and what's a road trip without a few munchies.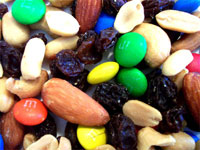 1 cup dried cherries
1 cup dried blueberries
1 cup craisins
1 cup dried apple pieces
1 cup peanuts
1 cup almonds
1 cup cashews
1 cup mini marshmallows
1 cup chocolate chips
1 cup peanut butter M&M's
Mix together and store in an airtight container or individual plastic bags.
Granola Bars
To make granola bars, you can use any granola recipe. You can also add extra nuts and dried fruits. Measure out 5 to 5 ½ cups of the granola mixture into a large bowl.
For a Binder:
In a sauce pan, measure ½ cup Canola oil, 2/3 cup brown sugar and ½ cup of honey. Bring to a boil, stirring constantly for 2 minutes. Drizzle slowly over granola mixture while folding in cereal with a lightly buttered spoon. Spread out on a lightly sprayed 9 x 23 inch pan. Allow to bars to cool before cutting. Store in an airtight container or wrap separately.
Homemade Granola Bars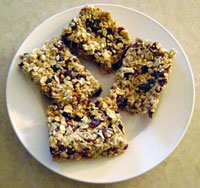 2 ½ cups rolled oats
4 Tablespoons butter
1 cup shredded coconut
¼ cup dark brown sugar
½ cup raw sunflower seeds
2 Tablespoons molasses
¼ cup sesame seeds
1 cup chopped nuts
½ cup wheat germ
2 Teaspoons vanilla
½ cup of honey
Bake oats, coconut, sunflower seed, sesame seeds, wheat germ and nuts on a baking sheet for 20 minutes in a 300 degree oven. In a sauce pan, heat butter, brown sugar, molasses and honey, and simmer while your dry ingredients are baking. Remove sauce pan from heat, mix in vanilla and pour over oat mixture, stirring until coated. Press firmly into the bottom of a greased 8 x 8 inch pan. Bake in a 300 degree oven and for 20 minutes. Cool, cut and remove from pan when completely cool.
Fruits
Dried fruits are healthy and easy to eat in the car. Dried apricots and peaches are a special little treat if you add a dollop of melted chocolate in the center. Sliced apples with a little lemon juice sprinkled on them to keep them from turning brown are always a hit. You could bring a fruit dip, if it isn't runny or sticky. While traveling, grapes are my fruit of choice. After washing them, cut them into small clusters and put them in small plastic bags.
Fruit Dip
This recipe is easy to make but more importantly easy to use without making a mess.
1 jar marshmallow cream
1 – 8 ounce package of cream cheese that has set a room temperature to soften
Mix together and store in a airtight container.
Sour Cream Lime Dip
1-8 ounce container of sour cream
Zest and juice from 2 limes
1 cup powdered sugar
Mix together and refrigerate.
Chips and Crackers
Pita chips are not as high in fat as most crackers and are delicious with a little hummus. Cucumber slices or celery sticks are also tasty with hummus. Hummus is high in protein and comes in different flavors such as roasted red pepper, garlic and pine nut.
Hummus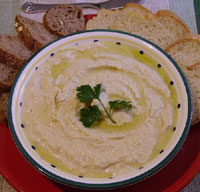 1 – 16 ounce can of garbanzo beans
¼ cup liquid from the beans
4 Tablespoon lemon juice
2 Tablespoons tahini
2 cloves of crushed garlic
¾ Teaspoons salt
2 ½ Tablespoons olive oil
Optional: 1/8 cup bottled roasted red peppers
Add all the above ingredients to a blender and blend for 3 minutes on low until well blended. If the hummus seems dry after setting add a little more olive oil.
Seasoning for Party Cracker Mix
¾ cup canola oil
2 Teaspoons garlic salt
1 package Ranch dressing mix
1 bag small pretzel sticks
½ box wheat thins
½ box of wheat thins
1 Teaspoon seasoning salt (such as Lowry's)
1 box cheese crackers (or gold fish)
Lay crackers on a flat surface. Combine Canola oil, salts and Ranch dressing. Mix well with hands and let set for several hours or overnight. Store the mixture in airtight containers.
Wishing you all entertaining road trips with lots of good eats!
---
If you have any additional tips that you'd like to add, please post them on the
Cook'n Club Forum
(if you're a
Cook'n Club Member
)...or e-mail them to
Dan@dvo.com
.
---
Join the Cook'n Club!An unbeatable value with exclusive benefits for members only.
Enjoy articles like this and many other benefits when you join the Cook'n Club.