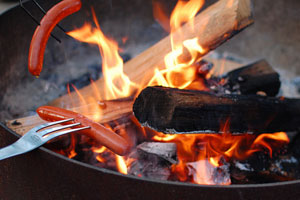 Cooking over the fire is a camping tradition for our family. Even on campouts when we have forgotten our roasting sticks and had to whittle our own from branches, we have never skipped a hot dog roast!
Keep the tradition energized with 5 fun ways to roast weenies that are sure to have your family yelling hot dog!
Spider on a Stick
1 package of hot dogs (8-10)
Roasting forks/sticks
Ketchup
Cut the ends of each hot dog into quarters leaving about 2 inches in the middle uncut. Leave enough uncut to stick the fork in. Roast the dogs over the fire or hot coals in a grill for 5-10 minutes until heated through.
The "legs" will curl out as the hot dogs cook. You can also cook them in the kitchen at home over a hot stove burner or in a pot of boiling water. Serve warm with ketchup for dipping. Serves 8-10
Tortilla Dogs
Hot dogs
Flour tortillas
Salsa, cheese, chili, sour cream or any other desired condiments
Roast hotdogs over the campfire or heat on stove. Heat tortillas. Roll hotdog in tortilla along with any desired condiments. Serve warm.
Tip: I like to wrap up my roasted hot dog in the tortilla with a little cheese and then stick it back on the roasting stick for a few more minutes over the fire to make it nice and crispy!
Beanie Weenie Casserole
1 large can baked beans
1 package hot dogs (8-10)
1 tablespoon mustard
2 tablespoons ketchup
2 tablespoons brown sugar
2 tablespoons barbeque sauce
½ small onion, chopped
Brown hot dogs over the campfire or in an iron skillet. Pour beans into skillet or cook in Dutch oven. Slice hotdogs and add to beans. Add onions, mustard, ketchup, brown sugar, and barbeque sauce to beans. Cook 25-30 minutes until heated. Tastes great with potato chips!
Cheesy Bacon Dogs
8 Hot dogs
8 Slices uncooked bacon
8 Slices American Cheese
Toothpicks
Cut hot dogs lengthwise but not completely through. Place a slice of cheese in the hot dog where you have cut them; then close hot dog and wrap a piece of bacon strip around each one and put a toothpick in each end to hold dog together. Secure hot dog on a roasting stick and cook over hot coals 8-10 minutes or until bacon is crispy and cheese is melted.
Pigs in a Blanket
8 hot dogs
8 slices of cheese
1 can crescent roll dough
Fold each piece of foil in half to form an 8x12 inch piece for each hot dog. Flatten crescent roll dough and stretch it around hot dog and cheese. Covering all but the ends of the hot dog. Seal hot dogs in foil, allowing room for crescent rolls to expand. Place each foil package on hot coals. Turn every 3 to 4 minutes. Check one package in 10 minutes. Serve with ketchup, mustard and relish.
Happy Camping!
---
* DVO welcomes your kitchen hints and cooking or nutrition questions! Email us and we'll post your hints and Q/A's in upcoming newsletters! *