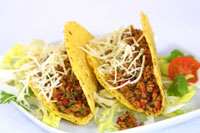 My family is just plain hard to please sometimes and I am constantly battling to find new things to make everyone happy, let alone become a new "family favorite"!
Between a fairly picky husband, a down-right difficult school-aged son, one who will eat almost anything, and a baby that still isn't sure what to eat from day to day, I really have my work cut out for me. But despite all the differences, one thing we have found to be a classic favorite around our home is tacos.
Tacos are great because they require a few core ingredients, but then offer a ton of variation so everyone gets just what they like. I also love taco night because so much of it can be prepared ahead of time.
I brown huge batches of ground beef and season half with taco seasoning and leave half unseasoned. Separate it into smaller bags (for my family roughly one pound works well) and pop it in the freezer. Whether you have a time crunch one night or just want a family pleasing meal fast, your meat is ready to be warmed and eaten!
As much as we like tacos around here, we certainly can get our fill if we eat them too often so we have a few variations that help keep a little spice in our life (sometimes literally!).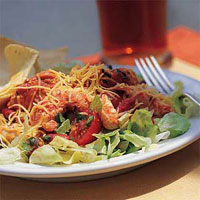 First, there is the
Classic Taco
night spread. We like to use hard shells and have some freshly cooked tortillas so we can all choose between hard and soft shelled tacos.
Sometimes the kids will get really creative and mix the two by filling the hard shell and then attaching a tortilla to the outside after they smear beans on it. They think it is funny and I am just thrilled that they are actually eating beans without a fight!
Next, we have
Taco Salad
. This form is a little less enticing to the kids so it requires a little more coaxing, but generally they find that they can create a nice, customized plate to meet their tastes just like they do with classic tacos. There are so many ways to stack this salad up that it really will please just about anyone! Try different meat options, chips, beans, salsas, etc to find what you really like. The possibilities are endless. Here are a couple of recipes to try:
Taco Salad
Serves 8
1 pound lean ground beef
1 (1.25 ounce) package taco seasoning mix
1 (16 ounce) can chili beans
1 (16 ounce) bottle French dressing
1 head iceberg lettuce
1 (14.5 ounce) package tortilla chips
2 cups shredded Cheddar cheese
1 cup chopped tomatoes
4 tablespoons sour cream
1/2 cup prepared salsa
In a large skillet over medium-high heat, brown the ground beef and drain excess fat. Stir in the taco seasoning, chili beans and French-style dressing. Fill the dressing bottle 2/3 full of water and add to the skillet. Bring to a boil, reduce heat and simmer for 15 minutes. Crush the bag of chips, open the bag, and toss the broken chips into a large bowl with the lettuce, cheese and tomatoes. When the meat mixture is done, combine it with the lettuce, tomatoes, chips and mix well. Then, add salsa and sour cream.
Taco Salad 2
Serves 6-8
2 ripe tomatoes, diced
1/2 pound sharp Cheddar, diced
1 large onion, diced
1 head iceberg lettuce, washed, drained and shredded
1 pound lean ground beef, browned, crumbled and drained
1 cup salad dressing (recommended: Catalina)
1 (7-ounce) bag taco flavored chips, crushed
1 cup salsa
Tortilla chips, to serve
Combine the tomatoes, cheese, onion, lettuce, and ground beef in a large bowl. Add the salad dressing and mix well. Just before serving, add the taco chips, tossing to combine with other ingredients. Top each serving with salsa. Serve with tortilla chips.
Then, our all-time favorite, Mexicali! This is pretty much a variation on Taco Salad, but rice and Fritos make it all its own and keep my kids begging for this dinner.
Mexicali
Serves 4
1 pound ground beef
1 package taco seasoning
4 servings rice (Minute Rice works great here)
2 cups shredded cheese
1 head lettuce, shredded
1 bag Fritos
1 tomato, diced
Salsa
Sour Cream
Any other toppings you would like!
Layer on your plate. Start with rice and meat and keep piling whatever else you want on top. Top it off with the Fritos and enjoy!
Whichever taco twist you opt to eat at your house, you can always try adding variety with new toppings and additions. That is what is great about eating tacos, everybody gets to fill their plate with their favorites from the spread! Here are some new ideas, old standbys, and tasty toss-ups for your next Taco Night.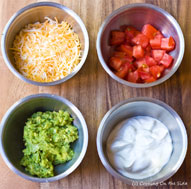 Ground Beef

Chicken

Carne Asada

Steak

Cheese

Refried Beans

Pinto Beans

Black Beans

Garbanzo Beans

Tomatoes

Lettuce

Onion

Peppers

Olives

Spinach

Avocado

Carrots

Corn

Rice

Salsa

Cream Cheese

Guacamole

Hot Sauce

Chips

Tortillas


Sky is the limit!





---
If you have any additional tips that you'd like to add, please post them on the
Cook'n Club Forum
(if you're a
Cook'n Club Member
)...or e-mail them to
Dan@dvo.com
.
---
Join the Cook'n Club!An unbeatable value with exclusive benefits for members only.
Enjoy articles like this and many other benefits when you join the Cook'n Club.
---