Cook'n is the best selling recipe organizer
Cook'n & Grill'n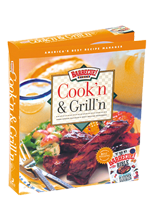 for Windows 95/98/2000/ME/XP/NT/Vista/7
---
Recipes from the Cook'n & Grill'n


---
Introduction: Three Years on the Barbecue Trail
1. Why I Wrote This Book
2. How I Wrote This Book
3. About the Recipes
4. Beating a Path to the World's Best Barbecue


A Crash Course on Grilling and Barbecuing
1. The Process
2. Gearin Up
3. Fuel for the Fire
4. How to Light Up and Cook on th Charcoal Grill
5. How to Light up and Cook on a Gas Grill
6. Putting it all Together
7. Special Setups
8. Is it Done Yet?


Thirst Quenchers
Afghan Yogurt Drink / Doh
Ginger Pineapple Punch / Gingere Ananas
Indian Yogurt Cooler / Lassi
Mango Nectar
Mint Tea
Minted Limeade
Peanut Punch
Persian Yogurt Drink / Dugh
Rosewater Cooler / Bandung
Vietnamese Iced Coffee


Warm-Ups
Australian Beer-Barbecued Wings I
Bacon Grilled Prunes
Dutch West Indian Chicken Kebabs / Boka Dushi
Eat It and Beat It Wings
Fire-Charred Tomato Soup
Flame-Roasted Tomatoes
Goat Cheese Grilled in Grape Leaves
Grileld Gazpacho
Grilled Chicken Wings With Hong Kong Spices / Shek O Wings
Grilled Corn Chowder
Grilled Eggplant Dip / Choka Dip
Grilled Eggs With Vietnamese Seasonings
Grilled Provolone / Provolone Asado
Grilled Quesadillas
Grilled Shrimp Dim Sum
Grilled Snails / Escargots Grilles
Hong Kong Honey-Glazed Wings
Indonesian Beef and Coconut Sates / Sate' Lalat
Middle Eastern Eggplant Puree With Tahini / Baba Ganooj
Pancetta Grilled Figs
Pastrami Grilled in Grape Leaves
Persian Eggplant Dip With Walnuts
Quail Egg Sates / Sate' Telor
Shrimp Mousse on Sugarcane
Siagon Garlic-Lemongrass Wings
Silver Paper Chicken
Spicy Chile Wings
Star Anise Wings
Vietnamese Beef Jerky / Thit Bo Kho
Vietnamese Grilled Beef and Basil Rolls
Yogurt-Cucumber Salad With Mint / Cacik


Blazing Salads
A Different Greek Salad / Marlo Salata
Balinese Cucumber Salad
Grilled Chicken Salad With Indian Spices / Murgh Chaat
Grilled Eggplant, Tomato, and Pepper Salad / Fasouli
Grilled Pork With a Sweet-Tart Dressing / Pork Laab
Grilled Salade Nicoise
Grilled Vegetable Caponata
Grilled Zucchini Salad
Javanese Long Bean Salad Plate With Cabbage Wedges / Lalapan
Korean Lettuce and Onion Salad
La Cabana's House Salad
Lebanese Crudites Plate
Lebanese Eggplant Salad / Salafat el Rahab
Long Beans With Fresh Coconut
Moroccan Egglplant Salad / Salade d'Aubergines
Persian Chicken Salad With Pickles and Olives
Potato Salad With Caramelized Onions
Quick Chaat Mix
Sesame Spinach
Shepherd's Salad / Coran Salatasi
Shirazi Cucumber, Tomato, and Onion Salad
Spanish Grilled Vegetable Salad / Escalivada
Spicy Daikon
Spicy Fruit in a Tamarind Dressing / Rujak
Spicy Japanese Bean Sprout Salad
Spicy Thai Grilled Beef Salad / Yam Nua Yang
Three Hots Salad
Tomato Salad with Feta Cheese / Shopska Salata
Tomato and Shallot Salad
Turkish Radish Salad Plate
Two-Tone Potato Salad
Vietnamese Salad Plate


Grilled Bread
Bruce Frankel's Grilled Bread
Catalan Tomato Bread / Pa Amb Tomaquet
Grilled Bread With Garlic Cilantro Butter
Grilled Focaccia
Grilled Garlic Bread Fingers
Grilled Pita Chips
Jamaican Fry Bread / Festivals
Papadoms Cooked Over The Coals
Tandoori-Baked Flat Breads / Naan
Tuscan Grilled Garlic Bread / Bruschetta


What's Your Beef
A Simple Matambre
Argentinian Veal and Chicken Kebabs
Aromatic Lemongrass Marinade
Bangali Shish Kebabs
Bani Marine Street Beef Kebabs
Brazilian Stuffed Rib Roast
Dinosaur Ribs
Fiery Stick Meat / Suyas
Florentine-Style Steak / Bistecca alla Fiorentina
Grilled Beef Oaxaca-Style
Grilled Beef With Peanut Flour / Kyinkyinga
Grilled Oxtails / Kare Kare
Grilled Prime Ribs of Beef With Garlic and Rosemary
Korean Grilled Short Ribs / Kalbi Kui
Korean Sesame-Grilled Beef / Bool Kogi
Lemongrass Beef With Peanuts
Lettuce Bundles With Grilled Beef
Madeira Beef and Bay Leaf Kebabs / Espetada
Montevidean Stuffed Beef Roll / Matambre
Montevidean-Style Sweetbreads / Mollejas Asadas
Nicaraguan-Style Steak / Churrasco
Peruvian Beef Kebabs / Anticuchos
Quick Persian Beef Kebabs
Rib Steaks With Red Wine Sauce And Marrow / Entrecote a' la Bordelaise
Russian Beef Kebabs / Shashlik
Saigon Market Beef Sticks
Steak From Hell
Steak in Garlic-Lime Marinade / Palomilla
Stet's Steak
Texas-Style Barbecued Brisket


High on Hog
Balinese Roast Pork / Babi Guling
Brazilian Pork Rollatini
Chile-Marinated Pork In The Style Of Oaxaca / Cecina Adobada
Cuban Christmas Eve "Pig" / Lechon Asado
Cuban Mojo
Elizabeth Karmel's North Carolina-Style Pulled Pork
Grilled Pork With Fiery Salsa / Poc Chuc
Jamaican Jerk Pork Tenderloin
Memphis-Style Ribs
North Carolina-Style Coleslaw
Oaxacan-Style Pork Ribs
Pork With Moorish Seasonings / Pinchos Morunos
Rasta Ribs
Romy's Ribs With Filipino Seasonings
Rosemary Grilled Pork Loin
Salsa Mexicana
Susur Lee's Chinese Barbecued Pork
Sweet Pork Sate / Sate' Babi Manis
Sweet and Garlicky Pork Chops
Uruguayan Grilled Stuffed, Rolled Pork / Pamplona de Puerco
Vinegar Sauce


A Little Lamb
Alexandrew Dumas's Georgian-Style Lamb Kebabs
Armenian Shish Kebab
Australian Lamb Steaks With Sichuan Pepper Rub
Capetown Lamb
Exotic Yogurt and Saffron Marinated Lamb Chops / Shishlik
Grilled Lamb With Herbes De Provence
Lamb Chops Stall #26
Lamb With Onion-Mustard Sauce / Dibi
Lamb and Tomato Kebabs
Leg of "Mutton" With Saffron And Rosewater
Mexican Pit-Barbecued Lamb / Barbacoa
Moroccan Barbecued Lamb / Mechouie
Moroccan Lamb Kebabs
Moroccan Tomato Sauce
Onion Water Lamb Chops / O Be Peyaz
Rack of Lamb Ciragan Palace
Roisseried Leg of Lamb With Lemon and Butter
Souvlaki Flambeed With Metaxa
The Real Turkish Shish Kebab


Ground Meat, Burgers, and Sausages
Avocado, Sprout and Salsa Burger
Bacon and Smoked-Cheese Burger
Beef Sates With Coriander / Sate' Age
Bosnian Three-Meat Patties / Cevapcici
Bulgarian Burgers / Kufteh
Cheeseburger
Cracked Wheat and Lamb Kebabs / Semit Kebab
Flying Fox Sates / Sate' Kalong
Four-Pepper Chicken Kebabs / Kafta
Gentle Al Kebabs With Fire-Charred Eggplant And Yogurt
Lamb In Lavash / Lyulya Kebab
Lamb Sate With Tamarind Sauce / Sate' Buntel
Lamb and Eggplant Kebabs / Sedzeli Kebab
Lamb and Pistachio Kebabs
Oasis Kebabs / Kofta
Persian Lamb and Beef Kebabs / Kubideh
Pomegranate Molasses / Narshrab

Pork and Pomegranate Sausages / Kupati
Romania Pork and Lamb Sausage / Mititei
Samba Dogs
Samba Sausages / Choricou
Shallot Kebabs With Pomegranate Molasses / Sogar Kebab
Slipper Burgers / Chapli Kebab
Spiced Lamb and Beef Kebabs / Lula Kebab
Spicy Chorizos
Tamarind Water
The Great American Hamburger
The Original Karim's Seekh Kebab


Bird Meets Grill
Afghan Grilled Quail
Afghan-Style Chicken / Murgh
Afghan-Style Game Hens
Anguillan Barbecue Sauce
Anguillan Roast Chicken
Annatto-Spiced Grilled Turkey
Bademiya's Justly Famous Chile-Coriander Chicken
Bahamian Grilled Chicken
Balinese Grilled Chicken With Apple-Macadamia Chile Sauce
Baxter Road Grilled Chicken
Beer Can Chicken
Brazilian Beer Chicken
Buccaneer Chicken / Poulet Boucane'e
Chicken With Lemon Mustard Sauce / Yassa
Cinnamon Cherry Sauce for Duck
Dimples' Barbecued Chicken
Grilled Chicken With Saffron / Joojeh Kebab
Grilled Duck With Garlic and Ginger
Grilled Game Hens With Moroccan Spices
Grilled Pheasant Legs
Grilled Quail Santorini
Jakarta Chicken Sate / Sate' Ayam
Malaysian Chicken Sates
Motevidean Chicken Breats / Pamplona de Pollo
Orange Sauce for Duck
Palestinian Chicken
Peking Duck
Piri-Piri Chicken
Scallion Crepes
Schoolyard Chicken Sates
Sea Captain's Chicken Tikka
Spiced Grilled Quail
Sri Lankan Sates
Tandoori Chicken / Tandoori Murgh
Thai Chicken Sates Served in Lettuce Leaves
Turkey Pastrami
Tuscan Grilled Pheasant
Uzbekistani Quail Grilled in Grape Leaves
Yakitori


Water Meets Fire: Fish on the Grill
Avocado Sauce
Bahamian-Style Whole Grilled Snapper
Balinese Fish Mousse Sates / Sate' Lilit
Barramundi In Asian Spiced Coconut Milk
Brazilian Swordfish Kebabs With Coconut Milk
Fennel-Grilled Bass Flambeed With Pernod / Loup de Mer au Fenouil Flambe'
Fish Yassa
Florida Snapper Burgers
Grilled Fish Gurney Drive
Grilled Fish Sunda Kelapa
Grilled Fish With Brazilian Garlic Marinade
Grilled Fish With Esarn Seasoning
Grilled Fish With Sauce Vierge
Grilled Salmon Kiev
Grilled Salt Cod
Grilled Sea Bass With Fresh Artichoke Salad / Loup de Mer Grille' aux Artichaut
Grilled Shark and Bake I
Grilled Shark and Bake II
Grilled Skate Wings With Nonya Sweet-And-Sour Sauce
Grilled Snapper With French West Indian Caper Sauce
Grilled Swordfish En Pipian
Grilled Tuna With Red Wine, Caper, And Olive Sauce/Thon Grille' au Jus de Raito
Guadeloupean Grilled Snapper With Cucumber Sauce
Nonya Sweet-And-Sour Sauce
Pandeli Swordfish Kebabs
Peanut Sauce
Peruvian Fish Kebabs / Anticuchos de Pescado
Pino's Grilled Salmon with Basil Cream
Portuguese Grilled Sardines
Russian Sturgeon Kebabs
Salmon Grilled In Grape Leaves / Kolheeda
Seafood Mixed Grill In the Style Of Essaouira
Sole With Catalan Fruits and Nuts
Spanish Guinean Fish Grill With Three Sauces
Spinach Sauce
Sturgeon Shashlyk
Swordfish Souvlaki
Thai Grilled Fish With Sweet-Sour Tamarind Sauce / Pla Pow
Tuna Steaks, Madeira-Style
Whole Grilled Snapper With South African Spices / Fish Brai
Yucatan-Style Grilled Fish / Tikin Nik


Hot Shells: Lobsters, Shrimp, Scallops & Clams
Bahamian Grilled Conch
Balinese Prawn Sates / Sate' Udang
Emeril Lagasse's New Orleans-Style Barbecued Shrimp
Fernando's Grilled Cuttlefish With Macanese "Salsa"
Flaming Prawn
Grilled Clams With Colombo Butter
Grilled Mussels / Eclade
Grilled Octopus / Khtapothi Sti Skhara
Grilled Shrimp With Taratoor
Grilled Soft-Shell Crabs With Spicy Tartar Sauce
Grilled Spiny Lobster With Basil Butter
Grilled Squid Durban
Guadeloupen Grilled "Crayfish" With Curry Beurre Blanc
Gulf Coast Shrimp
Honey Sesame Shrimp "On The Barbie"
Latin Quarter Shrimp Kebabs
Morton Bay "Bugs" With Ginger-Mint Butter
Oysters With Horseradish Cream
Penganese Grilled Shrimp With Painfully Hot Salsa
Plantation Shrimp
Prawns With Ketjap Butter
Salt and Pepper Grilled Shrimp
Scallop Kebabs With Pancetta, Lemon and Basil
Shrimp With Bahian Peanut Sauce
South African Grilled Rock Lobster
Spiny Lobster With Creole Sauce
Tandoori Prawns


Vegetables: Greens Meet Grill
Argentinian Grilled Eggplant
Catalan Grilled Artichokes
Chorizo Grilled Mushroom
Fire-Roasted Breadfruit
Foil-Grilled Potatoes With Asian Seasonings
Garlic Kebabs
Georgian Vegetable Kebabs
Greek Garlic and Lemon Roasted Potatoes
Grilled Corn With Shadon Beni Butter
Grilled Dilled Tomatoes
Grilled Eggplants With Miso "Barbecue" Sauce
Grilled Fennel
Grilled Green Onions Romesco / Calcots
Grilled Long Beans
Grilled Mushroom Caps With Arugula Butter
Grilled Okra
Grilled Plantains
Grilled Sweet Potatoes With Sesame Dipping Sauce
Grilled Vegetable In The Style Of Santa Margherita
Japanese Vegetable Mixed Grill / Robatayaki
Korean Grilled Mushroom and Scallion Kebabs
Marinated Grilled Peppers With Olives and Anchovies
Onions And Potatoes Grilled In The Coals
Peruvian Potato Mixed Grill
Potatoes a' la Ketchup
Sesame Grilled Oyster Mushrooms
Shiitake and Scallion Kebabs
Tandoori Cauliflower
West Indian Grilled Vegetables / Choka
West Indian Pumpkin Gratin


Vegetarian Grill
Basic Pizza Dough
Basil Aioli
Grilled Pizza With Arugula and Italian Cheeses
Grilled Pizza With Tomato, Basil, and Cheese
Grilled Portobello Mushroom Sandwiches With Basil Aioli
Indian Spinach-Cheese Kebabs
Mushroom-Rice Burgers With Cheddar Cheese
Provencal Dagwood
Raclette
Tandoori Peppers
Tofu on Stilts / Dengaku
White Rabbit
Yam and Nut Kebabs


Rice, Beans, and Beyond
Bahamian Peas and Rice
Balinese Yellow Rice / Nasi Kuning
Brazilian Black Beans With Bacon / Tutu Mineira
Crazy Rice / Arroz Loco
Grilled Grits
Grilled Polenta
Grilled Rice Cakes
Grilled Yorkshire Pudding
Indian "Baked Beans" / Dal Bukhara
Indian-Style Basmati Rice
Japanese Steamed Rice
Jasmine Rice
Persian Rice With Cranberries
Persian Rice With a Golden Crust / Chelow
Persian-Style Steamed Rice
Quick And Smoky Baked Beans
Quick-Cook Basmati Rice
Rainbow Manioc / Farofa


Sidekicks: Pickles, Relishes, Salsas & Slaws
Argentinian Tomato Salsa / Salsa Criolla
Carrot And Pineapple Escabeche
Central Asian Pickles / Torshi
Dog's Nose Salsa / Nni Pec
Fiery Chile And Shallot Relish / Sambal Chobek
Georgian Pickles
Grilled Habanero Salsa
Grilled Pineapple Salsa
Guyanese Mango Fire Relish
Haitian Slaw / Pikliz
Lemongrass Sambal
Mango Achar
Mango-Mint Salsa
Mixed Vegetable Achar
Moroccan Shallot Relish
Moroccan Tomato Jam1
Oaxacan-Style Guacamole
Onion Relish With Pomegranate Molasses

Onion-Cilantro Relish
Penang Shallot Relish / Chung Gao Jai
Pickled Onions / Cebollita
Pickled Vegetables / Encurtido
Pineapple Achar
Pineapple Chutney
Pineapple Raita
Shogun Slaw
Smoky Apple-Banana Salsa
Tomato Peanut Sambal / Sambal Achan
Tomato-Cucumber Raita
Your Basic Slaw


Sauces
A Simple Harissa
A Simple Javanese Dipping Sauce
A Simple Tamarind Barbecue Sauce
Asian Pear Dipping Sauce
Basic Barbecue Sauce
Basic Chimichurri
Basic Vietnamese Dipping Sauce / Nuoc Cham
Bengali Mango-Tamarind Barbecue Sauce
Carolina Mustard Barbecue Sauce
Catalan Vinaigrette
Charred Tomato Sauce With Pomegrante Molasses / Khashkesh
Classic Teriyaki Sauce
Coriander Sauce
County Hot Sauce / Molho da Companha
Dry Chimichurri
Dutch West Indian Peanut Sauce
Elida's Honey-Guava Barbecue Sauce
French West Indian "Dog" Sauce / Sauce Chien
Garlic Sauce
Georgian Pickled Plum Sauce / Tkemali
Ginger-Plum Barbecue Sauce
Hoisin-Chile Sauce
Hot And Sweet Mint Sauce
Indonesian Ketchup / Ketjap Manis
Jake's Turkish Coffee Barbecue Sauce
Lemon-Honey Sauce With Garlic
Nicaraguan Tomato Sauce / Salsa Marinara
North Carolina Vinegar Sauce
Peanut Chile Dipping Sauce
Portuguese Hot Sauce / Piri-Piri
Preserved Lemon Harissa
Red Chimichurri
Red Mis Barbecue Sauce
Romesco Sauce
Tamarind Dipping Sauce
Thai Peanut Sauce
Vietnamese Apple And Shrimp Sauce / Mam Nem
White Miso Barbecue Sauce


Rub It In
Anchovy Butter
Basil Marinade
Berber Marinade
Bourbon Butter Basting Sauce
Brazilian Lamb Marinade
Cajun Rub
Colombo Powder
Creole Rub Seasoning
Curry Butter
Escargot Butter
Greek Rub
Herbes De Provence
Indian Roasted Spice Powder / Garam Masala
Israeli Rub / Haway
Jamaican Jerk Marinade
Japanese Garlic Butter
Ketjap Butter
Korean Sesame Salt
Maitre d'Hotel Butter
Marchand de Vin Butter
Marrakesh Rub
Memphis Rub
Mexican Fish Baste
Mexican Smoked Chile Marinade / Adobo
Miami Spice
Nicoise Rub For Lamb And Steaks
Provencal Grilling Mixture For Fish
Puerto Rican Seasoning Sat / Sazon
Quick Garam Masala
Quick Hawaij
Rouquefort Butter
Sichuan Seasoned Salt
Teriyaki Marinade
Tunisian Rub / Tabil
Vinegar-Based Mop Sauce
White Wine Marinade For Seafood


Fire and Ice: Desserts
Argentinian Caramel Cream / Dulce de Leche
Balinese Grilled Bananas In Coconut Milk Caramel
Cardamom Caramel Ice Cream / Kulfi
Catalan Cream / Crema Catalana
Coco Loco Brulee
Coconut Ice Cream
Coconut Milk
Fire-Roasted Apples
Fruit Cooler
Grilled Sugar-Dipped Pineapple
Indian Cardamon-Pistachio Rice Pudding / Kheer
Korean Fruit "Punch"
Lemon-Ginger Creme Brulees
Persian Lemon and Rosewater "Sundae" With Sour Cherry Syrup / Faluda
The Pompano Grille's Fire-Grilled Banana Split
Uptown S'mores
Whipped Cream


Conversion Table
Approximate Equivalents
Liquid Conversion Table
Oven Temperatures
Weight Conversion Chart


Grilling Tips, Techniques and Various Facts
A Dy with Naj,ieg Batmanglij: The Persian Grill
A Few Shark and Bake Tips
A Griller's Guide to the World's Chiles
A Marinating Tip
A New French Paradox
A Special Word About Ground Meat, Burgers, and Sausages
A Traditional Barbacoa
Aleppo Pepper
Approximate Times for Rotisserie Cooking
Barbecue Alley: The Mexican Grill
Barbecue Countdown
Barbecue from the Land of Morning Calm:
Basmati Rice Five Ways
Beef Grilling Chart *
Black Gold
Bombay Tikka "Taco"
Butterflying a Flank Steak
Cleaning and Oiling the Grill
Cooking Hamburgers
Cooking With a Blowtorch
Cooking with Wood
Fish Grilling Chart*
From Hamburg to Hoboken: A Brief History of the Hambuger
Grate Expectations: Some Tips on Grilling Vegetables
Grating Citrus Peel
Grilled Rujak
Grilling Indoors
Grinding It Out
Ground Meats Grilling Chart
Hawkers' Center
How to Butterfly Pork or Beef
How to Butterfly Short Ribs for Korean-Style Grilling
How to Cut Up a Chicken
How to Dry Fennel Stalks
How to Grill Perfect Chicken
How to Grill Perfect Chicken Halves and Quarters
How to Grill Perfect Fish Fillets
How to Grill Perfect Vegetables Every Time
How to Grill a Whole Grilled Fish
How to Grill the Perfect Fish
How to Grill the Perfect Whole Chiken
How to Grill the Perfect Whole Fish
How to Make Scallion Brushes
How to Peel and Devein Shrimp
How to Skin and Bone Fish Fillets
How to Spatchcock a Chicken or Game Hen
How to Stuff Sausages Like a Pro
How to Unskewer Shish Kebabs
How to grill a perfect steak
How to grill with out a grate
How to make ricw powder
How to prepare fresh coconut
How to rinse and dry Cilantro
How to rinse salad greens
How to toast seeds, nuts, and breadcrumbs
In pursuit of the best Tuscan Steak
Jerk: The Jamaican Barbecue
Lamb Grilling Chart
Larding the Beef
Making crosshatch grill marks
Matambre: A hunger-killer from South America
Mesclun Mix
Of Koftas, Lyulas, and Seekh
On trimming fat from meat
Pit Cooking
Pork Grilling Chart
Pork the Italian Way
Poultry Grilling Chart*
Raclette
Shellfish Grilling Chart*
Stalking the Elusive Grilled Snail
Stuck on Sate: The Indonesian Grill
Sturgen
Sumac
The Afghan Grill
The Argentinian Grill
The Birth of the Kettle
The Brazilian Grill
The Four Styles of American Barbecue
The Indian Grill
The Japanese Grill
The Macanese Grill
The Moroccan Grill
The Most Famous Fish House in Indonesia
The Splendid Resaurant Karim
The Tale of Three Barbecues: The Thai Grill
The Ten Commandments of Perfect Grilling
The Turkish Grill
The Vietnamese Grill
To Render Chicken Fat
Types of Charcoal
Uruguay's Mercado Del Puerto
Vegetable Grilling Chart*
Vegetable Grilling Chart*
What to look for in a Grill
When You're Feeling Less Than Brave
When to cover the Grill
When to use a Drip Pan
Whole Fish, Tikin Xik Style


Mail-Order Sources
Grills & Accessories
Ingredients: Asian
Ingredients: Caribbean
Ingredients: General
Ingredients: Indian
Ingredients: Mexican & Southwestern
Ingredients: Middle & Near Eastern, Central Asian & African
Ingredients: Mushrooms, Vidalia Onions, Truffles, & Dried Fruits
Ingredients: Russian & Caucasus Republics
Ingredients: Seafood & Lobster
Ingredients: South & Central America
Ingredients: Specialty Poultry, Game, & Meats
Woods, Chips, & Charcoals

---
"I might learn how to cook yet with all this software of yours. You can't believe how much it has helped. I've had friends come over (I'm just a single guy with a dog - but looking for the right woman) and rave about the meals I prepared for them. It's not all that hard if you just follow the directions. In the end I have to tell them my secret, it's not talent - it's your software.
Oh well, the food is still delicious. Now if I could just figure out how to use the dishwasher.
-John
Cook'n Is Several Products in One!