Cook'n is the best selling recipe organizer
Taste of Home Subscription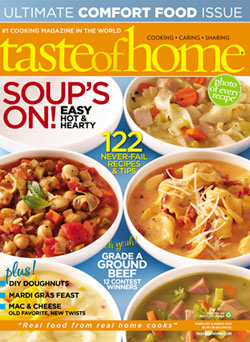 If the simple-yet-scrumptious dishes in the Cook'n with Taste of Home download are the kind your family enjoys best, here's one more fail-proof recipe for cooking success: Taste of Home magazine.
You see, the recipes in the Cook'n with Taste of Home download were produced by the editors of a totally different kind of food magazine--one that keeps growing and growing! Since 1993, Taste of Home has attracted over 5 million subscribers, making it the #1 cooking magazine in America!
Each issue relies on a staff of 1,000 country cooks--"field editors" from every U.S. state and Canadian province--to contribute their families' favorite recipes.
That means you can cook the dishes with confidence. Plus the recipes in Taste of Home call only for ingredients that you're likely to have right on hand. You'll never have to run to a specialty store for ingredients like goat cheese or sundried tomatoes... and that's a promise!
Over 85 Recipes in Every Issue!
Practical as it is, Taste of Home never skimps on recipes. Far from it! Every full-color issue is loaded with over 85 easy-to-fix recipes for main dishes, soups, salads, side dishes, sweets and more!
Plus every issue features complete menus (including dessert) you can make in 30 minutes or less...family-sized meals for just pennies a plate...down-sized dishes for one or two...even crowd-pleasing potluck dinners. So whether it's breakfast, supper, lunch or a snack, Taste of Home is your resource for tasty recipes to suit any occasion.
What's more, you'll get 32 "Clip & Keep" recipe cards in every issue. You can easily add these convenient cutout cards to your recipe file.
On top of all these taste-tempting recipes, Taste of Home brings you lots of handy kitchen tips and "shortcuts worth sharing" from readers happy to pass along their know-how.
You'll also learn new ways to give leftovers a lift and learn some of the "secret" ingredients other good cooks add to make ordinary dishes outstanding!
Save Up to $6.00 Today!
You can treat yourself (or a friend) to a full year's worth of Taste of Home for only $14.98--that's $6.00 off the regular rate! It includes 7 issues including the bonus issue!
Of course, you take no risk when you subscribe. Our 100% money-back, life-of-the-subscription guarantee means you can cancel your subscription at any time and receive a full refund...no questions asked.
So why not order today? It's easy! But hurry--if you love cookbooks and the fun of trying out new down-home recipes for your family, you won't want to miss a single recipe-packed issue of Taste of Home!
---
Taste of Home 1 Year Subscription -
$14.98 SAVE $6.00

Taste of Home 1 Year Canadian - $23.98

---
"I might learn how to cook yet with all this software of yours. You can't believe how much it has helped. I've had friends come over (I'm just a single guy with a dog - but looking for the right woman) and rave about the meals I prepared for them. It's not all that hard if you just follow the directions. In the end I have to tell them my secret, it's not talent - it's your software.
Oh well, the food is still delicious. Now if I could just figure out how to use the dishwasher.
-John
Cook'n Is Several Products in One!