---
Recipe by Kathy Oaks
---
Ingredients:
1/2 cup butter
1/2 cup vegetable oil
1 3/4 cups sugar
2 eggs
2 cups grated zucchini
1/2 cup buttermilk, slowly add:
1 teaspoon baking soda
1 teaspoon salt
1/2 cup baking cocoa
1 teaspoon mexican vanilla extract
2 1/2 cups flour
Frosting:
1 stick butter
2/3 cup baking cocoa
3 cups powdered sugar
1/3 cup milk
1 teaspoon mexican vanilla extract
---
Directions:
Cream together butter, sugar, and oil. Beat in eggs until completely blended. Add rest of ingredients in order. Grease and flour a 9 x 13-inch pan and bake at 325∞F for 40 to 60 minutes.
Blend frosting together until it's nice and creamy and frost when cake is cooled. Enjoy.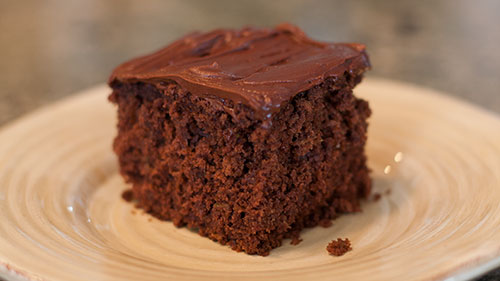 Back to the May 2012 Newsletter