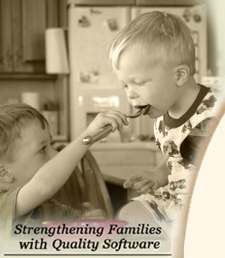 TOP SELLERS
• Current Issue
• Newsletter Archive
• Sign Up Now


• Contact Info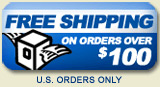 I am here to say THANK YOU! Your software is great!!!

When I read the description of the recipe program, I thought it was too good to be true (the price, the ability of the software, etc.). I even called your company by telephone to ask if I understood the promotional information correctly.

Upon receiving it and using it, I have discovered that every bit of it is true! (I LOVE the nutritional calculation feature!) Thanks so much for your product and for keeping it affordable, too!

Debi Self Read more...

Wagon Wheels
DVO Recipe Center
Makes: 4 Servings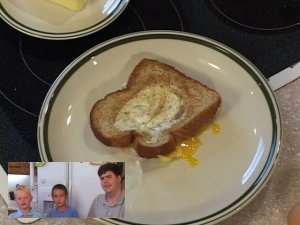 See the video of Dan, his son Danny (the blonde), and Danny's cousin, Jeffery, making their favorite breakfast, Wagon Wheels. Click here to watch the video. If you have a slow Internet connection, click here to see lower-quality video clip.

Note: no children were seriously hurt during the filming of this movie. :)

4 Slices Bread
4 Eggs
1 Tablespoon Butter

Cut a hole in the middle of a slice of bread using a small cup. Remove the circle. Melt butter in a frying pan and place the slice of bread in the pan. Crack one egg into the hole in the middle of the bread. Remove egg shells :). Salt and pepper as desired. Fry until the bottom is cooked then flip. Cook until the egg is to your desired doneness. Remove from the pan and serve.

When you finish cooking the eggs, cook the "Wagon Wheels" or holes that you cut out in the pan by placing them on the pan. Flip to brown both sides and serve with jam.

They're GREAT!



Help on downloading recipes
---
---
Copyright © 2007 DVO Enterprises, Inc.