---

Recipe by Jeanne
Yield: One 1 1/2-pound loaf
---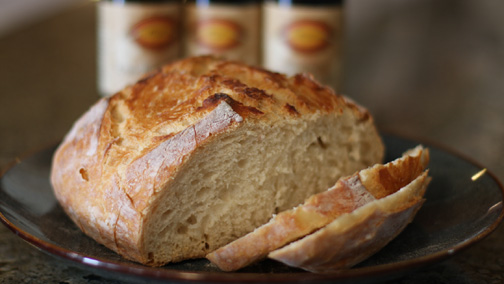 This bread is very easy to make. It is made with a little bit of chemistry, a little bit creativity and lots of love. The three most important things to remember when making this bread is
Oven and pot with the lid must be screaming hot before you put the bread in to cook.
Water measurement must be exact.
This bread must cook for 1 hour.
Ingredients:
3 cups all purpose flour
1/4 Teaspoon dry yeast
1 3/4 to 2 Teaspoons salt (to taste)
1 1/2 cups plus 2 Tablespoons water
Additional flour for dusting
---
Directions:
In a large bowl, combine the flour, yeast, and salt. If you are going to add cheese or herbs add them in with dry ingredients.
Add the room temperature water to the dry ingredients. Stir until blended (I use one hand to blend it). You do not knead this bread. The dough will be shaggy and sticky. Cover with plastic wrap or I use a bowl that has a lid that fits on it. Set the dough aside on your counter or in your pantry for 12 to 18 hours. Keep away from the window. The dough will get spongy as it sits.
When you are ready to bake, preheat the oven and your pan with a lid in a 500 degrees oven for 20 to 30 minutes. The pan can be cast iron, clay or any pot that conducts heat well and has a lid.
Meanwhile, on a flour sack or tea towel (not terry cloth), sprinkle with flour or corn meal (about ¼ of a cup). Spread throughout the cloth. As you are placing the bread on one end of the tea towel, quickly shape the dough into a flat ball (shape isn't important this is rustic bread). Lay the other side of floured tea towel on the top of the bread. Let it rest for 15–20 minutes. Turn oven heat down to 375 degrees. Remove the pot from the oven and remove the lid. Plop the bread into the pan. Don't worry about what it looks like. Shake the pan once or twice to center the dough more evenly.
Bake at 375–400 degrees for 1 hour (oven temperature will vary from oven to oven – experiment with it). Check after 45 minutes and if it doesn't look as brown as you like, let the bread cook it for the last 10 – 15 minutes without the lid.
Make sure you cook the bread for one hour. The bread looks done before it actually is. With oven mitts turn the bread out onto a wire rack and let cool.
Note: There is no oil in the bread or in the pan. Whole wheat will not work with this recipe.
If you have questions or problems feel free to email me at Jeanne@dvo.com