Want a Meal-Making "Secret Weapon?"
Then look to sauces! And you'll find just the arsenal you need in a book from America's Test Kitchen, JUST ADD SAUCE (published this past summer). Sauces are why restaurant food tastes so good, and now the Test Kitchen has made sauce greatness possible for every home cook.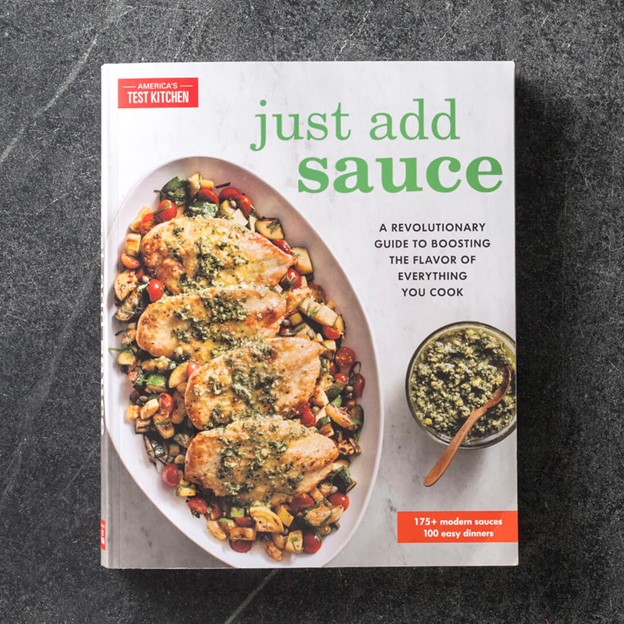 Here's what their site says about it: "JUST ADD SAUCE reinvents sauce making. No roasting bones. No all-day stocks. Just amazing flavor with a minimum of work. The book is packed with 175 killer sauce recipes and 100 perfect recipe pairings for everything from chicken and beef to artichokes and cheesecake."
I seldom push a specific product, but I feel compelled to let you know about this truly useful, important book. I found it on the Test Kitchen site for $19.95 (retails for $29.99), and on amazon.com/books for "$17.85 paperback. In full disclosure, I don't have it yet, but I have friends who rave about it—"These recipes deliver!" and "Not only are the sauce recipes terrific, but so are their recipes that incorporate these sauces!" is what I keep hearing.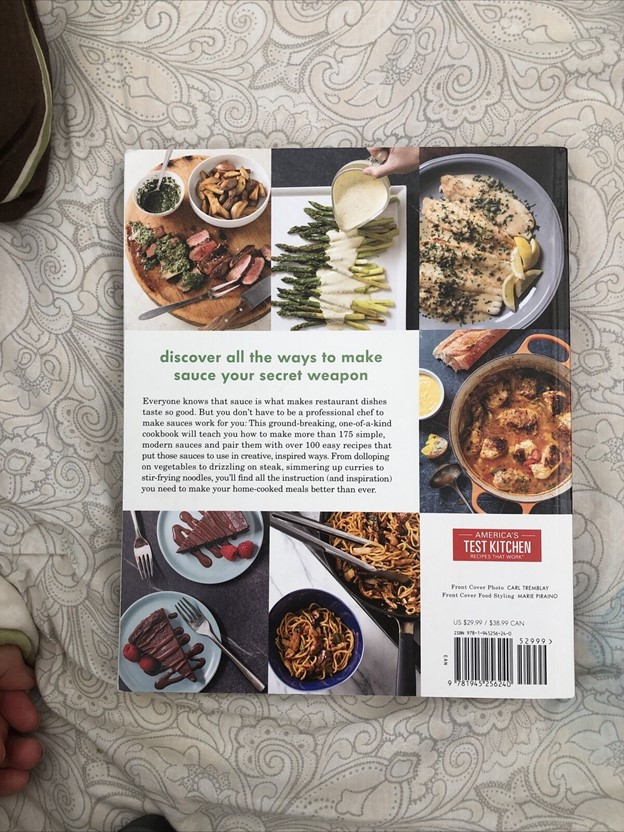 Here's a smattering of the book's contents:
STAND ALONE SAUCES TO PUT ON EVERYTHING
Mayonnaise:
Aïoli, Smoked Paprika Mayonnaise, Herbed Mayonnaise, Saffron Rouille, Tartar Sauce, Rémoulade.
Use Them In:
Chicken Bouillabaise with Rouille, Crunchy Oven-Fried Fish with Tartar Sauce, Roasted Artichokes with Herbed Mayonnaise, Fideos with Chickpeas, Kale, and Aïoli.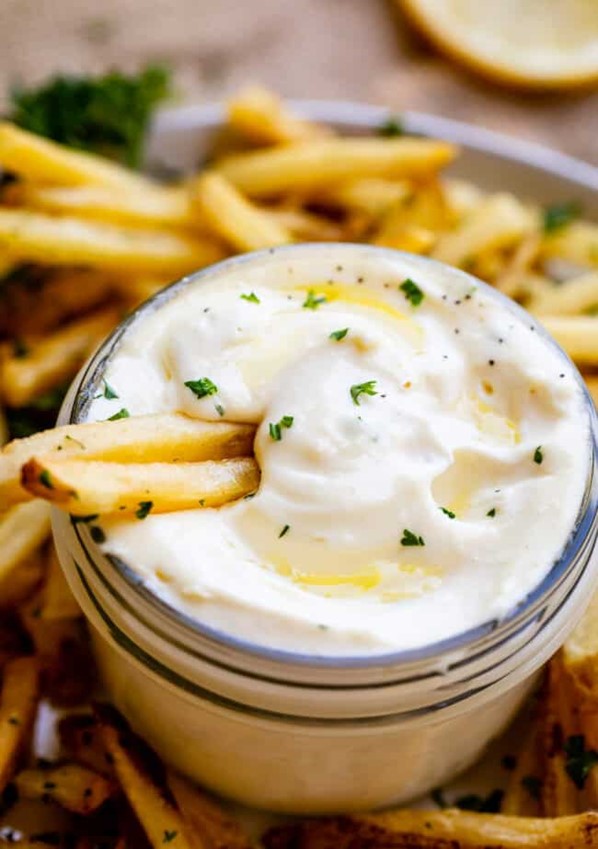 Beurre Blanc and Hollandaise:
Classic Beurre Blanc, Ginger Beurre Blanc, Orange Beurre Blanc, Rosemary Beurre Blanc, Foolproof Hollandaise, Foolproof Saffron Hollandaise, Foolproof Mustard-Dill Hollandaise, Foolproof Béarnaise Sauce.
Use Them In:
Pan-Seared Scallops with Orange Beurre Blanc, Prosciutto-Wrapped Chicken Breasts with Rosemary Beurre Blanc, Eggs Benedict with Foolproof Hollandaise, Roasted Asparagus with Mustard-Dill Hollandaise.
Condiment Sauces:
Classic Burger Sauce, Malt Vinegar–Molasses Burger Sauce, Chili-Lime Burger Sauce, Cocktail Sauce, Barbecue Dipping Sauce, Sweet-and-Sour Dipping Sauce, Scallion Dipping Sauce, Hoisin-Peanut Dipping Sauce.
Use Them In:
Classic Shrimp Cocktail, Spring Rolls with Hoisin-Peanut Dipping Sauce, Chicken Nuggets with Sweet-and-Sour Dipping Sauce, Juicy Pub-Style Burgers with Classic Burger Sauce.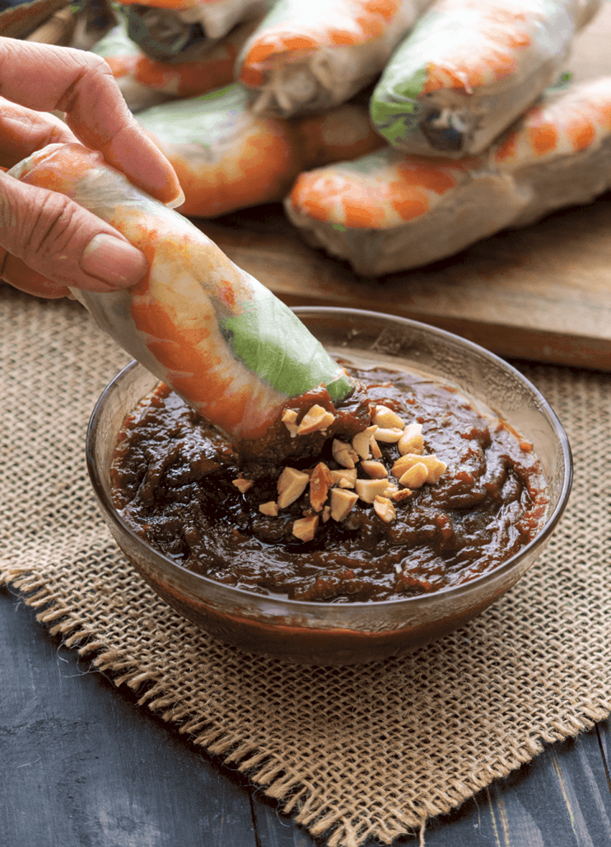 Herb Sauces:
Salsa Verde, Lemon-Basil Salsa Verde, Salsa Verde with Arugula, Chermoula, Chimichurri, Mint Persillade.
Use Them In:
Chicken Breasts with Lemon-Basil Salsa Verde, New York Strip Steaks with Crispy Potatoes and Chimichurri, Cauliflower Steaks with Chermoula, Roasted Root Vegetables with Mint Persillade.
Cooked Fruit Sauces:
Simple Cranberry Sauce, Simple Cranberry-Orange Sauce, Simple Cranberry Sauce with Champagne and Currants, Peach-Mustard Sauce, Cherry-Port Sauce, Spicy Plum Sauce with Sesame Oil and Ginger.
Use Them In:
Smoked Turkey Panini with Simple Cranberry Sauce, Slow-Roasted Pork Shoulder with Peach-Mustard Sauce.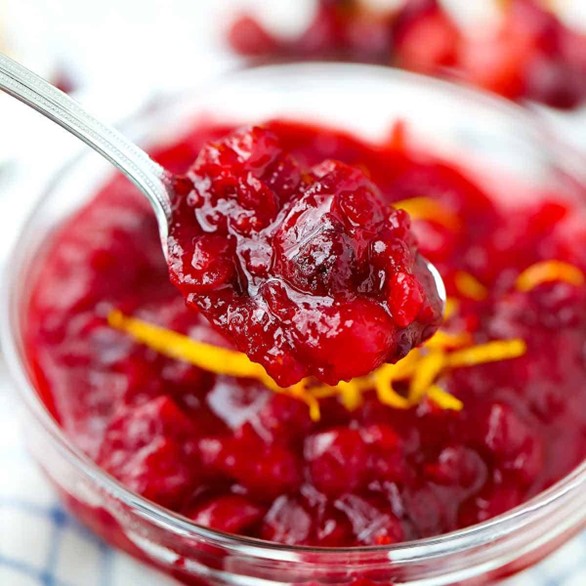 Mexican and Tex-Mex Simmering Sauces:
Mole Poblano Simmering Sauce, Mole Negro Simmering Sauce, Mole Verde Simmering Sauce, Southwestern Chili Simmering Sauce, Red Enchilada Simmering Sauce, Green Enchilada Simmering Sauce.
Use Them In:
Green Chicken Enchiladas, Texas-Style Chili con Carne, Braised Pork Loin with Mole Poblano.
All-American Simmering Sauces:
Yankee Pot Roast Simmering Sauce, Rosemary–Red Wine Simmering Sauce, Mustard-Beer Simmering Sauce.
Use Them In:
Pot Roast with Rosemary-Red Wine Sauce, Braised Short Ribs with Mustard-Beer Sauce.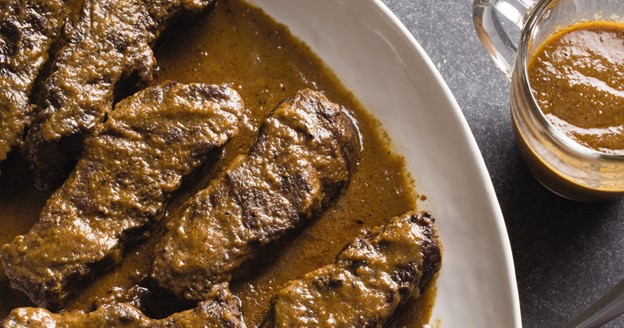 Italian Simmering Sauces:
Pomodoro Simmering Sauce, Pomodoro Simmering Sauce with Mushrooms and Red Wine, Pomodoro Simmering Sauce with Fennel and Capers.
Use Them In:
Classic Pot Roast with Rosemary–Red Wine Simmering Sauce, Mustard-Beer Braised Short Ribs, Chicken Pomodoro with Mushrooms and Red Wine, Braised Cod Pomodoro.
Honestly, this is just a smattering. There are also recipes for Asian Simmering Sauces, Egg and Cheese Sauces, Dessert Sauces, Caramel Sauces, Fruit Sauces, and so much more.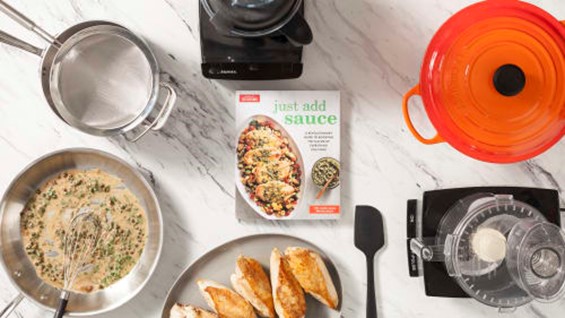 In closing: I'm not connected to the Test Kitchen and I don't receive any remuneration for recommending Test Kitchen anything. But I know an important product when I see one, and I'm convinced we'll find this book very useful—I sense it can take our cooking to a whole new level!

Alice Osborne
Weekly Newsletter Contributor since 2006
Email the author! alice@dvo.com