Bombastic Biscuit-Baking Tips!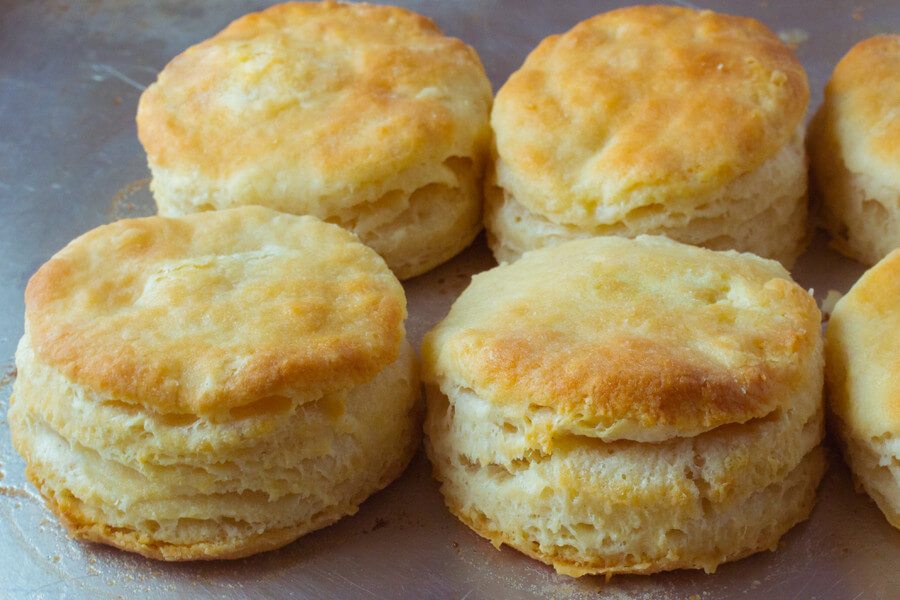 Were you aware that it's National Biscuit Month? This we gotta celebrate, right? Who doesn't love a yummy light and fluffy biscuit?
But if you're gonna celebrate, then why settle for plain buttermilk when you can involve cheddar and caramel and sourdough and (of course!) bacon?
Before we dive into an incredible biscuit recipe perfect for celebrating any occasion, let's talk about the HOW-TOs. These bombastic biscuit-baking tips come from Chef Patrick Costa of The Hart & the Hunter's restaurant in Los Angeles (a restaurant the locals frequent just for the biscuits!). I found these tips on the lovely site, Cupcakes and Cashemere, (www.cupcakesandcashmere.com) in 2014, and highly recommend you seriously consider them. This chef knows his biscuit business!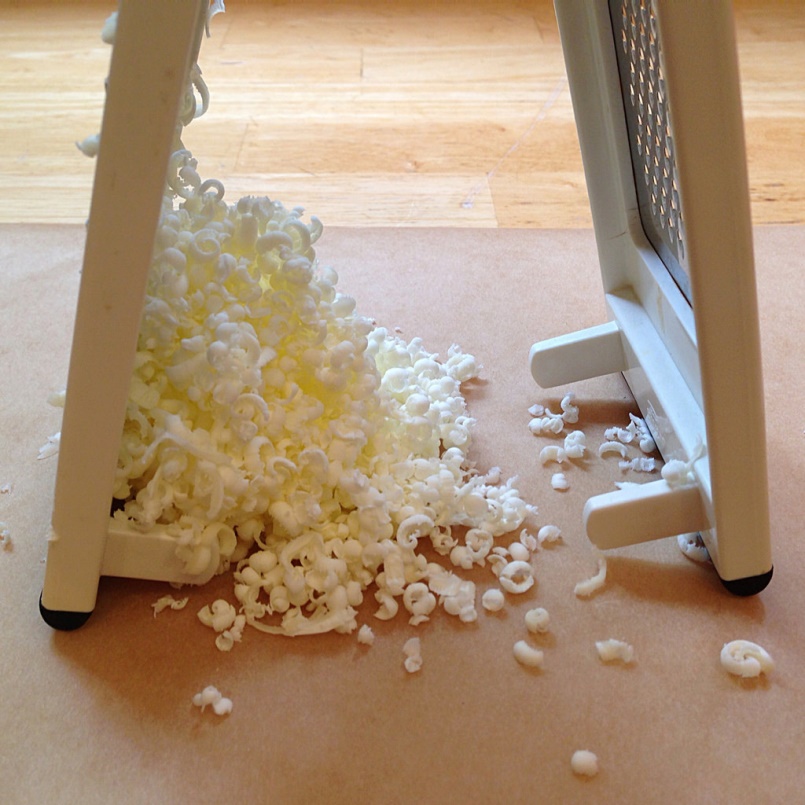 TIP 1:
Freeze your butter. ALWAYS start with frozen butter. FROZEN. Grate your butter with a box grater - your flakes will come from these frozen chunks of butter.
TIP 2: Use a sifter to mix dry ingredients (rather than just mixing). This will smooth out lumps and you'll have a much more consistent bake. Chef Patrick even suggests also freezing the dry ingredients to keep the dough as cold as possible. Cold dough is what makes a flaky biscuit.
TIP 3: Never use your hands when mixing your butter and dry ingredients together. Use a metal spoon instead. A spoon will keep ingredients cold, while the warmth of your hands will melt the butter.
TIP 4: Use the "well technique" for combining dry and wet ingredients. And work with the weather; it determines whether you'll use more or less flour. For humid days use more flour and cut back a bit on dry, hot days.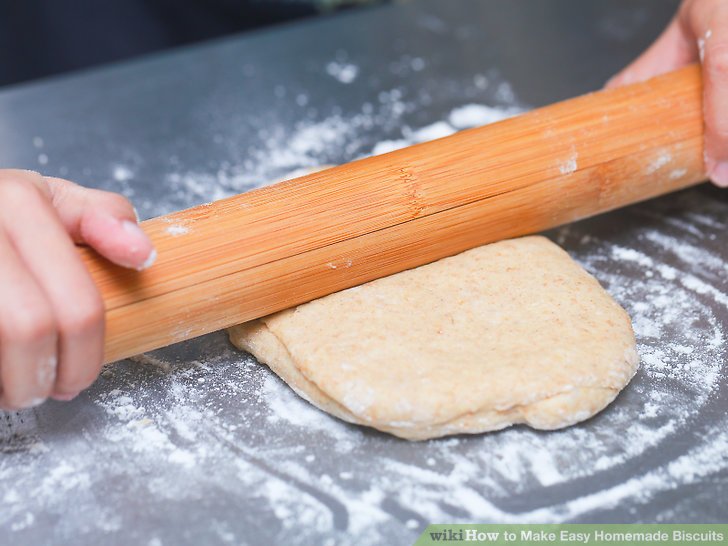 TIP 5:
Only work on COLD surfaces (a pre-refrigerated baking sheet would be perfect). And avoid touching the dough; use a cold pin to roll it out. Before rolling, shake any excess flour off the dough. The dough is a living thing and it'll take as much flour as it wants, so feed the dough only what it needs.
TIP 6: Cut and stack the dough. This is where you'll exponentially increase the number of layers in your biscuit. Cut, stack, roll, and re-stack three times.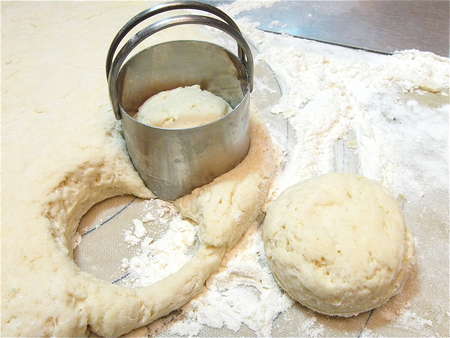 TIP 7: Do not twist the ring mold.
Flour a ring mold and push it through the dough. DO NOT TWIST. Pull the biscuit straight out. If you twist, the layers will slant and the biscuit will not cook evenly. (WHO knew?)
TIP 8: Do not use the leftover dough. Re-folding the leftover dough means dense biscuits that will cook differently than your first batch. Use the leftovers for strawberry shortcake, bread crumbs, or savory bread pudding.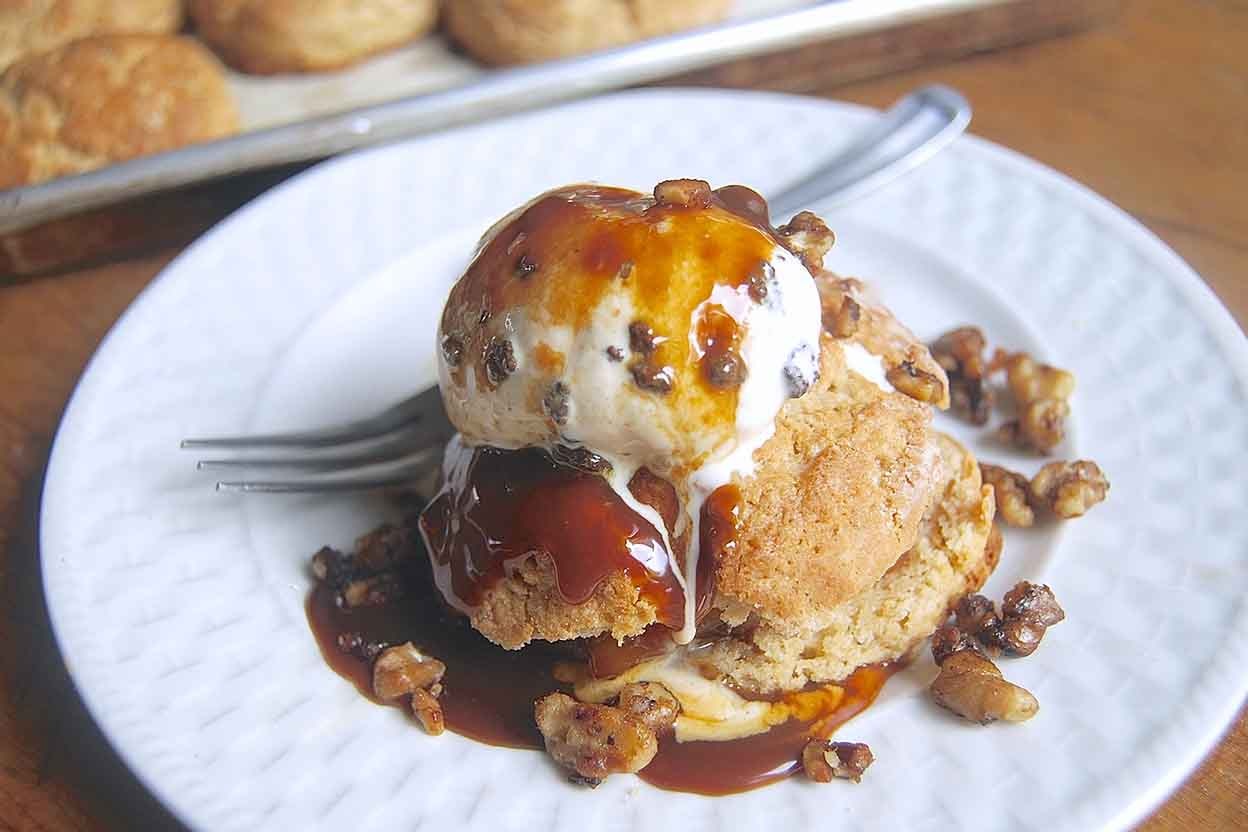 CARAMEL APPLE BISCUITS
(yield: 8 to 10 servings)
You can always take a shortcut and use a store-bought jar of caramel ice cream topping, and/or even canned apple pie filling. In this recipe, the biscuit's the thing!
CARAMEL
2 cups sugar
1/2 cup water
1/2 teaspoon salt
3/4 to 1 cup heavy cream
SPICED WALNUTS
1 tablespoon butter
1 cup walnuts, coarsely chopped
1 tablespoon brown sugar
1 tablespoon boiled apple cider or maple syrup
1/4 teaspoon salt
1 pinch of cayenne pepper, optional
BISCUITS
2 cups unbleached self-rising flour
1/4 cup brown sugar
6 tablespoons cold unsalted butter
2 tablespoons boiled apple cider or apple juice concentrate
1/3 to 1/2 cup milk
APPLES
1 tablespoon butter
2 cups peeled, sliced cooking apples (Granny Smiths, Braeburn, Galas)
2 tablespoons sugar
1/2 teaspoon ground cinnamon
1/4 teaspoon ground allspice
1/8 teaspoon ground ginger
1/8 teaspoon ground nutmeg
1 tablespoon caramel sauce (from above)
1 teaspoon boiled apple cider
To make the caramel: Place the sugar in a 2-quart heavy saucepan (preferably light colored). Add the water and salt. Cook over medium heat, stirring once or twice, until the sugar is dissolved. Bring to a boil, and cook without stirring until the sugar begins to caramelize (become light to medium brown), which will take about 8 minutes. If using a thermometer, cook the sugar until it's between 350°F and 360°F.

Remove the pan from the heat and slowly pour in the heavy cream; the mixture will boil up, so be careful. Return the pan to the heat and stir until smooth. Use more cream for a thinner sauce, the smaller amount if you want it thicker.

To prepare the walnuts: Place a medium skillet over medium heat. Melt the butter and add the walnuts. Cook, stirring occasionally, until the nuts are barely starting to brown; this can happen quickly, so keep an eye on them. Sprinkle the sugar over the nuts and stir; add the boiled cider or maple syrup and stir again to coat the nuts. Sprinkle with salt and a pinch of cayenne. When the nuts are coated, remove from the heat and spread on a baking sheet or piece of parchment to cool.

To make the biscuits: Preheat the oven to 425°F. In a medium bowl, whisk together the self-rising flour and brown sugar. Work in the butter until it's in small pieces. Combine the boiled cider with the smaller amount of milk and add to the flour mixture, stirring until the flour is evenly moistened. Dribble in more milk, if necessary, to bring the dough together. Use a bowl scraper to fold the dough over on itself a few times to bring it together.

Turn the dough out onto a piece of parchment paper, pat it into a 6" to 6 1/2" circle (about 3/4" thick), and cut into circles with a 2" cutter. Pile any scraps on top of each other, fold twice to bring them together, and cut the remaining dough; you should get 8 to 10 biscuits.

Place the biscuits on a baking sheet, leaving 2" between them. Bake for 14 to 16 minutes, until they're light golden brown. Remove them from the oven, and keep warm.

To prepare the apples: While the biscuits are baking, place a skillet over medium heat. Add the butter, and when it's melted, add the apples and spices. Cook for 2 minutes, stirring occasionally, then add the caramel sauce and boiled cider. Cook for 1 minute more, then remove from the heat.

To assemble: Split the biscuits, and spoon 5 to 6 apple slices over the bottom half of each. Drizzle with some caramel sauce, then place the tops of the biscuits over the apples. Add a scoop of ice cream, more caramel sauce, then sprinkle with spiced walnuts.
Add Recipe to Cook'n
Sources:
www.sunriseprojectks.org
www.flickr.com
www.wikihow.com
www.blog.kingarthurflour.com
www.kingarthurflour.com

Alice Osborne
Weekly Newsletter Contributor since 2006
Email the author! alice@dvo.com