Magical Monkey Breads!
Who doesn't love messy, ooey, gooey monkey bread? And you can work so much magic with them. All you need is your favorite sweet roll dough recipe and a little imagination. For instance: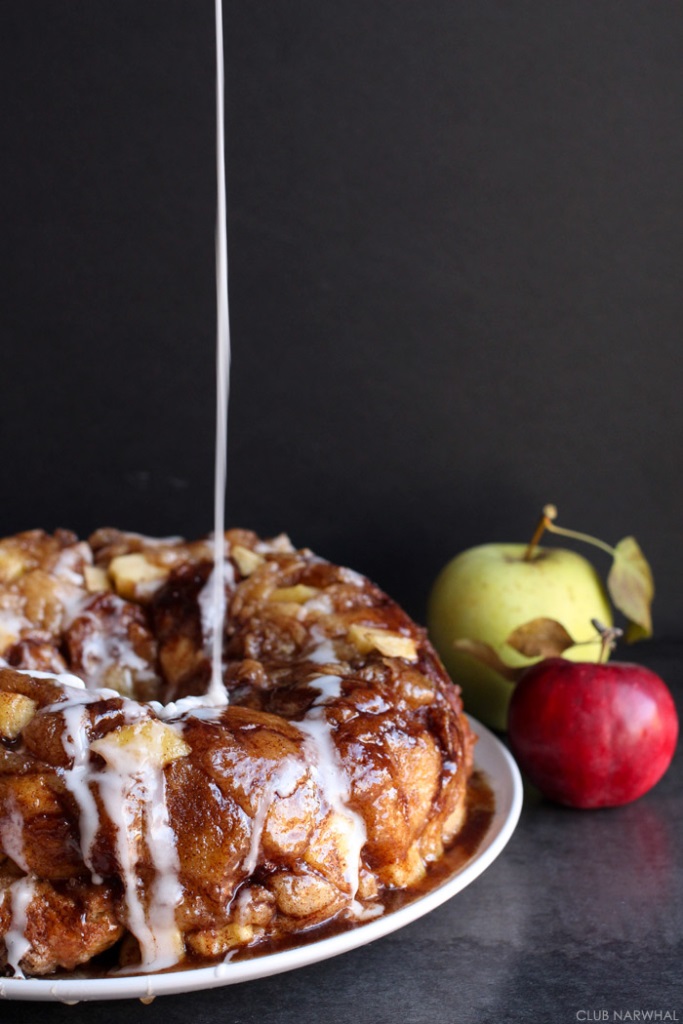 Apple Fritter Monkey Bread.
Each little dough chunk is filled with apple turnover filling, which makes them so moist and melt-in-your-mouth good. You can easily adapt this idea to your favorite pie filling. Cherry fritter monkey bread would be my choice.
All you do is flatten balls of dough, place a tablespoon of filling on each one; pinch closed and roll in melted butter and sugar, then place in your tube pan to raise for about 45 minutes. When proofed, bake in a 350°F oven for 35 to 40 minutes. Finish the baked bread with a good covering of vanilla glaze (recipe below).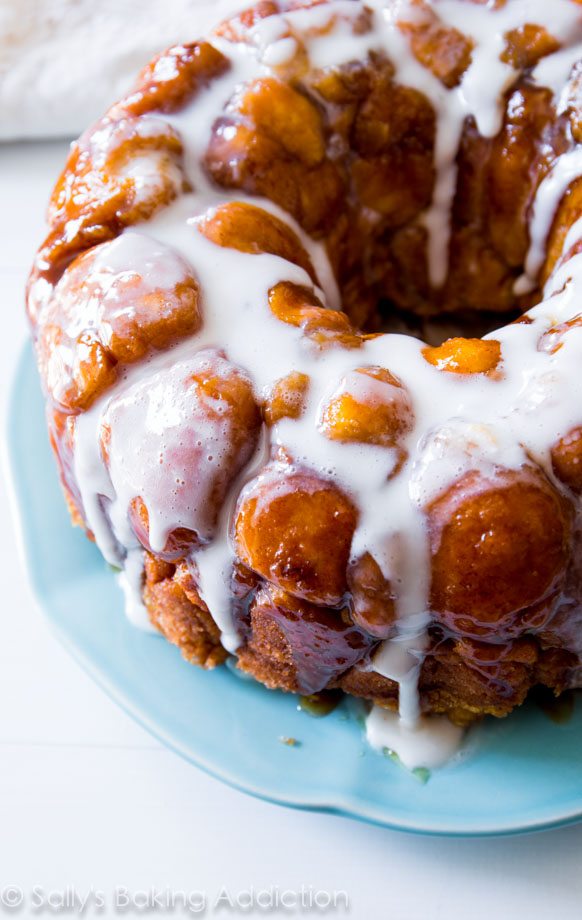 Cinnamon Roll Monkey Bread.
This version, courtesy of
Sally's Baking Addiction
(www.sallysbakingaddiction.com) is completely smothered with a brown sugar sauce before baking and then topped with vanilla glaze. The approach is the same as for the Apple Fritter Bread.
Mix up a batch of your favorite sweet roll dough, form it into balls, and then coat each ball in a mixture of melted unsalted butter, sugar, and, ground cinnamon (to taste). Place these balls in a well-oiled tube pan and then pour a brown sugar syrup over the balls. This syrup is simply more melted butter (about ½ cup), brown sugar (about ¾ cup) and vanilla. Sally suggests 1 teaspoon of vanilla but I use a full tablespoon instead. Let the dough raise for 45 minutes (or until doubled) and then bake this at 350°F for 30 to 35 minutes. You may need to cover the top loosely with foil if it starts to brown too quickly.
Once baked, let sit for about 10 minutes, then turn out onto a plate or platter and pour a vanilla glaze (recipe below) over your bread.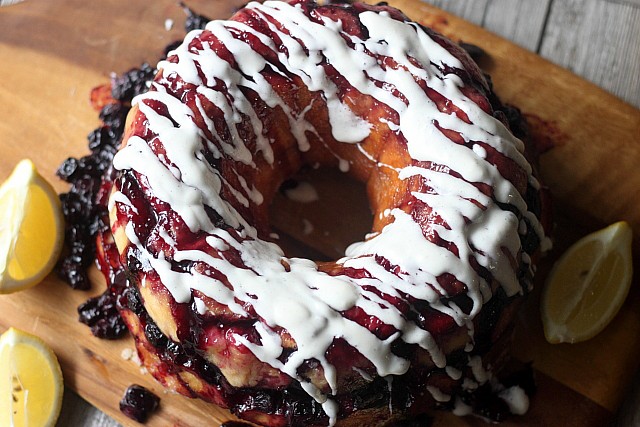 Blueberry Lemon Monkey Bread.
This bread has a heavy dose of macerated blueberries, zesty bright lemon, and sweet cream cheese icing. But you could also finish it off with the basic vanilla glaze if you're in a hurry.
We thank the great site, Mind Over Batter (www.mind-over-batter.com) for this wonderful idea. Again, start with your favorite sweet roll dough recipe and form into balls (golf ball size is perfect). Roll each ball in melted butter and lots of sugar. Place them in a well-oiled tube pan.
Next you'll cover the balls with macerated blueberries. This is 1 pint of berries mixed with 1 zested lemon and sugar (about 1/3 cup). Let this sit for a while to allow the juices from the berries to escape. Once the berries have gotten juicy, pour this over your dough balls, cover the pan with plastic and let the dough rise for about 45 minutes.
Bake at 350°F for 35 to 40 minutes. Let it sit for about 5 or 10 minutes, then turn the bread out on to a plate or platter and cover with a cream cheese glaze or the basic vanilla glaze (recipe below). For a cream cheese glaze, just blend cream cheese (at room temperature) with some sugar and vanilla (all to taste).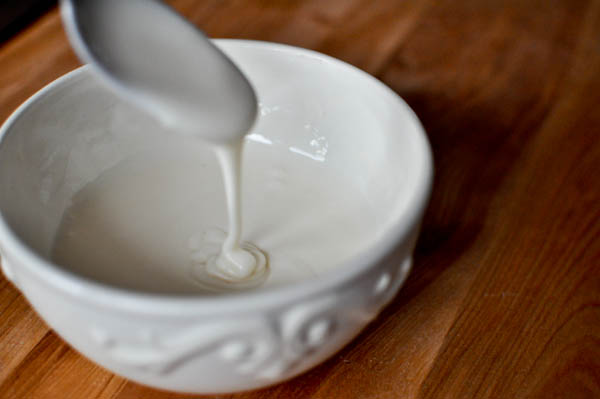 MONKEY BREAD GLAZE
1 cup powdered sugar
2 tablespoons milk
1 teaspoon pure vanilla extract
Mix all ingredients together in a small bowl.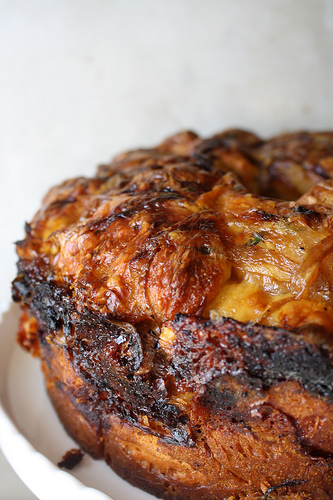 Sharp Cheddar and Onion Monkey Bread.
And in closing, here's a question: Why not give monkey bread a twist and go the savory route? And the extra beauty of this recipe—it's fast! No mixing dough with this one. You used canned biscuits instead. We thank Heather Christo for this clever and yummy recipe (www.heatherchristo.com):
Add Recipe to Cook'n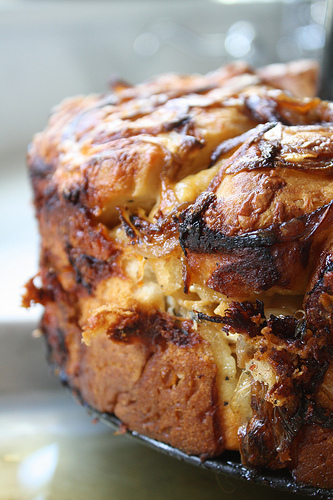 CHEESE AND ONION MONKEY BREAD
(serves 10)
2 large cans refrigerator biscuit dough
2 tablespoons butter
1 yellow onion, peeled and thinly sliced
1 tablespoon fresh thyme
2 ½ cups sharp cheddar cheese, shredded
1 cup butter
1) Preheat the oven to 350°F. Prepare an angel food cake pan with a removable bottom and set it on top of a rimmed sheet pan.
2) In a large pan, add 2 tablespoons of butter and the thinly sliced onion. Sprinkle with salt and cook over medium heat until the onion slices begin to brown, about 5 minutes.
3) Add 2 cups of water and a few sprigs of fresh thyme andlet the onions simmer in the water, (which should have picked up the browned bits from the pan) until the onions are soft and juicy-
4) Cut each biscuit into quarters.
5) Meanwhile melt the 1 cup of butter in a small sauce pan.
6) Brush the inside of the pan lightly with the melted butter, then begin to add about 1/3 of the dough balls about another 5 minutes. Set aside.
7) On top of the dough balls, sprinkle a third of the onions and cheese.
8) Repeat with remaining dough balls and onions and cheese. When everything is in the pan, pour the butter evenly over the entire pan.
9) Bake the monkey bread in the oven for about 45 minutes, and then remove from the oven and let it sit for another 10-15, or until cool enough to handle.
10) Turn out upside down onto a serving platter and pull apart to experience pure, buttery, cheesy heaven!
Add Recipe to Cook'n
Sources:
www.clubnarwhalblog.com
www.heatherchristo.com
www.sallysbakingaddiction.com
www.mind-over-batter.com
www.howsweeteats.com

Alice Osborne
Weekly Newsletter Contributor since 2006
Email the author! alice@dvo.com