Patty's Preparedness Corner: Line Drying your Clothes
Last week my preparedness article was on making do-it-yourself laundry soap. Several of you commented on the rising cost of laundry detergent and were willing to give the soap recipe a try. Others wanted to know how much of the home-made soap one would use per load. Answer: around 1 cup.
Something I didn't mention was the fact that there are those who do not add the cold water to the jug after combining the ingredients, but choose to keep the solution as a concentrate instead. If you choose to do this, just use 1/4 cup of the concentrate per wash load. I am eager to hear from you as you try this idea!
With our clothes clean, the next thing we need to consider is how we will dry our clothes in case of a power outage. There is quite a bit of information in the cyber universe with regards to natural, outdoor clothes drying. From what I have read, even without the excuse of a power outage, there appears to be a renaissance among young families to this alternative to the home dryer.
Where to hang your line
Basically, the answer is, wherever you want. On warm sunny summer and spring days, your clothes could hang outside in your yard, on your patio, in your garage with the door open, along the side of your home; wherever it is convenient for you. In order to save steps, the line should not be too far from your home. Also, don't put it under a tree where sap or birds may destroy your laundry.
Clothes pins
Line drying aficionados swear the only way to go is wooden clothes pins, but even here you have a choice:

The standard hinge pin as shown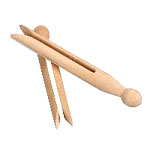 Or this model. There are also plastic versions of the wooden pins but my personal choice is the wooden ones. By the way, you can get these at the dollar store!
Storing your clothes pins
Some women have aprons with pockets that they use specifically for hanging out their clothes.

Others purchase or make a clothes pin bag.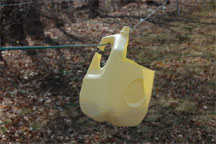 I found this clever idea on a DIY site: a clothes pin hanger made from a juice carton!
Know your fabrics
Sunshine is a natural germ- and odor-killer and can help bleach out stains. But it can also fade bright clothing. Hang sun-sensitive laundry inside out, or in the shade if possible, and bring those articles in promptly as soon as they are dry. Certain fabrics are prone to stretching, or will show puckers where clothespins were clipped to them so hang those on plastic coat hangers (metal ones are likely to rust and stain) and then clip the hangers to the line.
Wrinkles
Wrinkles can be avoided by giving your wet clothes a firm "snap" before hanging them on the line. Stretch along seams and collars for a smoother look.
Begin
There are several ways to begin, the most common being to purchase a clothes line and string it between two sturdy trees or poles. These lines can be plastic coated to keep clothes from snagging.

For those who want something simpler, a retractable clothes line, about 40 feet in length, can be attached to an indoor or outdoor space.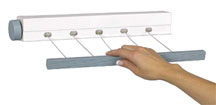 If you need more lines, consider this retractable alternative:
Smaller loads of wash - baby clothes, undergarments, shirts, younger children's clothes, socks and the like - may have up to 50 items in them. Loads that include jeans, towels, sheets, etc., may have as few as 20. The size of your family and the number of clothes per wash, will determine the size of the clothes line you will need.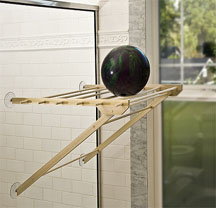 If you only have a few items, this window rack may be just what you need. The bowling ball in the picture indicates just how sturdy this little contraption is. For more information, just Google "window drying racks".
There are a variety of solutions for outdoor drying other than the straight clothes line. From the website bestdryingrack.com you will find the following example: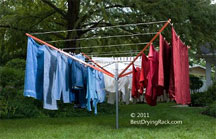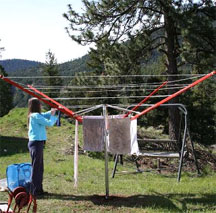 With 132 feet of drying space, this rack rotates, can hold 4 loads of wash, and folds up when not in use.
There are a variety of designs and sizes from a number of manufacturers that can be purchased on-line or at discount stores. Some purchases are more expensive than others, but my feeling is that the initial investment is a onetime expense that would last for years.
Being prepared means knowing how to get by in any given situation. Whether we are talking about storing food, water, first aid, or having the supplies we need to wash and dry clothes without machines, there is something very empowering about knowing we can handle any situation.