Spring Means Rhubarb!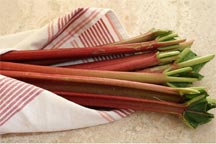 It's easy to grow, and is so healthy that we ought to give rhubarb some serious consideration.
For instance, rhubarb is an excellent source of Vitamin C, which strengthens the immune system, protects against infections, and helps maintain healthy cellular growth. It is high in dietary fiber which helps to maintain regularity within the digestive system. And rhubarb is a good source of calcium which is essential for strong bones and teeth. It's low in sodium and saturated fat, making it a very good food to help prevent heart related diseases. And rhubarb's high Vitamin K content helps prevent diabetes.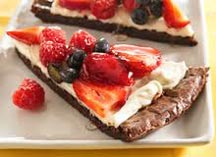 To get the best nutrition from rhubarb, it is suggested that it be baked or stewed for a long period of time. Although it is initially tart, its inherent sweetness comes alive when cooked. For instance, try cooking it with apples and oranges sprinkled with cinnamon and ginger. Rhubarb is versatile - it can be used in a variety of ways, from pie filling to fruit pizza topping.
And did you know that rhubarb was a common medicinal used in medicines and folk healing for centuries? But wait, there's more! Consider these other proven uses:
Cleaning pots and pans: Use Rhubarb to clean your pots and pans (no joke!) If your pots and pans are burnt, an application of rhubarb over the afflicted area will bring back the shine in next to no time. Environmentally friendly too!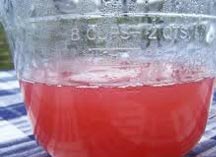 Hair Color: Rhubarb provides a fairly strong dye that can create a more golden hair color for persons whose hair is blond or light brown. Simmer 3 tablespoons of rhubarb root in 2 cups of water for 15 minutes, set aside overnight, and strain. Test on a few strands of hair to determine the effect, then pour through the hair for a rinse.
Insecticide: Rhubarb leaves can be used to make an effective organic insecticide for any of the leaf eating insects (cabbage caterpillars, aphids, peach and cherry slug etc).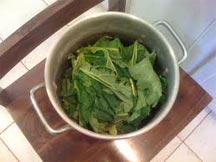 Recipe 1
• Boil a few pounds of rhubarb leaves in water for about 15 or 20 minutes, allow to cool, then strain the liquid into a suitable container.
• Dissolve some soap flakes in this liquid and use it to spray against aphids.
So, next time you pick some rhubarb stems to eat, you can put the leaves to good use rather than just composting them (which is another great use!).
Recipe 2
• Shred 3 lbs. rhubarb leaves and boil in 1 gallon of water for 30 minutes. Allow to cool and then strain. (Use old utensils if you can as rhubarb will stain most things and poison the rest.)
• In a small saucepan heat to boiling 2 1/2 quarts water and mix in 4 oz softened soap ends (any bits of soap left in the shower). Allow to cool (stirring regularly to make sure all the soap is dissolved).
• Add to the strained leaf mixture, stir vigorously, and the spray directly onto infested leaves.
The unused spray can be kept for a day or two, but keep children away as it's still quite harmful.
Now back to the food department, here's a rhubarb recipe that's easy and yummy - a real crowd pleaser!
---
Rhubarb Ranger Dessert
Serves 6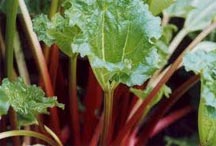 6 C cut-up rhubarb
1 1/4 C sugar, divided
2 Tbsp quick-cooking tapioca
1/4 C melted butter
1/4 tsp salt
3 C corn flakes (or other dry cereal)
Combine rhubarb, 3/4 C sugar and tapioca and put into shallow, 1 1/2 qt. buttered casserole dish. Cover and bake at 375 for 30 min. Meanwhile, combine butter, remaining 1/2 C sugar and salt; toss with cereal. Spoon over rhubarb and continue baking, uncovered, for 15 min. or 'til rhubarb is tender and mixture is lightly browned. Serve warm or cold with slightly sweetened whipped cream.