Red Alert: It's Just About Family Reunion Time!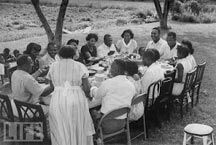 With the approach of summer comes the opportunity for a family reunion and a "cousins reunion" is already being planned on my husband's side of the family. My side is calling for a reunion, and chances are good I would be the organizer. I'm a little daunted by the idea, so I've been talking to folks and doing my research. I found a really helpful website, Family-Reunion.com, that demystifies the whole thing. Here's what Mr. Spiffy, the spokesperson (aka family reunion doctor) of the site, had to share: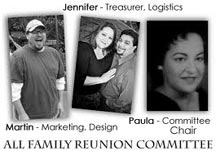 "Creating a family reunion committee is the first step to putting it all together. If you are planning a small reunion (25 people or less?), then it can be a committee of one - YOU. If it's bigger, then make the committee bigger. The committee should create a planning binder with lists of subcommittees, guests, assignments, resources, financial expectations and status, and anything else that seems important at the time.
Here's what to do after you have your committee:
1. Select a reunion type
2. Choose a date
3. Locate the family (a little research may be needed)
4. Set a budget
5. Decide on a theme
6. Decide on fun activities
7. Spread the word - advertise
8. Get everyone involved during the event
9. Feed the masses
10. Enjoy yourself
11. Clean it up (hopefully you've assigned help for this)
12. Wrap it up (use an evaluation form, update family information, thank the volunteers)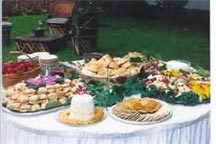 "Providing food and refreshments for your reunion crowd can be handled in a number of different ways, none any better than the rest. It all depends somewhat on the type of reunion you are planning and quite a bit on how many pennies you plan on pinching. The big question to answer will be just who exactly is going to be providing the food. Will you do it yourself or have someone else do the cooking? The answer may very well be tied to the expense since a caterer or restaurant meal usually costs a lot more than preparing the reunion meals yourself.
"If your reunion will take place over several days, you may find that a combination of choices could work out best. For example, each family could be responsible for finding their own breakfast, with everyone getting together for a casual potluck lunch, followed by an elegant dinner at a fancy restaurant. Don't be afraid to mix-and-match. A family reunion is not a one-size-fits-all proposition.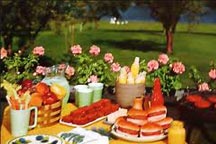 "What are good options for "reunion" food, you ask? First, it has to taste good. Second, it has to be filling (at least if it's a main course). Third, it can't cost a fortune. And most importantly, it has to be fairly easy to cook in a large quantity. Some standard suggestions are grilled hamburgers and hot dogs, corn on the cob, baked potato bar, spaghetti or lasagnes, chili cook-off, sloppy Joes, and s'mores."
Now, all this said, I conclude with a couple recipes that have stood the Family Reunion Test-of-Time. These will win raves, win you a good reputation as food planner, and win family participation:
A WELCOME BREAKFAST: This recipe works well for an assembly line process - so you can involve lots of people in preparing it.
---
Sunny Breakfast Eggs
Serves 8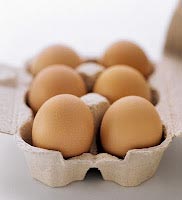 3 Tbsp butter
8 eggs
1/2 C milk
2 Tbsp chopped pimiento
2 Tbsp chopped parsley
1/2 tsp salt
1/8 tsp pepper
4 English muffins, split, toasted
8 thin slices Cheddar cheese, cut in half diagonally
Melt butter in skillet over low heat; add combined eggs, milk, pimiento, parsley and seasonings. Cook slowly, stirring occasionally until eggs are cooked. For each sandwich, spoon eggs onto muffin half. Top with two cheese triangles. Broil until cheese melts.
---
DESSERT TIME: This is an excellent make-ahead, which can minimize some stress.
---
Praline Cheese Bars
20-25 servings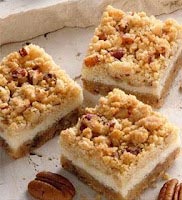 1 1/2 C graham cracker crumbs
3 Tbsp sugar (or 1 Tbsp Stevia or 1 Tbsp agave nectar; if using agave, you'll need a bit more graham cracker crumbs)
3 Tbsp butter, melted
4 (8 oz) pkgs cream cheese, softened
1 1/2 C packed dark brown sugar
3 Tbsp flour
4 eggs
2 tsp vanilla
1 C finely chopped pecans
Maple syrup
Preheat oven to 350 degrees. Combine crumbs, sweetener and butter; press onto bottom of greased 9x13-inch pan. Bake for 10 min.
Combine cream cheese, brown sugar and flour, mixing at medium speed until well blended. Add eggs, one at a time, mixing well after each addition. Blend in vanilla and nuts. Pour mixture over crumbs. Bake for 35-40 min. or until knife inserted comes out clean. Chill. Brush with maple syrup before serving.