Breakfast in Bed for Mom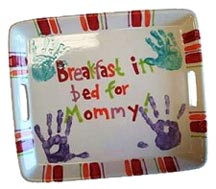 I can remember my siblings and me - along with our dad - making my mother breakfast in bed on Mother's Day. We were all pretty incompetent, but my mother loved every burnt piece of toast, and mushy scrambled eggs we made. Mom's are like that.
Things have changed somewhat with the advent of the internet. There are so many interesting ideas, decorations, and recipes to help even the novice cook look like a pro. So, should someone in your family want to "surprise" you with a yummy "surprise" breakfast this Sunday, leave out the following recipe in a place where he/she/they can see it. Believe me, it will beat burnt toast and runny eggs. Sorry mom.
---
Chocolate Waffles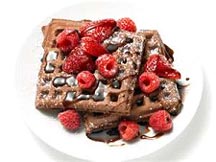 3 tablespoons unsalted butter
3 tablespoons vegetable shortening
2 cups all-purpose flour
1 tablespoon baking powder
1/4 teaspoon salt
3 tablespoons sugar
3 large eggs
1 cup milk
1/2 cup chocolate syrup, plus more for topping
1/2 teaspoon vanilla extract
Cooking spray
Confectioners' sugar and/or berries, for topping (optional)
Melt the butter and shortening in a small saucepan, stirring to combine; remove from the heat and set aside. Whisk the flour, baking powder, salt and sugar in a large bowl. Whisk the eggs, milk, chocolate syrup and vanilla in a large liquid measuring cup or a separate bowl. Whisk the egg mixture into the flour mixture until combined. (The batter will be slightly lumpy.) Whisk in the butter mixture until combined.
Preheat the oven to 250 degrees F. Preheat a waffle iron and spray with cooking spray. Ladle some of the batter into the waffle iron to within an inch of the edge (1/3 to 1/2 cup batter, depending on your waffle iron); cook until crisp. Transfer the waffle to a baking sheet and keep warm in the oven. Repeat with the remaining batter.
Divide the waffles among plates. Dust with confectioners' sugar and top with berries and/or chocolate syrup.