Cook the frozen spinach according to directions on its packaging, with the garlic. Drain thoroughly. Add the cream cheese and salt. Cook over a low heat until heated through. Serve hot with crackers.

Download this recipe.
Spinach Lasagna
Serves 8
2 egg whites
26 oz of prepared spaghetti sauce
24 oz of ricotta cheese
10 oz of Lasagna noodles, cooked
10 oz of frozen spinach, thawed and chopped, then squeezed dry
2 cups of mozzarella cheese, grated, reserve ½ cup
¾ cup of Parmesan cheese, grated and divided, reserve 2 tablespoons
½ teaspoon of salt
½ teaspoon of black pepper
Olive oil
Preheat your oven to 350°F. Prepare a 9-inch by 13-inch oven proof baking dish for lasagna.
Prepare lasagna noodles and directed on the package, then rinse and drain. Drizzle a bit of olive oil over the noodles to prevent them from sticking together. Combine parmesan cheese, ricotta cheeses with the egg whites, salt and pepper in a large mixing bowl. Pour ¼ cup of spaghetti sauce in the bottom of the baking dish and spread it out using a spatula.
Cover the sauce with a single layer of lasagna noodles. Spread about half the cheese mixture over the noodles, and then cover with about half of the spinach and shredded mozzarella cheese. Finish this layer with half of the remaining spaghetti sauce.
Add a second layer of noodles, topping with the remaining cheese mixture, spinach, and mozzarella cheese. Top with the final layer of noodles and remaining spaghetti sauce. Sprinkle the reserved Parmesan cheese over the top and bake for thirty minutes. Remove from oven and allow to set for 10-12 minutes, then slice and serve.

Download this recipe.
Spinach & Turkey Wraps
Serves 4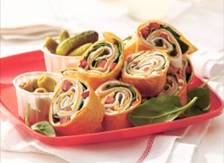 1(8 oz) pkg cream cheese
8 x flour tortillas
5 oz spinach leaves trimmed
1 lb thickly-sliced deli turkey
1 jar salsa
Spread the cream cheese on the tortillas. Put some spinach and then turkey on each tortilla. Drizzle some salsa over the top. Fold in one end and roll up the tortilla to form a wrap.

Download this recipe.
---
(If YOU have a smart idea, won't you share it? Life is so much easier and we accomplish so much more when we pool our resources. And after all, we're all in this together. So email
patty@dvo.com
or
alice@dvo.com
with YOUR Smart Ideas!)
---
Contribute to the Cook'n Club!
DVO would love to publish your article, prose, photography and art as well as your cooking, kitchen and nutrition tips, tricks and secrets. Visit the Newsletter Submission / Win Win for All section in our Forum for more information and details.
---