We found this article on one of our favorite sites,
GreenSmoothieGirl.com
, and thought you older moms would appreciate this perspective, and felt you younger moms needed to hear this:

Green Smoothie Girl's two young sons hate peaches because of their fuzzy skin. She tells them they're crazy, because inside the fuzzy skin is one of the most fabulous foods on this planet, when they're in season. (Green Smoothie girl's mom soaked sliced fresh peaches in orange juice overnight — even her peach-skin-haters loved it — didn't mind the skins one bit. Good tip here!)
She says she refused to indulge the "cutting the skin off" thing (apples, peaches, pears, etc), even when her kids were little, and she highly recommends you young moms avoid starting that habit. And we heartily agree with her — do it just ONCE and your little ones have been trained to refuse to eat the skins of fruit.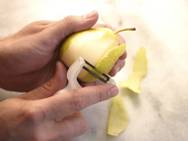 Why does this matter? The skin of fruit has higher concentrations of antioxidants and fiber (with lower sugar) than the rest of the fruit. (We know, pesticides are there, too, but wash your produce well; also cut out the top and bottom divots in apples, because that's where pesticides collect. Remember: All the studies showing massive health benefits from eating fruits and vegetables are done with conventional produce — conventional in growing methods, meaning pesticide applications. And remember something else: Animal protein has a much higher concentration of pesticides than even sprayed vegetables and fruits do.)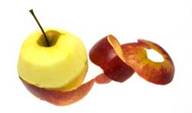 So understand this: The minute you cut the skin off the apple or peach for a child, you have consigned yourself to a lifetime of making the world's
original
fast foods a great big hassle and we're training lazy and picky eaters. You won't always be there to cut the skins off. Wouldn't it be better to train them to eat the whole thing, so they can, in future years, come home, wash the apple from the bowl on your counter, and eat the whole, nutritious thing? Remove the peel and the food isn't quite as "whole" — less fiber is slowing down bloodstream sugar absorption, for one thing.
We hope this gets you thinking, young moms — don't start this detrimental habit. AND ANOTHER THING! :) Don't cut whole-wheat bread crusts off bread, either. We're teaching our children to not use their jaws, causing devolution (the opposite of evolution) of their palates and jaws, and they need those strong muscles and wide palates to break down fibrous whole foods.

Now here's a great tip for a WHOLE FOOD applesauce: Leave the peels on your apples. After coring, just chunk them up well and cook. With the right apple, you may not even need sugar. Make your applesauce this way and you'll be including all the great fiber, antioxidants, and phytonutrients and trace elements. Why can't we find commercial applesauce with the peels?
---
Contribute to the Cook'n Club!
DVO would love to publish your article, prose, photography and art as well as your cooking, kitchen and nutrition tips, tricks and secrets. Visit the Newsletter Submission / Win Win for All section in our Forum for more information and details.
---
---