With apples literally falling from the trees, here are some quick and very easy recipes that we thought you would enjoy.
Grilled Apple, Bacon and Cheddar Sandwich with Roasted Red Onion Mayo
Paula Deen
1 Serving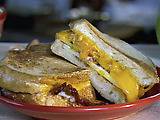 Sandwich:
2 slices (1/2-inch-thick) sourdough, multigrain or another hearty bread
4 slices thick-cut bacon, cooked crisp
4 slices Cheddar
1/2 Granny Smith apple, cored, sliced thin
Roasted Red Onion Mayo, recipe follows
Butter
Preheat a seasoned grill pan or griddle over medium heat. Assemble this sandwich just as you would a traditional grilled cheese sandwich: spread 1 slice of bread with some Red Onion Mayo, then top with 2 slices Cheddar, the bacon, the apple slices, then 2 more slices of Cheddar, finishing with another mayo-slathered slice of bread. Butter the outsides of the bread and transfer to the hot grill. Grill about 3 minutes per side, since this sandwich is so thick. Remove to a cutting board and cut the sandwich in half on the diagonal to serve.
Roasted Red Onion Mayo:
1 medium red onion, chopped
2 teaspoons olive oil
Salt and pepper
1 cup mayonnaise
Preheat oven to 375 degrees F.
On a small rimmed baking sheet, toss the red onion, olive oil, salt and pepper together. Roast in the oven for 25 to 30 minutes until the onion is very soft, stirring occasionally. Remove from oven and let cool. Transfer to a food processor and buzz until finely chopped. Add the mayo and pulse until smooth and combined.

Download this recipe.
Apple Crumble
Bobby Flay
Serve 4
4 Granny Smith apples, cut in half
1/4 cup olive or canola oil
1 stick (8 tablespoons) unsalted cold butter, melted
8 tablespoons light brown sugar
1 teaspoon ground cinnamon
1/2 cup granola
1 pint vanilla ice cream
1/2 cup prepared caramel sauce, heated, optional
Heat the grill to medium.
Place apples in a medium bowl and toss with the oil. Place the apples on the grill, cut-side down and grill until nicely browned. Flip the apples over and continue to grill until nicely browned on skin side. Remove from the grill and allow to cool briefly.
Once they are cool enough to handle, core and cut the apples into wedges. Place the apple wedges into a bowl and toss with 1/2 teaspoon ground cinnamon, 4 tablespoons light brown sugar and 1/2 stick melted butter.
In another bowl, toss together the remaining melted butter, cinnamon, light brown sugar and the granola.
Place 1 large scoop of ice cream into 4 bowls and top with the apple mixture. Sprinkle the granola mixture over the top of the apple and drizzle with some of the caramel sauce, if using.

Download this recipe.
Grilled Apple Pork Chops
Sandra Lee
Serves 4

2 cups apple juice
1 tablespoon coarsely ground black pepper
1/4 cup salt
1/4 cup light brown sugar
1 teaspoon red pepper flakes
5 rib end pork chops, about 1 1/2 pounds
1 tablespoon grill seasoning
In a large pot over medium-high heat, add 1 cup of water, apple juice, pepper, salt, sugar and red pepper flakes. Bring to a simmer making sure to stir occasionally to dissolve the salt and sugar. Remove from heat and add to a large bowl with 2 cups of ice.
Once the brined has cooled add pork chops. Brine for at least 4 hours or up to 24 hours in the refrigerator.
Remove pork from brine, rinse with cold water and pat dry with paper towels.
Heat grill or grill pan over medium heat. Sprinkle 1 side of the pork chops with 1/2 the grill seasoning. Place chops on hot oiled grill, seasoned side down. Sprinkle the topside with remaining grill seasoning. Grill chops for 4 to 5 minutes per side. Let rest for 5 minutes before serving.

Download this recipe.
---
Contribute to the Cook'n Club!
DVO would love to publish your article, prose, photography and art as well as your cooking, kitchen and nutrition tips, tricks and secrets. Visit the Newsletter Submission / Win Win for All section in our Forum for more information and details.
---