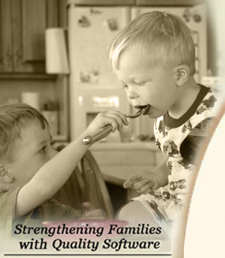 Cook'n Club Home
Subscribe Now!

Cook'n Forum
HomeCook'n Archive
Give-Aways

I have spent the last 2 hours reading your newsletter and wonderful recipes. I have already printed a whole bunch I want to try. I love them because they are using ingredients one has on hand. I love that and just wanted you to know how much we appreciate all your hard work in putting together this newsletter. Thank you very much.

Anna

Volume I - September 18, 2009
Cranberries For The Health Of It!
by Alice Osborne & Patty Liston
Small Fruit, Big Benefits…so Stock Up!

Cranberries are a small fruit with BIG benefits. They're coming into season, so stock up! A native in many regions of the United States and other parts of the world, they are a gift from nature. And like many of nature's gifts, they are very good for the human body.
Some US states and other countries (mainly Canada, New Jersey, Washington, Massachusetts, and Wisconsin) market the cranberry as one of the few superfruits (a fruit with numerous health benefits) in the world. Here's how cranberry juice helps you lead a better life:
Rich in phytochemicals – Phytochemicals are shown to be deterrents against cancer and disorders of the cardiovascular and immune systems. Cranberry juice is a good source of polyphenol antioxidants and phytochemicals.


Prevents urinary tract infection – Preservatives in food and beverages contribute to the rise in UTI cases these days. Cleanse by drinking a glass of unsweetened cranberry juice. Cranberry's anti-adhesion properties — or the proanthocyanidins (minerals found in the fruit), help rinse the body of urinary tract infections caused by E. coli bacteria.


Reduces dental plaque – Unless you're drinking sweetened cranberry juice, this beverage has nothing but good news for the teeth and gums. Experts say cranberry juice inhibits the growth of mouth bacteria that causes plaque. So drink up. A healthy dose of cranberry juice ensures your teeth are fresh and clean all the time.


Prevents formation of kidney stones – This is still under active medical research, but the presence of quinic acid has experts saying it is possible for cranberry juice to help prevent the development of kidney stones. It makes sense since cranberry rids the body of wastes and bacteria — anything that doesn't belong there.

Make your own: Homemade is everything when it comes to fruit beverages — especially true with homemade cranberry juice. Drinking freshly-squeezed cranberry juice everyday is healthier and does a lot of good stuff for the body. The sweet tart-like taste of cranberry juice is what sets it apart from other fruit juices. It's easy to prepare, too — shouldn't take more than a couple of minutes. So why not give it a shot? Here's how:

Homemade Cranberry Juice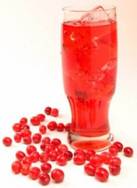 1 lb fresh cranberries
5 c water
salt
3 orange slices
˝ c sugar

Be sure cranberries are fresh. Wash well and put them in a saucepan with water. Add a pinch of salt if you like. Add the orange slices. Consider putting the berry and orange pulps aside for use in making homemade cranberry sauce. Cook over medium heat for 10 minutes (a rough estimate). The best way to check is to wait for all the berries to burst. You're halfway done. Pour the mixture into a sieve lined with cheese cloth to filter out the solids. Afterwards strain the juice into the saucepan, add sugar, and boil for another two to three minutes.

Fresh cranberry juice isn't valued only for its great sweet taste, but also for the vitamins and minerals it provides. The values refer to 100g of the food type.

Vitamins
Vitamin A (IU): 45
Vitamin B6 (mg): 0.052
Riboflavin (mg): 0.018
Niacin (mg): 0.091
Thiamin (mg): 0.009
Vitamin C (mg): 9.3
Vitamin K (mg): 5.1
Vitamin E (mg): 1.2

Minerals
Calcium (mg): 8
Iron (mg): 0.25
Copper (mg): 0.055
Magnesium (mg): 6
Potassium (mg): 77
Phosphorus (mg): 13
Sodium (mg): 2
Selenium (microg): 0.1
Zinc (mg): 0.1

Other
Protein (g): 0.39
Carbohydrate (g): 12.2
Fibre (g): 0.1
Lipids (fats) (g): 0.13
Water (g): 87.13
Energy (Kcal): 46



Download this recipe.
---
(If YOU have a smart idea, won't you share it? Life is so much easier and we accomplish so much more when we pool our resources. And after all, we're all in this together. So email
patty@dvo.com
or
alice@dvo.com
with YOUR Smart Ideas!)
---
Contribute to the Cook'n Club!
DVO would love to publish your article, prose, photography and art as well as your cooking, kitchen and nutrition tips, tricks and secrets. Visit the Newsletter Submission / Win Win for All section in our Forum for more information and details.
---