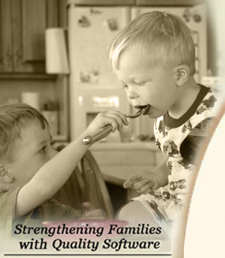 Volume I - March 24, 2007
5-Day Meal Plan by Kitty
Including "Dovetail Tips" for Big Time Savings!

This week's menu gives us a chance to make some of those wonderful winter comfort foods before spring gets here.
If you want to do the veggie prep on Sunday:
Onion - (Mon -1 in rings, Tue - 1 med diced, Wed 1 med chopped, Thur - 2 quartered)
Celery - (Mon - 2 stalks finely chopped, Tue - 2 cups diced)
Bell Pepper - (Tue - 1 minced, Thur - 2 cubed to 1 inch)
Mushrooms - (Tue - ¼ lb sliced, Wed - ½ lb sliced)
Green Onions - (Thur - ¼ c chopped, Fri - 1 T thinly sliced)
You could even cook and cube the chicken and pork and make and brown the meatballs. (This would make for a super-easy week.).
If you don't have time to do it all ahead look for the dovetailing tips to save you time as you go this week!!
---
Download these recipes into your Cook'n software. Then, you can save time and money by using your Cook'n software to make a grocery list!


Monday
Chicken Casserole with Green Beans
Your favorite pasta
Mock Cheesecake

Dovetailing Tips: If you opted not to cut all your veggies Sunday tonight you can get lots done while you already have them out. You need 1 onion sliced into rings tonight, but dice one and finely chop another and put them in baggies. Then they will be ready to toss into dinner Tuesday and Wednesday. Same thing with the celery. Finely chop 2 stalks for tonight and dice 2 cups for Tuesday.

You will need 2 cups of cubed cooked chicken breast for this meal and 2 ½ cups for Thursday's Chicken Fajitas on a Stick. And when you make the Mock Cheesecake be sure to save enough cake crumbs (2 cups) for Cake Crumb Pudding on Wednesday. Voila! Look how much is ready for the week already!

Bonus Tips and Tricks: For a quick thaw on the cake slices, let them sit on top of the stove while the casserole bakes in the oven. You could save fat and calories by substituting lowfat dairy.

---
Tuesday
Pork Casserole
Baked Apples

Dovetailing Tips: Tonight you will need to mince 1 bell pepper, but if you cube 2 extra you will save yourself some time Thursday. You also need 1/4 cup of sliced mushrooms for tonight, but throw in an extra 1/2 pound while you are slicing and they will be ready for Wednesday's Meat Balls. Yummy!

Don't forget to use your precut onion and celery tonight too. All that flavor with 1/2 the dicing.

Bonus Tips and Tricks: Tonight could go over the salt limit, so be sure to use low sodium soups and soy sauce, and be sure to put the apples in the crockpot early so they'll be done when you are ready to eat. The apples will double as the veggie/fruit course and the dessert too, but if you want them to be just dessert, add a scoop of vanilla ice cream.

---
Wednesday
Country Meat Balls
Hot Cooked Rice
Southern Corn Custard
Cake Crumb Pudding

Dovetailing Tip: You should already have your mushrooms, onion, and cake crumbs ready to go tonight. The only thing you need to plan ahead on is the corn. Make tons tonight and you can use it Thursday and Friday with no extra work.

Bonus Tips and Tricks: This is an easy dish, and the 1 ½ hr cook time is really just a best-case scenario, I don't think I've ever cooked meatballs that long! We serve this in a layered bowl: Rice, Corn, Meatballs, then Gravy…MM!
---
Thursday
Chicken Fajitas on a Stick
Southwest Salad Twist
Pots of Gold Sticks

Dovetailing Tips: You can use your prepared onion, bell pepper, and left over corn tonight. You will also be adding green onions so chop an extra tablespoon for tomorrow.

Bonus Tips and Tricks: For an additional shortcut, I often use a couple of cans of Rotel tomatoes instead of the tomatoes, onions, cilantro and chilies. Be sure to make the Pots of Gold Sticks early in the day or the day before so they have a chance to freeze.
---
Friday

Corn Salmon Squares
Tomato Salad Platter
Lemon Squares

Dovetailing Tips: Tonight use the corn and green onions you have left and enjoy!

Bonus Tips and Tricks: The trick tonight is to make the lemon squares first, then by the time they are finished baking you can turn up the heat for the Salmon Squares.
---
Contribute to the Cook'n Club!
DVO would love to publish your article, prose, photography and art as well as your cooking, kitchen and nutrition tips, tricks and secrets. Visit the Newsletter Submission / Win Win for All section in our Forum for more information and details.
---
---

Terms & Conditions | Webmaster | Privacy Policy | Unsubscribe





© 2007 DVO Enterprises, Inc. All rights reserved.
Sales: 1-888-462-6656