Cookbook Reviews - Soup's On!
Soup's On!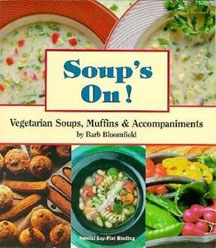 Well, since it's October, Autumn time, and because I couldn't wait any longer, our first cookbook this month is a soup cookbook! And not just soup, it also includes muffin recipes to accompany the delicious soup! What a perfect combination, and soup is such a perfect meal for the fall. There is even a chapter of accompaniment ideas and recipes too!
Not only does this cookbook have great recipes, it also has a few soup pointers. It will give some tips on what to do if your soup is too thin, or too salty, or too spicy, or too bland, and more. It will also give lots of tips for different kinds of soups like cold soups, cream soups, and blended soups. Some of these little tidbits will prove very valuable as you explore the recipes in this book.
Soup is a great way to warm up from cold weather, is a fantastic "company" food, and the best part is that most soups are very easy to make! The recipes in this cookbook are easy and the directions are very clear, which I love. Most of the soups use ingredients you will already have on hand as well, so there won't be a lot of extra trips to the grocery store. If you are feeling adventurous, there are some soups that are more exotic, such as: East African Peanut Soup, Curried Bok Choy and Snow Pea Soup, and even a Coconut Lemon Napa Soup! Some of the other soup recipes you will find in this cookbook are: Roasted Red Pepper Soup (you know how much I love red peppers!), Triple Onion Soup, Easy Cream of Broccoli Soup, Corn Chowder, Zucchini Soup, Garden Soup, Minestrone, and so many more!
The muffins in this cookbook are great too, there are two chapters of muffins, a "Sweet" and a "Savory" collection of recipes, as well as a few tips for the perfect muffins every time. I absolutely love muffins, and they always make the kitchen smell divine! The cookbook gives a suggestion or two of what muffins pair nicely with what soups, but feel free to mix and match for endless combinations that will create a memorable meal!
Some of the "sweet" muffin recipes include: Applesauce Raisin Muffins, Banana Muffins, Cake Muffins (YUM, this recipe comes with a bunch of different variations), Kiwi Ginger Muffins, and Mango Muffins. Some of the "savory" muffin recipes include: Cranberry Corn Muffins, Mashed Potato and Gravy Muffins, Peanut Butter Oatmeal Muffins, Tomato Herb Muffins. The accompaniments chapter has some great recipes for things to make to go alongside your soups, things such as: Bagels, Apple Biscuits, Breadsticks, Herbed Focaccia, and Scones, plus many more.
This is a cookbook that is sure to satisfy your families, a warm bowl of soup with a warm muffin is good for the body and for the soul! I hope that you enjoy baking and simmering these delicious recipes, soup is one of my favorite things about Autumn!
---
Bravo!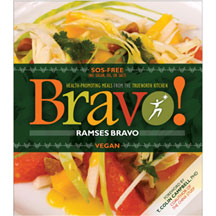 Our second cookbook this month is a new vegan cookbook called Bravo! and it has a very talented author. Ramses Bravo is the executive chef at TrueNorth Health Center in Santa Rosa California. He has been delighting the guests there since 2007 with his healthy, flavorful dishes. He has an extensive work background since he has worked as a chef in numerous hotels and restaurants in California, West Virginia, and even Hawaii! Ramses has a real passion for healthy eating because he has seen the power of what good food choices can do.
He almost didn't take the job at TrueNorth because it was an entirely new way of cooking for him. He mentions in the preface of the book that he was out of shape, overweight, and exhausted when he left his previous position in a hotel to come to TrueNorth, and by following their emphasis on healthy eating, he has lost weight and his energy level is better than ever! TrueNorth guests lose two pounds each week on average while eating the types of meals described in this book. So if you are looking for a good cookbook to help you eat healthier-look no further!
"The human passion for high-calorie, carbohydrate-rich, salty, fatty foods is not driven by a lack of will power; it's programmed into our genes. In the ancient past, people who preferred and sought out high-calorie foods and scarce supplies of salt and fats increased their chance for survival. However, in these modern times of plenty, that survival strategy works against us, undermining our health and shortening our lives. Bravo! is a collection of delicious, healthful recipes incorporating whole, unprocessed, plant-based ingredients that satisfy our passion for flavor and the need for essential nutrients.
The recipes originate from TrueNorth Health Center in Santa Rosa, California, which has helped over 8,000 people heal from hypertension, diabetes, high cholesterol, and other chronic illnesses. Chef Ramses Bravo has created and developed exquisite vegan cuisine by combining simple flavors and textures that complement each other to perfection, without added sugar, oil, or salt (SOS). Helpful tips for using whole foods, developed to serve clients from every walk of life, are included here to make anyone's dietary transition as easy as possible." This is an excerpt from the introduction of the book that I thought summed it up pretty well!
The introduction chapter also provides two weeks' worth of menus to help you get started on your way to better health which is amazing since usually the hardest part is knowing how to start. There are lots of great tips on how to organize your kitchen and basic vegan cooking techniques. It is a great beginner's guide to vegan cooking, and for those are already vegan pros-the recipes are great!
Here are some of the recipes you will find in this cookbook: Baked Plantains with Coconut Vanilla Granola, Banana Pecan Bars, Apple Cherry Oatmeal, Steamed Veggies with Tomato Herb Dressing, Black Bean Stew, Toasted Barley and Tomato Stew, Fresh Herb and Strawberry Salad, Peach Blueberry Crisp, Orange Cinnamon Rice Pudding, Mango Banana Pie and Apple Pecan Cobbler. There are a bunch of great recipes for various dressings to accompany raw or steamed veggies too such as Blood Orange Dressing, Avocado Corn Dressing, and Roasted Bell Pepper Dressing. You won't miss the extra oil, salt, and sugar that is predominate in a lot of the foods we already eat-this is the good stuff!