Butter makes everything better! Flavored butters can make any meal seem like a special occasion and yet, they are so easy to make. I will give you some great examples of how to make and use spiced butters, but I want you to use your imagination because the sky's the limit!
A couple of years ago, my brother prepared dinner for our family. We had grilled steaks. I knew we were in for a delicious meal, Dave is an awesome cook. After grilling our steaks, he gave us each a liberal amount of chipotle butter to garnish our steak. I was impressed with the unexpected flavor and how appealing it made the steaks look. Some famous steak houses also add a pat of butter to the steak after it is cooked. They know the secret for a flavorful and moist steak. The butter enhances the flavor and makes the meat juicier.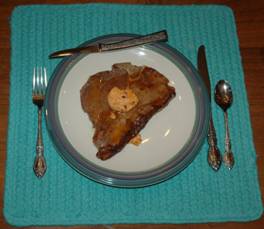 Although, I did not come up with the idea, I was intrigued with the thought that I could spice up so many dishes with flavored butter. Sweet butters, fruity butters, savory and spicy butters. I was, and you may also be, surprised at the endless possibilities. Spicing up the butter makes everyone feel as though they are being given some extra special treatment.
These butters are called compound butters and are typically used by the French for seasoning poultry, fish and vegetables. They can also be used to add flavor to steaks, burger, breads and pasta. Most of these recipes will call for fresh herbs because they taste and look superior to the dried ones. You can, however, use dried herbs just remember to use less because they are more concentrated.
Compound butters are typically flavored with spices and then rolled into logs, put in plastic wrap and chilled until solid. If you want to get fancy, try rolling the logs in herbs or finely chopped nuts or dried fruits. Then before serving, slice the logs into thin disks and arrange on a small plate or butter dish. These butters can also be frozen for up to 1 month. I have personally used them after 3 months of freezing and they were fine.
If you are making a fruit butter to use on bread, store it in a plastic lidded dish in the refrigerator for easy access. Chances are it won't last long.
Chipotle Butter
This zesty, spicy butter is delicious on meats and also corn. Try it on corn bread.
8 tablespoons butter (softened)
2 teaspoons grated lime zest
4 teaspoons lime juice
4 teaspoons minced chipotle in adobe sauce
Add 2 teaspoons of the adobe sauce. Soften the butter (room temperature) and then add the other ingredients. Add kosher salt to taste. Roll into a log, wrap in plastic wrap and refrigerate until firm and then cut into disks.
Horseradish Butter
This herbed butter is especially good on beef.
1 cup of butter (softened)
2 tablespoons of bottled
2 tablespoons minced chives drained horseradish
Herb Butter
Use your favorite herb or combination, Basil, Dill, Sage, or Rosemary.
1 cup of butter
¼ cup fresh chopped herbs
1 clove minced garlic
¼ teaspoon salt
Italian Butter
This butter is great on meat but is also great on pasta, potatoes, toasted French bread or vegetables.
1 cup of butter (softened)
½ teaspoon fresh chopped basil
½ teaspoon oregano
½ teaspoon finely chopped garlic
Salt to taste
Cajun Butter
1cup of butter (softened)
1 tablespoon lemon juice
¼ teaspoon cayenne pepper
½ teaspoon garlic powder
Cilantro Lime Butter
1 cup butter (softened)
¼ cup finely chopped cilantro
3 tablespoon lime juice
¼ teaspoon salt
This is great on any meat or corn on the cob.
Since the Holidays are fast approaching it might be kind of fun to try some Cranberry Sage Butter. This recipe needs to be used with fresh sage and is great on your Holiday meats, vegetables, etc.
Cranberry Sage Butter
1 cup of butter (softened)
½ cup finely chopped green onion
1 clove minced garlic
2 tablespoons fresh sage, chopped
½ teaspoon kosher salt
1 teaspoon pepper
¼ cup of finely chopped cranberries
In a skillet, melt ½ cup butter over medium heat. When the butter starts to foam, add the onion and garlic. Cook until the butter is light brown. Remove from heat and stir in sage, salt, and pepper. Completely cool.
Beat the remaining ½ cup butter (softened) with an electric mixer until light and fluffy.
Add the browned butter and herb mixture. Stir in the finely chopped cranberries.
This butter can be shaped into a log, wrapped in plastic wrap and then sliced into disks before using.
Vanilla Honey Butter
1 cup of butter (softened)
1 cup honey
1 cup whipping cream
1 teaspoon pure vanilla
Cream the butter with the honey. Slowly add the whipping cream. Beat until mixture is fluffy and then add the vanilla. This recipe should be stored in a plastic lidded container. This is so tasty on rolls, bagels, waffles, pancakes, and even on plain old toast!
I guess it is pretty obvious that I have a great affection for butter. You will be surprised at the great ideas you will come up with for your compound butter recipes and even more surprised at the reaction of family and friends.
---
* DVO welcomes your kitchen hints and cooking or nutrition questions! Email us and we'll post your hints and Q/A's in upcoming newsletters! *