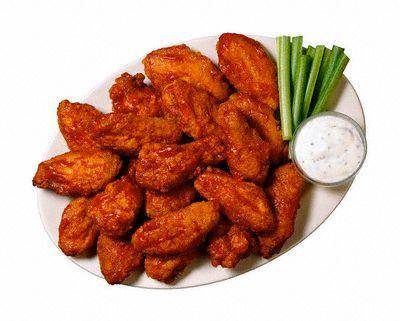 I have never seen a buffalo fly, which leaves us to wonder where did Buffalo wings come from? Well Buffalo, New York of course! The place that started the great American craving was The Anchor Bar. Like most good dishes, the true origin is a source of debate, but the Anchor Bar made them popular.
There was a time in the not-too-distant past that the chicken wing was considered scraps or soup stock. But now, the Buffalo wing is arguably among the best of all appetizers and party food. It wouldn't be a weekend during football season if my husband wasn't whipping up his own version of Buffalo sauce and dunking his wings. He works all season perfecting his appetizers so they are ready for the Super Bowl.
Now there are several ways to prepare your wings and more sauces than I can count, but I am assured that there is only one true Buffalo wing. The traditional way to prepare the wings is just to fry them to a nice golden crisp. A lot of places make the mistake of breading the wings; the purist will turn their nose up to this wing. Another great mistake is trying to bake your wings; this is a little more health conscious but not a real Buffalo wing.
With a nicely fried batch of chicken wings ready, you must coat them in a spicy sauce. The classic buffalo sauce really only consists of two ingredients: a vinegar-based cayenne pepper hot sauce and butter. This must be done right when you are ready to serve the wings. There is nothing worse than a soggy Buffalo wing! Serve these lovely wings hot and crisp with a side of Blue Cheese dressing and celery sticks for those that want to cool the heat a bit.
Now we covered what snobs like my husband, and most residents of Buffalo, feel is a real buffalo wing. There are many other variations on this that you find all around you. A lot of popular grill restaurants have made the "boneless buffalo wing" popular. I really don't like to pick chicken off the bone, so this one is much more for me. Just fry or bake up your favorite breaded chicken strips and toss them in the Buffalo sauce. You can also find buffalo chicken in salads and sandwiches so whichever way you like it, spice up that chicken and watch the buffalo fly!
Here is a super simple Buffalo Sauce recipe.
Buffalo Sauce
Melt 1 stick of butter
Mix in 6 ounces of your favorite hot sauce, I suggest Louisiana hot sauce or Franks red hot sauce.
1 tsp of honey.
Mix it all together and toss the wings in it right before you serve them up. Enjoy!
---
If you have any additional tips that you'd like to add, please post them on the
Cook'n Club Forum
(if you're a
Cook'n Club Member
)...or e-mail them to
Dan@dvo.com
.
---
Join the Cook'n Club!An unbeatable value with exclusive benefits for members only.
Enjoy articles like this and many other benefits when you join the Cook'n Club.
---