The Skinny on Spicy Eating
By Bethany Booth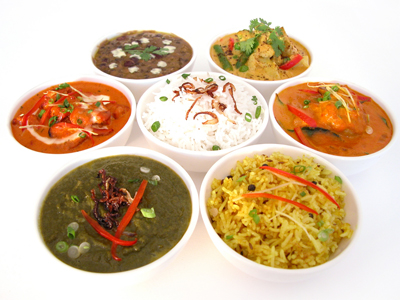 Adding a pinch of chili powder, curry, or cayenne pepper to your meals can actually help you slim down. There are several theories as to why spicy and skinny go hand-in-hand.

Eat Less! Eat Healthy!
For one thing, adding that extra kick creates meals with strong flavors and aromas, which are likely to satisfy more quickly and prevent over-eating. Also, spices are usually combined with vegetables and other healthy foods, which leave less room for sugar-sweetened and fatty foods.

Metabolism Boost!
Feel that sweat collecting on your face as you bite into a fiery hot wing? Yes, eating spicy food does increase the bodyís temperature and raise the heart rate, both of which require the body to burn more calories. Spicy food can help speed the bodyís metabolism.

Ice Cold Water!
Nothing sooths a spicy tongue like a tall glass of ice cold water. When we gulp down a glass of cold water, the body has to raise the temperature of that water, which of course, burns more calories.

So add a little extra spice to your meals and enjoy the weight loss benefits but donít over do it! There is no need to set your mouth on fire just to burn a few calories. A little spice goes a long way.





---
* DVO welcomes your kitchen hints and cooking or nutrition questions! Email us and we'll post your hints and Q/A's in upcoming newsletters! *