Much To Do About Fat: Tips for a healthier heart!


Vegetables and Toppings

Steam, boil, or bake vegetables, instead of frying. For a change, stir-fry in a small amount of vegetable oil. Consider buying an insert for a pot so you can easily steam your vegetables.


"Sauté" onions, celery, or peppers in a small amount of water or broth instead of butter, margarine, or oil.


Season your vegetables with herbs and spices rather than with sauces, butter, or margarine.


Try lemon juice on salad or use reduced-fat or nonfat salad dressings. You can even zest up greens or veggies with dried herbs, sliced green onions, or a little salsa for a nonfat topping.


Use small amounts of high-fat toppings. Measure it out, if needed: 1 t. butter, margarine, or mayonnaise, 1 T. sour cream, 1 T. regular salad dressing.


Bake potato wedges instead of frying them. Save French fries or fried onions, etc. for special occasions, or share an order with a friend.



Baked Goods and Spreads
Limit baked goods made with large amounts of fat, especially saturated fats: croissants, doughnuts, muffins, biscuits, and butter rolls.


Limit your purchase of products containing tropical oils (palm, coconut) or lard, butter or shortening.


Buy whole-grain breads and rolls. They have more flavor and do not need butter or margarine to taste good. The dietary fiber present is an added bonus


Try whole-grain flours to enhance flavors when baking goods with less fat and cholesterol-containing ingredients. Substitute up to ˝ of the all-purpose flour with whole-grain flour.


When possible, in cooking, use vegetable oil instead of solid fats like margarine, butter, or shortenings.


Use nonfat or lower fat spreads, such as jelly, jam, fruit spread, apple butter, nonfat or reduced-calorie mayonnaise, nonfat margarine, or mustard.


Use tub margarine spreads that list water as the first ingredient.



Dairy
Replace whole milk with skim or low-fat milk in puddings, soups, and baked products.


Switch from whole to 2% or from 2% to 1% or skim milk.


Substitute plain low-fat yogurt, blender-whipped low-fat cottage cheese, or buttermilk in recipes that call for sour cream or mayonnaise; or use the fat-free versions of sour cream or mayo.


Eat low-fat or nonfat yogurt.


Limit high-fat cheese intake. Try lower fat and fat-free cheeses (part-skim mozzarella, 1% cottage cheese, or nonfat hard cheese).


Shred cheese and sprinkle a little on sandwiches instead of using a whole slice.


Buy really sharp cheddar cheese and then use only a little bit in cooking. The sharp flavor will let you know the cheese is there without using so much.


Avoid ordering extra cheese on your pizza.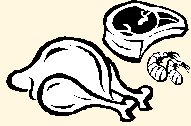 Meats
Choose lean cuts of meat. Look for cuts of meat with the words round or loin in the name, your guarantee for a lean choice (i.e., top round, sirloin). Limit bacon (or use turkey bacon-it's fat free), ribs, and meat loaf.


Trim fat from meat before and after cooking.


Roast, bake, broil, grill, pan-broil, or stir-fry meat, poultry, and fish so fat drains away as the food cooks.


Remove skin from poultry before cooking. This eliminates the temptation to eat it along with the meat.


Choose small portions of lean meat, fish, and poultry (a good 3-oz portion is the size of a computer mouse or a deck of cards).


Use a nonstick pan for cooking so added fat will be unnecessary; use a vegetable spray for frying.


Chill meat or poultry broth until the fat solidifies. Spoon off the fat before using the broth.


Eat a meatless main dish at least once a week. Include fish (cooked without much added fat) in the diet about two times a week.



Sweets
Choose ice milk, low-fat frozen yogurt, sorbets, and popsicles as substitutes for ice cream.


Save high-fat desserts (ice cream, pastries) for special occasions; or split a portion with a friend or eat ˝ of a portion.


Try angel food cake, fig bars, and gingersnaps as substitutes for commercial baked goods high in saturated fat. Fend off a sweet tooth or snack attack with fresh fruit, fig bars, vanilla wafers, jelly beans, gum drops, hard candy, low-fat puddings, pretzels, baked potato chips/crackers, or popcorn without too much butter.


Other
Read labels of commercially prepared foods to find out what type of fat or how much saturated fat they contain. Choose foods with lower saturated fat content, when possible.


Think about the balance of fats in your menu. If your meal contains whole milk, cheese, ice cream, a higher fat meat, or poultry with skin, use margarine and unsaturated vegetable oils for your spreads and dressings. Small amounts of butter, sour cream, or cream cheese can be included if other menu items are low in saturated fat.



* DVO welcomes your kitchen hints and cooking or nutrition questions! Email us and we'll post your hints and Q/A's in upcoming newsletters! *