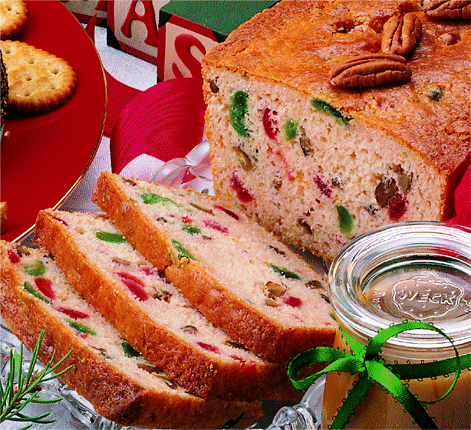 Flavorful Quick Breads from a Mix
You are going to have so much fun this baking season! For gifts, buffets, party platters, or a holiday brunch, family and friends will be delighted with this assortment of flavored breads. And, you'll be surprised at how quickly you can whip up that assortment.

Two secrets lie beneath these sweet, tender loaves. The first is the mix from which the bread is begun (a great gift in itself). The second is YOU! That's right! If you've ever wished to try your hand at being a chef, mixing and matching ingredients to get that perfect, personal touch, here's your can't-possibly-go-wrong chance.

In these recipes, you get to choose which fruit goes into the bread and whether you'll season it with cinnamon, orange zest, or vanilla flavoring (just a few of the possibilities). Look for the complete recipe combinations I tested-Strawberry Almond, Carrot-Raisin, and Tropical Banana. I've also included a recipe from the Cook'n with Taste of Home CD for Cheery, Cherry Loaf for any who aren't feeling up to adventure in the kitchen.

Throughout the newsletter, look for other baking tips and hints for making perfect loaves every time. And be sure to pass along any creations you come up with so we can post them in our next newsletter. Have a glorious holiday season! --Desi @ DVO

Quick Bread and Muffin Mix
Strawberry Almond Loaf
Tropical Bread
Spicy Carrot Loaf
Cheery Cherry Loaf

For additional quick bread recipes, search for "bread" in your Cook'n software.

?? Do you have any fabulous recipes to share with other Cook'n readers? Email your recipes to us. Include any preparation or serving hints, tell us about you and your family, and send us a picture. We'd love to hear from you...and who knows...perhaps you will be the star of the next newsletter!