Cook'n Recipe Card Magnets!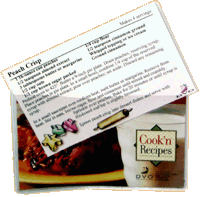 If you organize your recipes on the computer using the Cook'n Recipe Software and print them on our printer-ready 3x5 cards OR if you just happen to have some 3x5 recipe cards at home, you will enjoy these handy magnets.
These Magnetic Recipe Card Holders are larger and stronger than those little flimsy magnets that are found on most refrigerators. For starters the big 3x5 size make these just right for holding your recipe cards.
They are also a great size magnet for hanging pictures, grocery lists, wedding announcements or your child or grandchild's latest work of art.
They also come complete with a mouth-watering picture of Aunt Ida's Bun's and glass of milk on the front. And we all know that Aunt Ida's Bun's are real and they're spectacular!