Cook'n is the best selling recipe organizer
#1 Best-Selling Recipe Calculator
Cook'n contains a powerful recipe calculator!
Easily organize your recipes and tweak the content and serving sizes with a click of the mouse!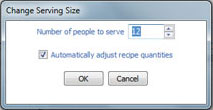 See How Works - Recipe Organizing
Cook'n allows you to:
Easily add your own recipes
Organizing your family recipe collection in the computer is easy with Cook'n. You already know how to put in your recipes, that's because Cook'n's recipe window looks just like a recipe card. And, "Quick-Fill" editing does much of the typing for you.
Change recipe serving sizes to automatically convert ingredient amounts
Cook'n's Recipe Manager makes entertaining a snap. Simply select the number of guests you will be serving and enter it into your favorite recipe. Cook'n calculates the new ingredient amounts for you. No more of that measuring madness!
Create and organize cookbooks with different chapters
Cook'n has simple cookbook-like chapters and categories that make it easy to find your recipes fast.
Analyze the nutritional elements of recipes and menus (even the ones you add!)
Cook'n makes it simple to calculate the nutrients your body is receiving. After typing in a recipe, simply click a button for the information you need. Save you a ton of time by analyzing nutrition in seconds!
---
"Just a note to let you know how very much I love my cook'n software. My husband and I are health nuts and we eat everything low fat. I am also hypoglycemic and have to control my sugar intake. Your software is wonderful for calculating the nutrition information for recipes. I love to cook and low fat recipes are so hard to find. Now I just find a recipe that sounds good and I can change the ingredients around reducing the oils and fats and using the software I put in my recipe as I would make it and find out if it is low enough in fat for me to prepare for us. This software has been a wonderful, useful part of my everyday cooking needs. I am very happy with my purchase and would recommend it to anyone who needs to have a very good calculator for nutrition. Thank you so much for creating such a wonderful piece of software."
-Shelly Smith
Cook'n Is Several Products in One!