Easy, Delicious Ways to Upgrade Instant Ramen
Recently we were able to celebrate my niece's 18th birthday together and had such a great time! That is a fun and important birthday and she thought there was no better way to celebrate than to have a piping hot bowl of ramen from a local five star restaurant. It did not disappoint. There were 6 of us who ordered ramen bowls, and most of ours were a little different from each other--various levels of spice and heat, more or less veggies, and protein choices.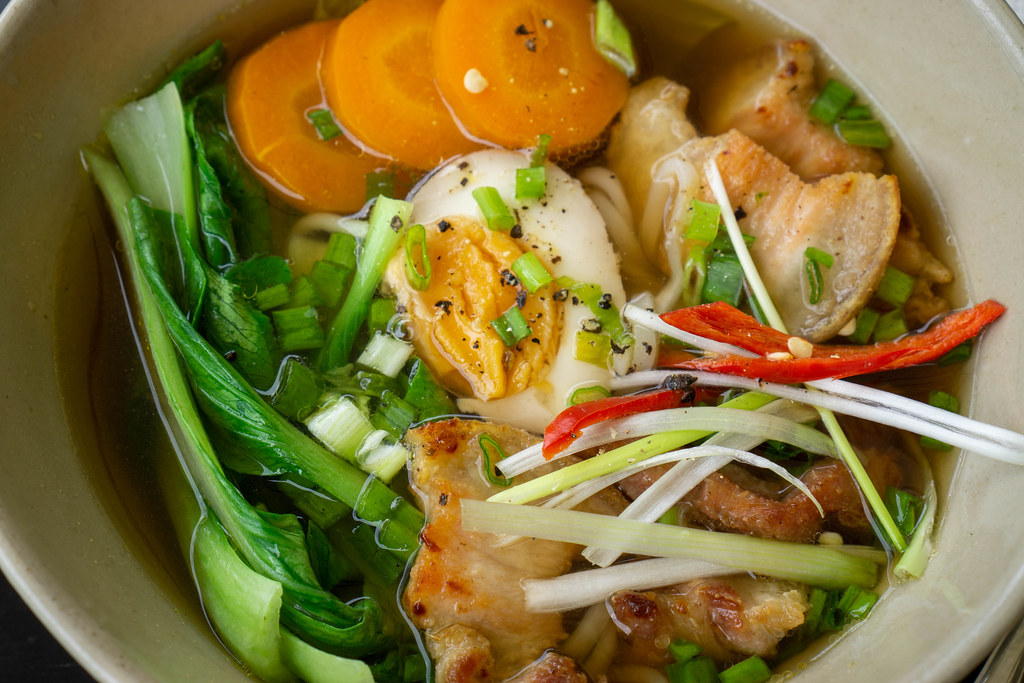 My niece loves to make it at home from the regular instant top ramen you can get really cheap from any grocery store. Sometimes she likes it just plain and simple and makes it just like the instructions on the back, while other times she loves to add in various ingredients and/or spices to make it just how she feels like in that particular moment.
Another great plus of making ramen like this at home is that it is
a great way to use up leftover veggies
in the fridge. Here are a few really great ideas for how to upgrade your ramen you make at home from budgetbytes.com:
1. Use Your Own Broth.
You can certainly use the packet of seasoning if you like the flavor, but keep in mind that you can also use your own broth, like vegetable or chicken broth, and add flavors and spices that you love to make it just perfect for you. (This also helps you avoid the MSG and lots of extra salt). You can also do this by using either the chicken or vegetable "Better than Bouillon base" with some water. This gives you tons of control over your salt, as well as tons of flavor options!
2. Add Aromatics.
Add fresh aromatics to your broth to really give a boost in flavor (and healing properties). Great options are fresh garlic, ginger, and green onion. 
Tip: Mince the garlic and grate the ginger--sauté these two in a bit of olive oil before you add the broth to the pot. The green onion can also be sautéed or added fresh at the end (or both).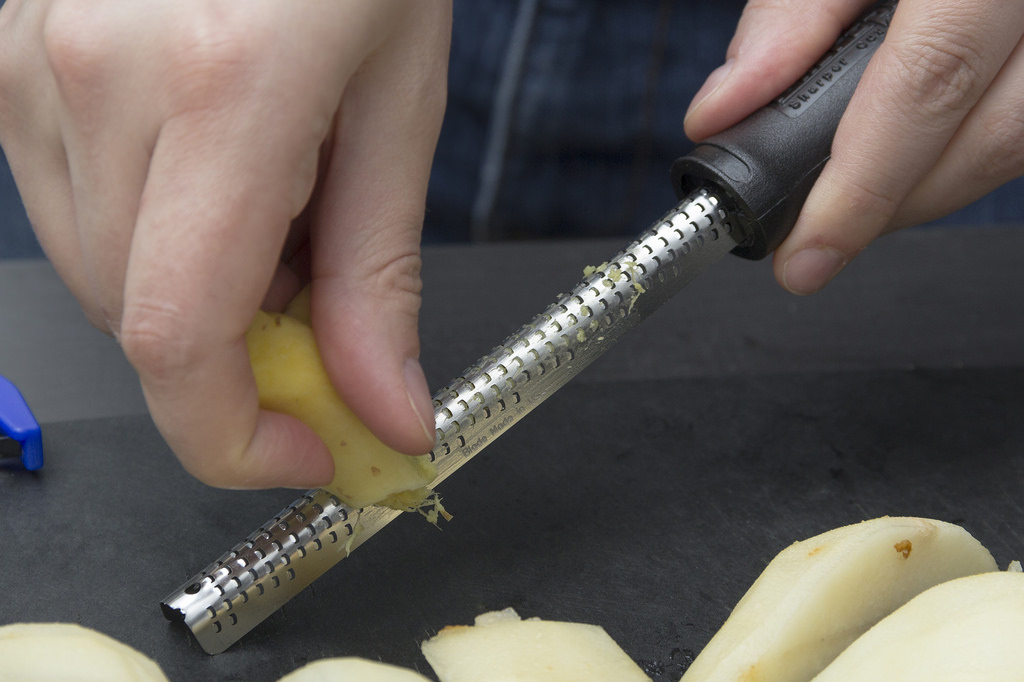 3. Sauce It Up.
There are so many great sauces out there for ramen such as sambal, chili garlic sauce, sriracha, oyster sauce, hoisin sauce, and/or fish sauce to stir into your broth or add into it at the end to add more flavor.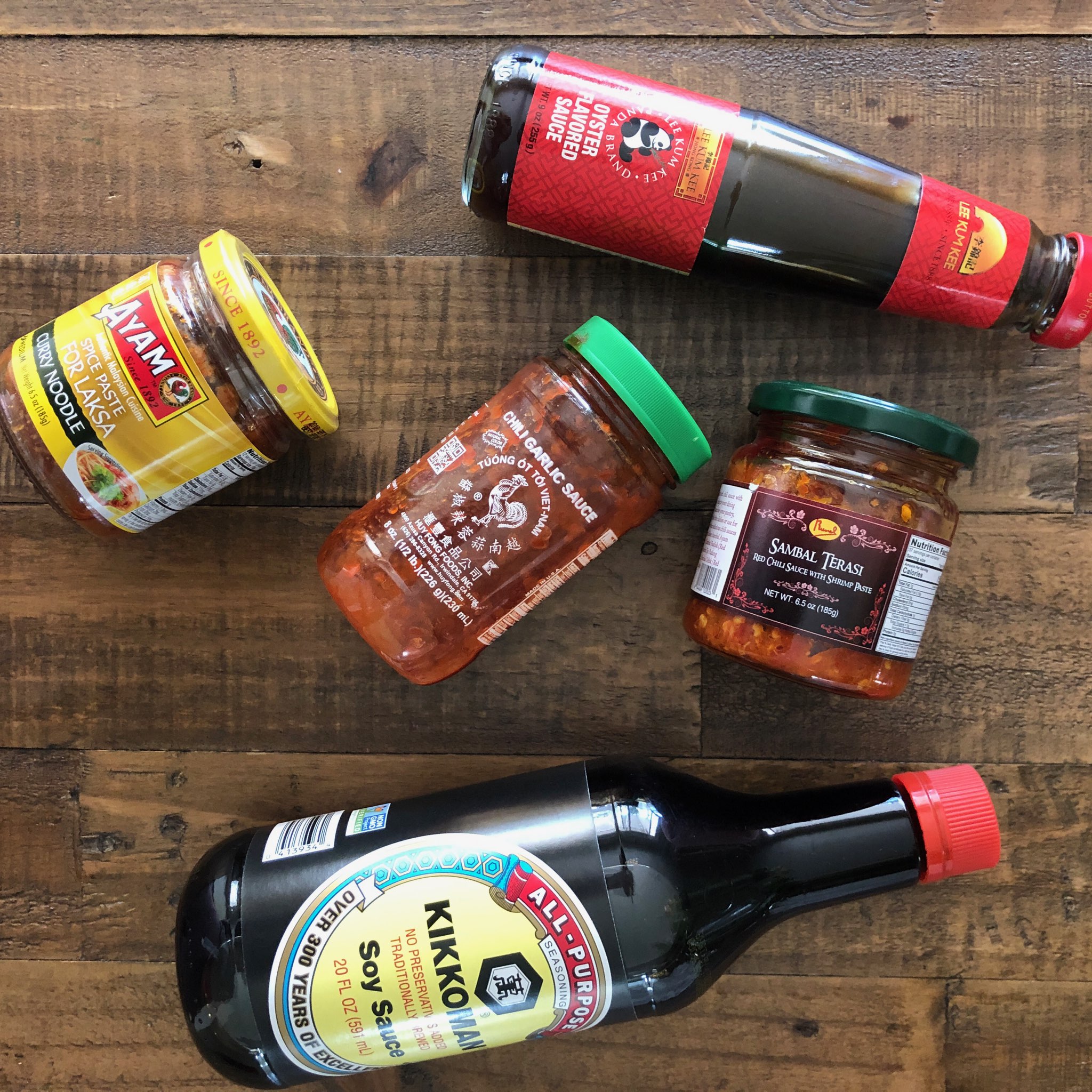 4. Add Vegetables.
Check your fridge for any veggies you can throw in there that need to be used up such as mushrooms, carrots, bell peppers, cabbage, and more. You can also use frozen veggies like broccoli florets, peas or corn.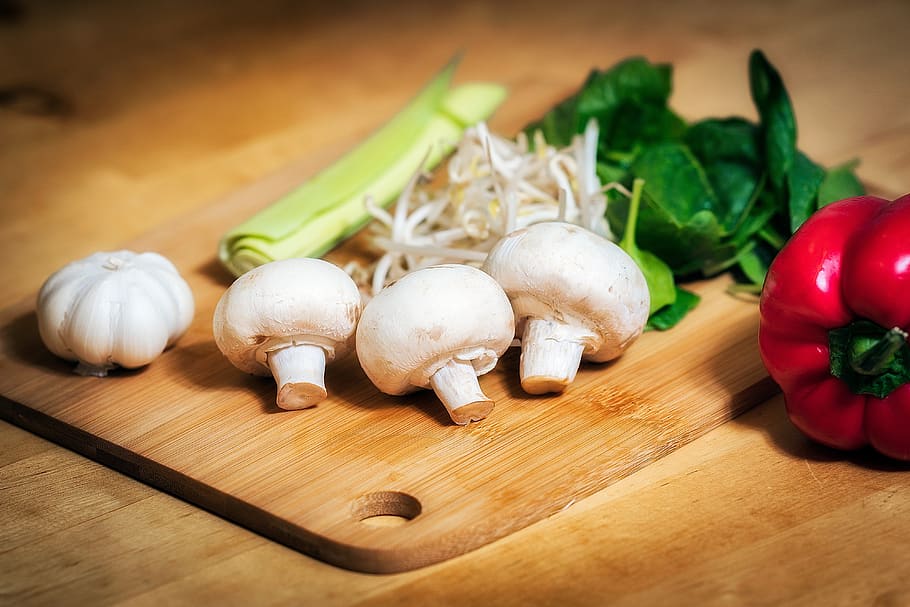 Tip: If you don't have any veggies in the fridge, rather than buy a whole bunch at the store, you can quickly stop by the salad bar and get a bowl full of the veggies you want to add to your ramen and you won't have any waste. You can also get proteins from a salad bar like smoked tofu or rotisserie chicken.
5. Add a Protein.
There are tons of different proteins you can add to your ramen to make it delicious and perfect for you like shrimp, a soft boiled egg or two, chopped rotisserie chicken or tofu. 
Tip: You can crack a raw egg straight into your simmering broth and let it cook for about 6 minutes. Make sure the broth is not vigorously boiling or the egg will break apart into a million pieces and just make the broth cloudy. 
6. Top It Off.
Take the delicious bowl of ramen to the next level by topping it off with things to give it even more flavor, color and texture. Examples are: kimchi, sriracha, sesame seeds, crumbled bacon, nori (dried seaweed), fresh herbs, (cilantro, Thai basil, chives), a drizzle of toasted sesame oil, crushed chiles, or a wedge of lime.
Do you like to make epic bowls of ramen at home too? Do you have any tips to share with fellow readers? Please share in the comments below :) Here is a good go-to, basic recipe for upgrading your ramen. You can definitely modify to meet your own specific tastes.
Upgraded Instant Ramen - Budget Bytes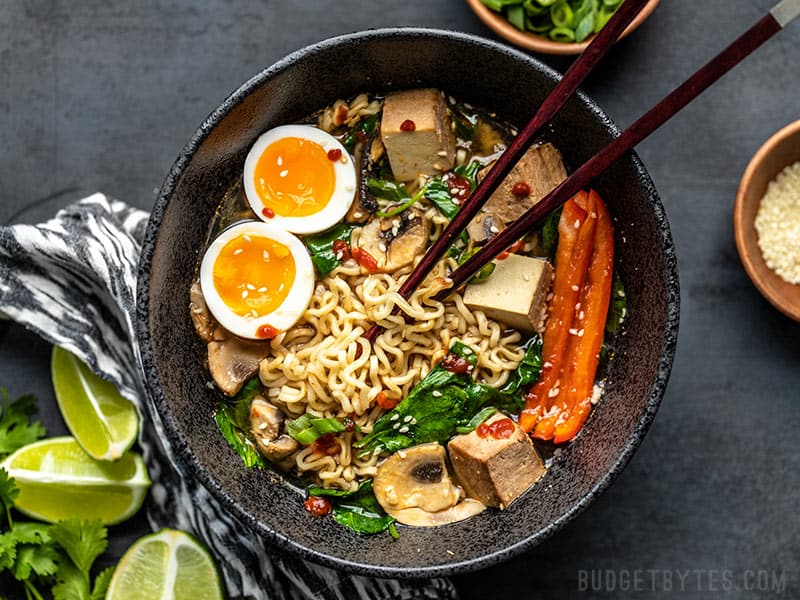 Serving size:
4
Calories per serving:

56




Ingredients:
1/2
tablespoon
cooking
oils
1
clove
garlic
, minced
1/2
teaspoon
grated fresh
ginger
1
handful
mushrooms
, sliced
1
cup
vegetable broth
1
cup
water
1
package
instant ramen
, seasoning discarded
1
handful fresh
spinach
1
large
egg
1
green onion
, sliced
sriracha to taste
Directions:
1. Add the oil, garlic, and ginger to a small sauce pot and saute over medium heat for about one minute. 
2. Add the sliced mushrooms and saute for about a minute more.
3. Add the broth and water, and bring to a boil.
4. Once boiling, add the uncooked ramen noodles. Boil for about 3 minutes, or just until they are tender. Do not overcook the noodles.
5. Stir in the spinach until wilted. Turn the heat down to low, crack the egg into the broth, and let sit for about six minutes, or until the eggs whites are cooked and the yolk is still runny.
6. Transfer the soup to one or two bowls, then top with sriracha and sliced green onion.
Source:
budgetbytes.com

Recipe formatted with the Cook'n Recipe Software from DVO Enterprises.
Sources:
www.budgetbytes.com
www.flikr.com
www.piqsels.com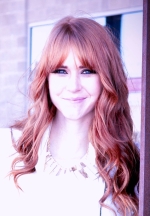 Mary Richardson
Weekly Newsletter Contributor since 2014
Email the author! mary@dvo.com
---
Subscribe to Cook'n Premium and get newsletter articles like this each week!