A NATURAL ALTERNATIVE to PLASTIC WRAP
When it comes to food storage, good food deserves good care. And can we say enough about how important it is to take good care of our bodies?
So with these two thoughts in mind, I'd like to present a lovely and healthy idea to a natural alternative to plastic wrap. With this you can wrap cheese, half a lemon, a crusty loaf of bread, and fruits and vegetables. You can cover a bowl, or pack a snack for your next adventure. On and on the list goes.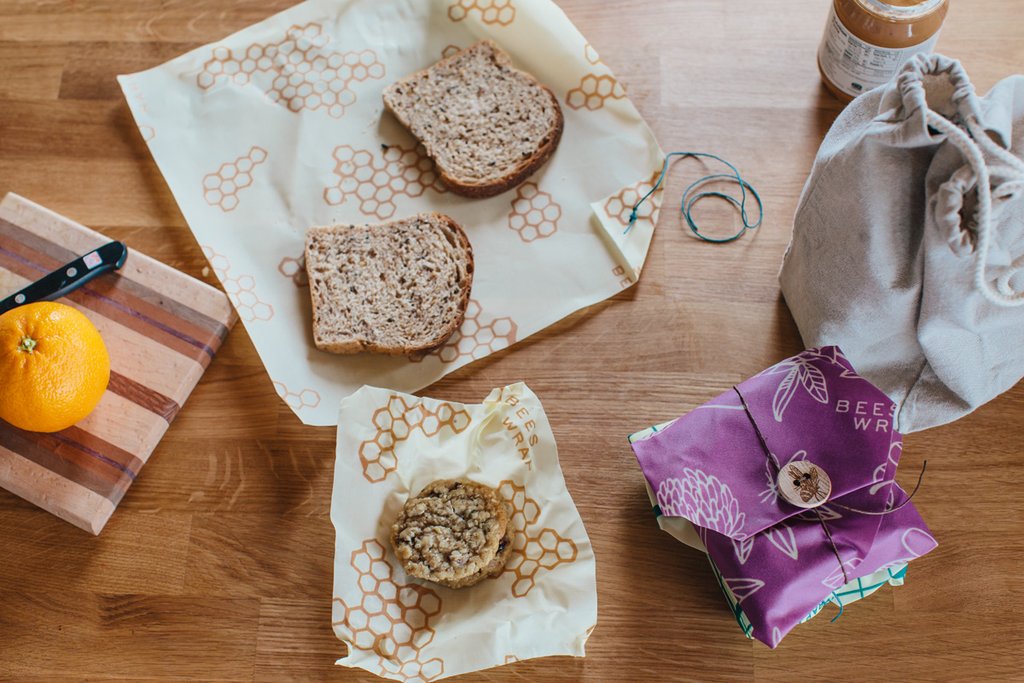 Bee's Wrap
is the alternative. It's made of GOTS-certified organic cotton, sustainably sourced beeswax from the United States, organic jojoba oil, and tree resin. This combination of ingredients creates a malleable food-safe wrap that is washable, reusable and compostable. So you can see how this product supports wonderfully well the "Zero Waste Movement."
The method to using? You just use the warmth of your hands to form Bee's Wrap over the top of a bowl, half a lemon, a piece of cheese, around a sandwich, and so on. (One exception: It's not recommended for use with raw meat, however.) The wrap will hold its shape when it cools, creating a tight seal.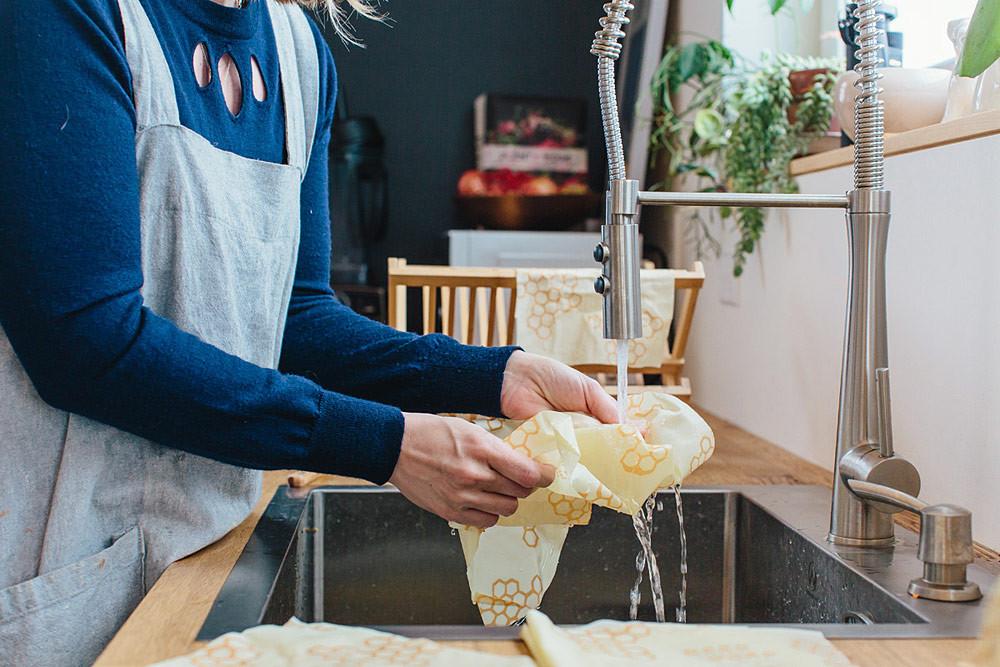 Taking care of it is simple as well. You just wash your Bee's Wrap in cool water with a mild dish soap. (Avoid sources of heat, such as hot water and microwaves.) Air dry, fold and store in a drawer or in a basket on the counter. The beeswax and jojoba oil have antibacterial qualities that help to keep your food fresh and allow you to use the Bee's Wrap again and again. (It'll last for up to a year with proper care and regular usage.)
Being made of bees' wax, I wondered if it has a fragrance. Oh yes it does. When you first open your package of Bee's Wrap you will smell the beeswax, and it's heavenly. The scent will fade after the first few uses and washes, until you can no longer detect it. The beeswax scent varies with the season, depending on when it was harvested. Beeswax carries the scent of the flowers from which the bees harvested pollen. But you'll notice right away that while it comes with a distinct fragrance, it doesn't HOLD fragrances of things it's storing (such as a cut onion, for instance)!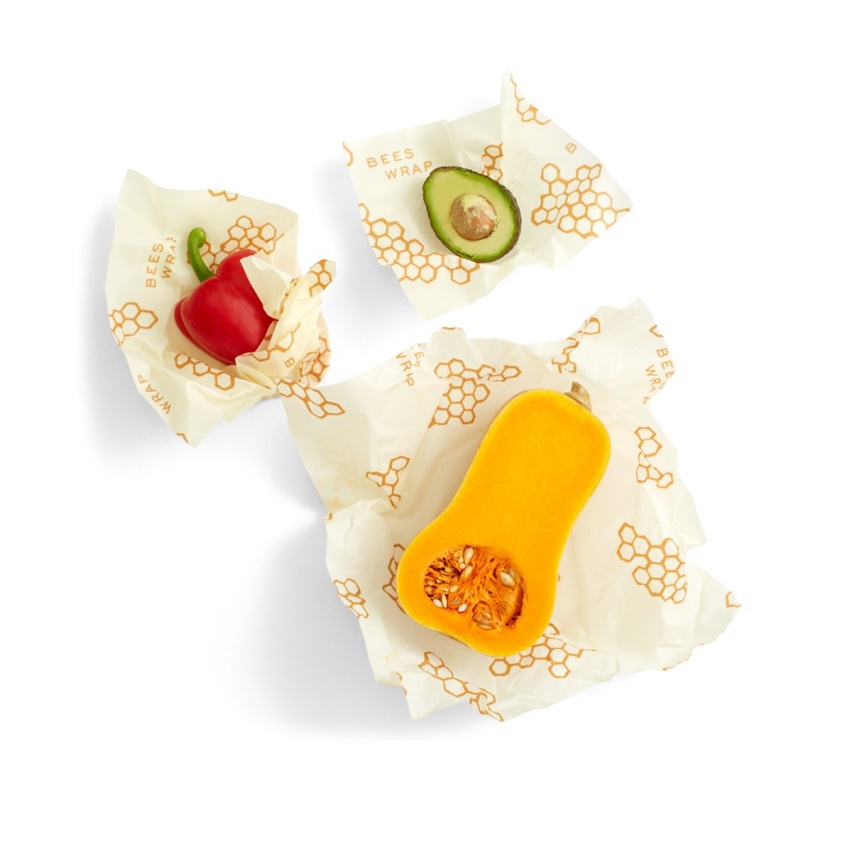 And this product comes in several sizes. It's good to start with the assorted set of three sizes, which includes one each of the small (7"x8"), medium (10"x11"), and large (13"x14") wraps. A little experimenting with these will determine which size is most useful for you. But here are the other sizes available:
Small: 7" x 8" (Wrap half of a lemon, the end of a cucumber, half of an onion (Bee's Wrap won't hold the smell), half of an avocado, a small bowl, carrot sticks or other snack items.
Medium: 10" x 11" (Cover a bowl, half of a sandwich, baked good, cheese, or half of a cabbage or cantaloupe.)
Large: 13" x 14" (Cover a large bowl, pie dish, celery, cheese, sandwich, or half of a watermelon.)
Bread wrap: 17" x 23" (Great for wrapping bread, large enough for a large loaf of sandwich bread or specialty breads. This wrap is great for covering dough that is rising, an extra large bowl or casserole dish, and also serves as a dough mat for rolling out pie crusts, cookie dough or other baked goods.)
Baguette wrap: 14" x 26" (Perfect for keeping a baguette fresh - it keeps it the crust a little crusty and the inside soft. We also love this size for wrapping stalks of celery.)
Sandwich wrap: 13" x 13" (Perfect for building your sandwich, wrapping and then using as a place mat. Also great for cheese, snacks, a few carrot sticks, a muffin — the possibilities are endless.)
Up front, it seems these wraps are a little pricey, however—sets of 3 range from $16 to $19. And prices vary from there. But when I added up the cost of the amounts of sandwich bags and plastic wrap we use over a year, it penciled out. The cost of a three pack of Bee's Wrap was about the same for a year's worth of good grade plastic food wraps (including the sandwich bags).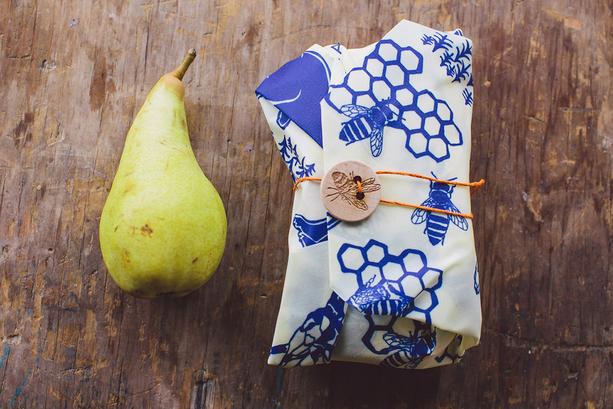 Finally, I don't work for the company and never receive any remuneration whatsoever when I recommend a product. The deal is, when I see something, I feel compelled to say something. And this product deserves mention. It's received rave reviews from
America's Test Kitchen, Real Simple Magazine, Eating Well, Food52,
the
Huffington Post, Women's Health,
the
Oprah Magazine,
and many more. So check it out (www.beeswrap.com) and see what
you
think.

Alice Osborne
Weekly Newsletter Contributor since 2006
Email the author! alice@dvo.com