5 Non-Cake Uses for Your Bundt Pan!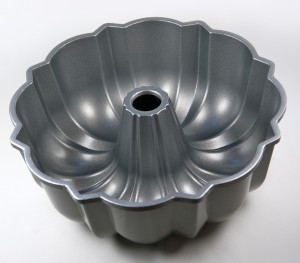 Food author, Kelli Foster, shared 5 non-cake uses for your Bundt pan on one of my favorite sites,
The Kitchn
(www.thekitchn.com). She says, "With their tube-shaped centers and rounded, ridged bodies, there's no question that Bundt pans make some pretty beautiful cakes. But that's not all they can do. This classic piece of bake-ware is far from a one-trick pony."
I was inspired, so I thought you might like to see what she came up with. Here are her 5 ideas for putting your Bundt pan to work: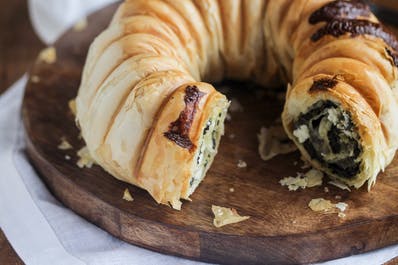 Chard and feta-filled phyllo.
This is all about re-imagining a classic phyllo tart or pie. And the result is impressive! Rather than a flat or layered tart, flaky phyllo lines the pan and wraps around the filling that gets stuffed inside. Here's Christine Gallary's recipe (another
Kitch'n
author):
CHARD AND FETA PHYLLO
1 bunch white Swiss chard (about 12 ounces), washed and dried
1/2 bunch scallions (3 or 4)
2 tablespoons olive oil
Kosher salt
Freshly ground black pepper
8 tablespoons unsalted butter, melted and still hot
2 large eggs, lightly beaten
1 cup crumbled feta cheese (about 4 1/2 ounces)
2 tablespoons coarsely chopped fresh dill
10 (14x18-inch) frozen phyllo pastry leaves (about 8 ounces), thawed
Cut the stems from the chard. Cut the stems crosswise into 1/4-inch-thick pieces and set aside. Stack the leaves and cut into 1-inch pieces; keep separate from the stems. Thinly slice the scallions.
Heat the oil in a large frying pan over medium heat until shimmering. Add the scallions and chard stems, season with salt and pepper, and cook, stirring occasionally, until softened, about 8 minutes. Add the chard leaves, season with salt, and cook, stirring occasionally, until completely wilted, about 6 minutes.
Transfer the mixture to a fine-mesh strainer set over a bowl. Place in the refrigerator and stir occasionally until cooled to room temperature, about 20 minutes. Meanwhile, arrange a rack in the middle of the oven and heat to 400°F. Brush the sides and tube of a 10-cup Bundt pan with melted butter; set aside.
When the chard mixture is cooled, pick it up by the handful, squeeze out the excess moisture, and place on a cutting board. Finely chop the mixture, then transfer it to a large bowl. Add the eggs, feta, and dill, and mix to combine.
Lay one sheet of phyllo on a work surface, positioning a long end to face you. (Don't worry if the phyllo rips — just patch it back together.) Keep the remaining phyllo covered with plastic wrap, wax paper, or a damp kitchen towel. Brush the phyllo with a thin layer of melted butter. Repeat with the layers of phyllo, brushing each layer, until all the phyllo is used up, making sure to brush the top layer of phyllo with butter. (Rewarm the butter as needed to be able to brush a thin layer.) Season the surface of the phyllo with salt and pepper.
Spread the chard mixture thinly on the phyllo, leaving a one-inch border. Starting from the end closest to you, roll the phyllo tightly up like a jelly roll. Brush the entire outside of the roll with butter. Pick up the roll and place it seam-side up in the Bundt pan, winding it around the tube and making the ends meet.
Bake until flaky and golden-brown, about 40 minutes. Immediately flip it out onto a wire cooling rack set over a baking sheet. Let cool 10 minutes. Transfer to a cutting board and cut into 12 slices with a serrated knife.
Add Recipe to Cook'n
Recipe Notes
Phyllo: Defrost frozen phyllo dough overnight in the refrigerator.
Storage: Leftovers can be stored in an airtight container for up to 5 days. Reheated in a 300°F oven until warmed through, 10 to 12 minutes.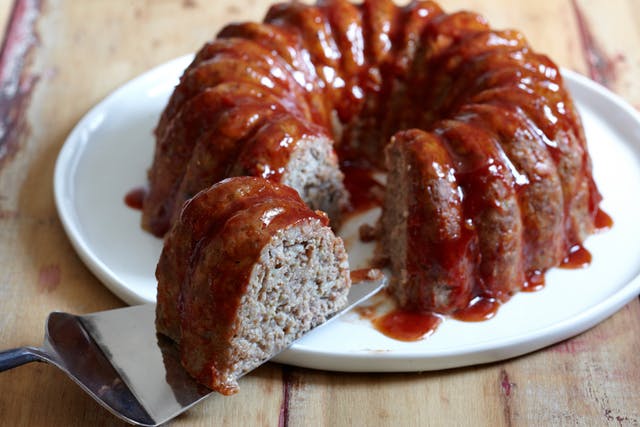 And isn't this pretty? Next time you plan meatloaf for dinner, be sure to bake it in your Bundt pan. This presentation is lovely enough for a dinner party!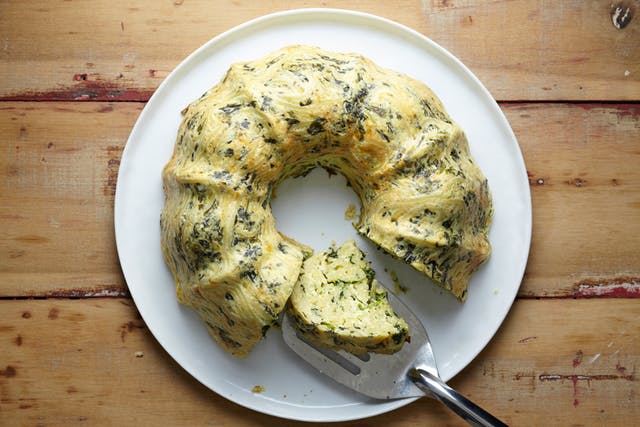 Still thinking outside the box, why not bake a pasta dish in your Bundt pan? Move over, baked ziti and lasagna! Not only does this Bundt pan pasta for a crowd look totally impressive, but it's also super easy to slice and serve. See if you don't want to make this recipe right now (from Christine Gallary):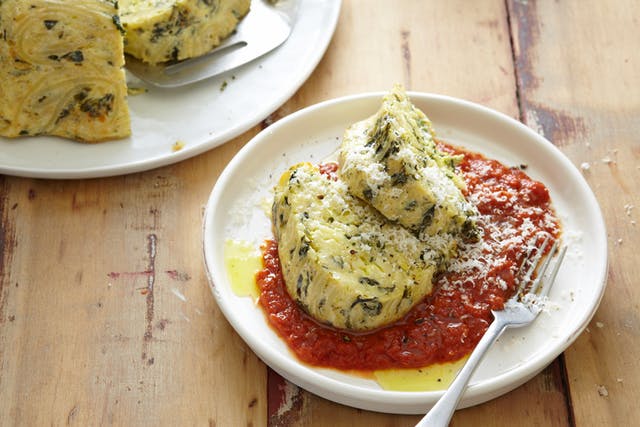 BAKED SPINACH AND SPAGHETTI PIE
(serves 8)
Cooking spray
1 pound dried spaghetti
4 large eggs
1 pound ricotta cheese
1 1/2 cups whole milk
1 1/2 teaspoons kosher salt
1/4 teaspoon freshly ground black pepper
8 ounces frozen spinach, thawed
1 cup shredded mozzarella cheese
1 cup grated Parmesan cheese (about 2 ounces)
1/4 cup finely chopped fresh basil
2 cups marinara sauce
Arrange a rack in the middle of the oven and heat to 375°F. Meanwhile, bring a large pot of salted water to a boil. Coat the sides and tube of a 12-cup Bundt pan with cooking spray and set aside.
Add the spaghetti to the boiling water and cook until almost tender. Meanwhile, mix the remaining filling ingredients.
Place the eggs, ricotta, milk, salt, and pepper in a large bowl and whisk until smooth and combined. Using your hands, squeeze the excess water from the thawed spinach and add to the egg mixture. Add the mozzarella, Parmesan, and basil, and stir to combine.
When the spaghetti is ready, drain and return to the pot. Immediately add the spinach mixture and mix with tongs to thoroughly combine. Transfer to the Bundt pan and spread into an even layer.
Bake until set and golden-brown around the edges, 45 to 55 minutes. Remove the pan to a wire rack and let sit 5 minutes. Meanwhile, warm the marinara sauce in the microwave or on the stovetop.
Run a thin knife on the edges of the pasta to loosen. Invert a large plate over the Bundt pan. Holding onto the plate and the pan at the same time (use oven mitts or a towel — it's hot!), flip it over. Remove the Bundt pan. Cut the Bundt pasta into slices and serve with the marinara sauce.
Add Recipe to Cook'n
Recipe Notes
Storage: Leftovers can be stored in an airtight container in the refrigerator for up to 5 days.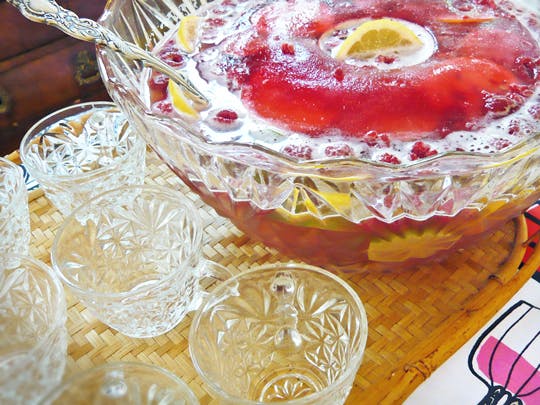 Finally, Kelli's idea #5: the Bundt pan is perfect for creating beautiful punch bowl ice rings. Fill it with fresh fruit such as raspberries or blackberries, sliced pineapple, or sliced citrus, or even whole spices like cinnamon sticks and star anise for a pop of color and a hint of flavor. Large ice rings can stand the test of time in a punch bowl—they just won't melt nearly as quickly as regular cubes.
In closing, I thought I'd just add a note about cleaning the Bundt pan. It can be a pain in the neck. THE secret (and no rocket science here) is to soak it well, meaning for a long time. And this means soaking before you put it in the dishwasher. A long soak takes care of every last little hidden crumb!
Sources:
www.bakepedia.com
www.thekitchn.com

Alice Osborne
Weekly Newsletter Contributor since 2006
Email the author! alice@dvo.com