March 14—National Potato Chip Day, So Experiment!
Well who knew? And why not. It's one of America's most popular snack foods, after all. What's a picnic without 'em?
This fun food was first made by Chef George Crum in Saratoga Springs, NY. It was August 24, 1853 when Chef George came up with this great discovery as the result of some experimenting. Deep frying thin slices of potato has never been the same since. I'm a big fan of sour cream and onion, but dad loved barbecue, and my hubby will take them any way he can get them. How about you—do you have a favorite variety?
Turns out, potato chips aren't just a terrific snack, they're a truly versatile food. Just look at all you can do with them: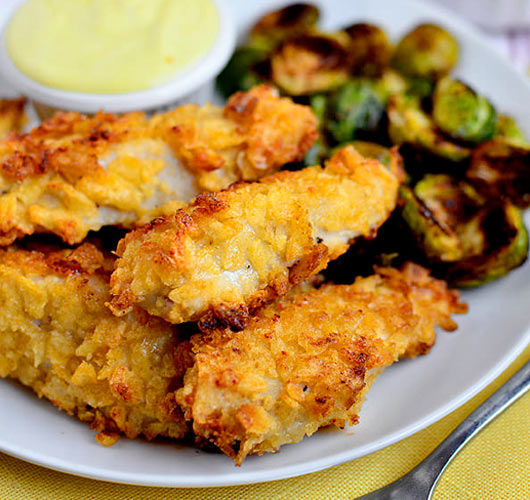 I wanted to make some baked chicken fingers for the grandchildren, so I dipped them in egg and milk and then rolled them in crushed potato chips. I baked them for about 20 minutes at 350°F. These were a huge hit.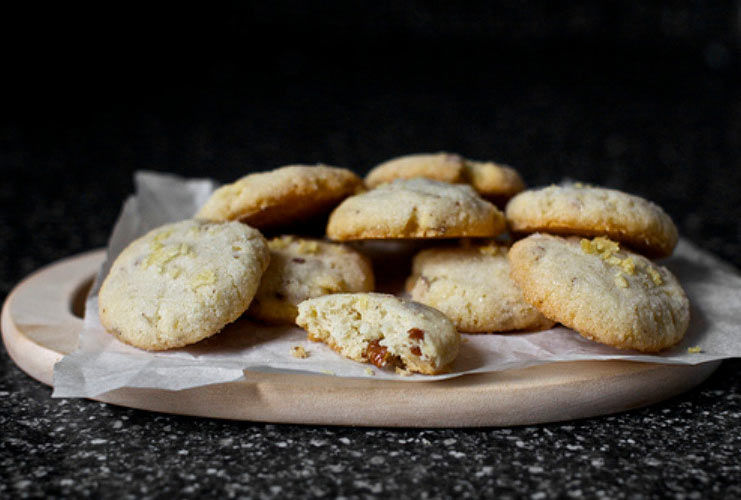 Then there's potato chip cookies. My version of this idea is adding 1 cup of crushed potato chips to my chocolate chip cookie dough recipe. The salty crunch mixed with the sweet dough and chocolate chips is outstanding.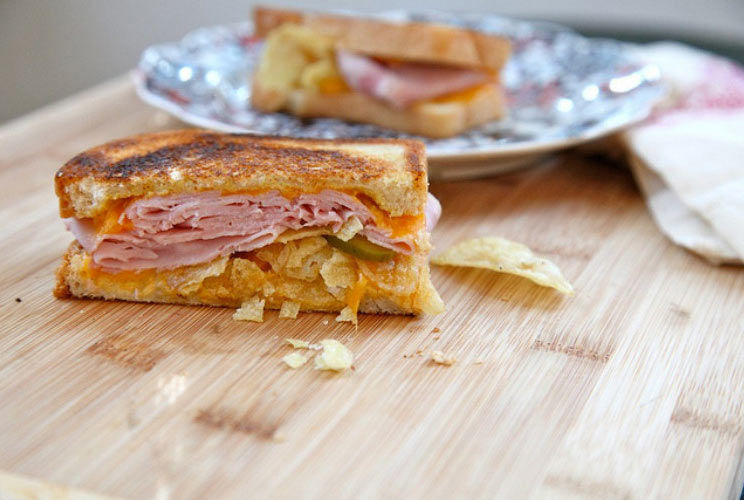 And have you tried layering them into a sandwich? The photo shows a toasted ham, cheese, and pickle sandwich with potato chips. Years ago my children discovered how good tuna fish sandwiches were with potato chips layered on. We've also added them to home-grilled hamburgers, and even tried them out on our peanut butter and jelly sandwiches. We're only limited by our imaginations on this idea.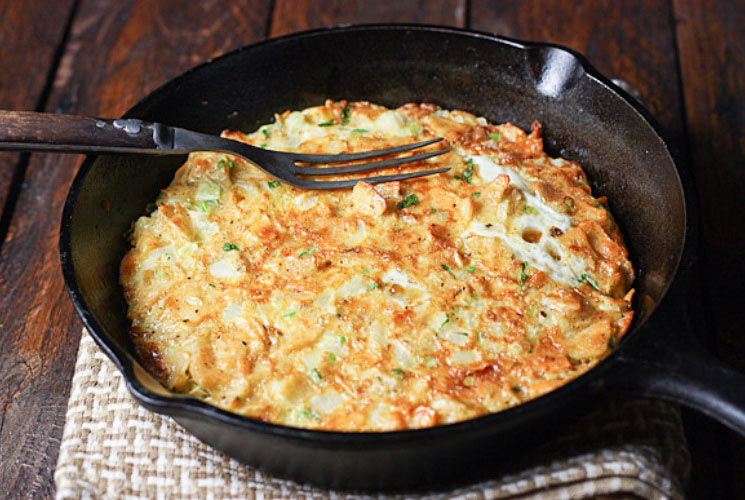 But one of the best ideas yet is this potato chip Spanish tortilla. People eat egg, cheese, and potatoes for breakfast all the time. But eat egg, cheese, and potato chips in the morning, and everyone loses their minds. While they're freaking out, we'll be enjoying this delicious chip-filled Spanish omelet. We thank the folks at
Soup Addict
(www.soupaddict.com) for sharing this amazing recipe!
POTATO CHIP SPANISH OMELET
1 tablespoon olive oil
1cup potato chips
4 eggs
2 green onions, thinly sliced
1 small onion, chopped
1 garlic clove, peeled and minced
½ teaspoon chipotle chili powder (or use ancho)
3 slices prosciutto, coarsely chopped
2 tablespoons cilantro, chopped
1/3 cup grated Gruyere cheese
Salt to taste
Pepper to taste
1. Heat the oil in a small-medium, heavy, oven-proof pan over medium. (I use an 8″ cast iron skillet.)
2. Crush potato chips by hand in a medium bowl. You want the pieces to be somewhere between crumbs and chunks.
3. Whisk the eggs in a separate bowl, and stir in the remaining ingredients. Pour over chips and mix well.
4. When the oil is shimmering, swirl to coat, and then pour in the egg mixture. Use a spatula to scootch the thick mixture out to the edges of the pan.
5. Cook until the edges are set, and the top shows signs of setting up (about 5 minutes). Run a thin spatula around the edges and under the tortilla to unstick any stubbornly clinging areas.
6. Carefully place the pan under the broiler, and broil until the top is set and slightly golden.
7. Flip the tortilla onto a plate (top side down) to cool slightly. Slice and serve as a side dish or as an appetizer.
Add Recipe to Cook'n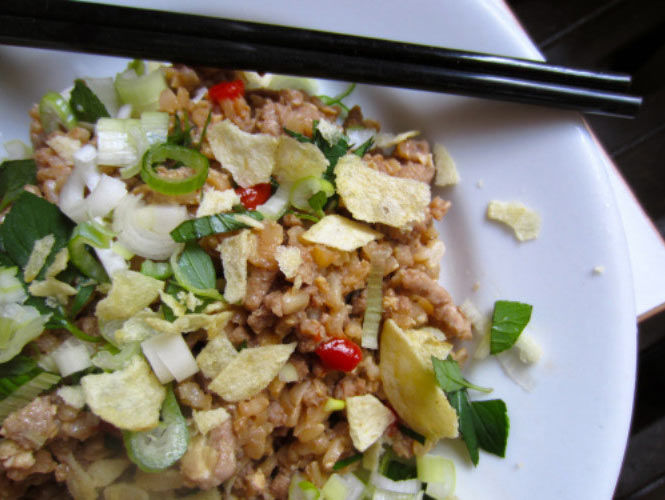 Finally, (well, not really finally, because uses for potato chips are endless), how about adding crunched-up potato chips to your fried rice? The way the crunchiness of the chips plays off the chewiness of the rice is really delicious. And the unexpectedness of the combination makes for some fun table-talk.
Aren't we glad Chef George discovered potato chips? He was simply messin' around in his kitchen and just look at what he came up with. Experimenting with food is how we create all sorts of new and great tasting dishes. True, we'll net a few flops along the way, but hey, take a risk now and then.
For instance, I'm thinking about applying the crushed potato chip idea to our homemade onion rings recipe. And then there's brownies. Wouldn't brownies taste yummy with crushed potato chips folded in? Or maybe just sprinkled atop the batter before baking? It's worth the risk--like Chef George Crum, you never know what you'll come up with, so celebrate National Potato Chip Day and experiment!
Sources:
www.firstwefeast.com
www.smittenkitchen.com

Alice Osborne
Weekly Newsletter Contributor since 2006
Email the author! alice@dvo.com