INGENIOUS New Uses for Old Things!
Every once in a while, we run onto some unique time- and labor-saving tips that haven't been bandied about much. Such is the case with these ideas I found today in a Real Simple magazine article. I didn't include all of them, so if you want more very clever ways to improve and simplify daily living, you can go to http://www.realsimple.com/home-organizing/home-organizing-new-uses-for-old-things/favorite-new-uses.
Meanwhile, take a look at these ingenious new uses for old things—and a huge THANK YOU to the folks at Real Simple! (Especially for the emergency shoe-shine idea.)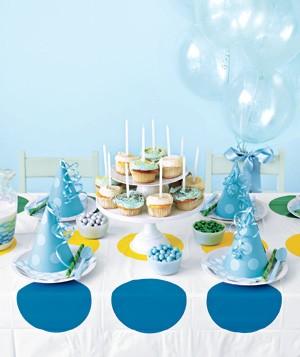 TWISTER GAME MAT as a tablecloth! Protect the dinner table during a kid's party, so right-hand-red Kool-Aid spills and left-hand-blueberry pie blobs don't become permanent features.
NEW, UNUSED TOOTHBRUSH as a corn-on-the-cob cleaner! A clean, unused toothbrush can remove stray threads of silk from freshly shucked ears of corn. The bristles will lift them away quickly and efficiently.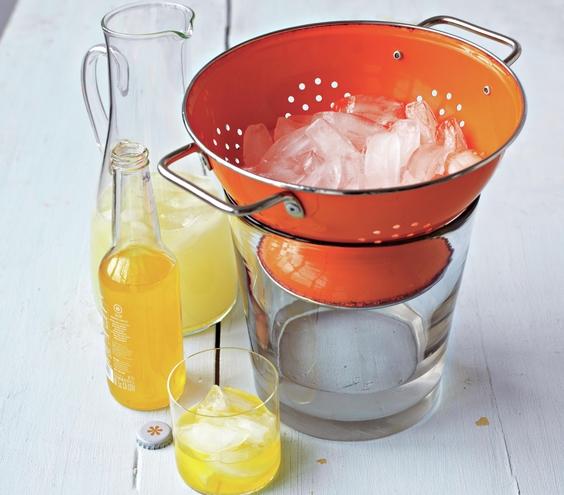 COLANDER AS AN ICE BUCKET HELPER. At a party, stash ice in a colander set on top of a bucket or a bowl. Water will drain out, and guests will get only the solid stuff.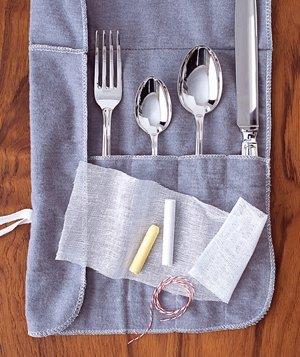 CHALK AS A MOISTURE ABSORBER. Tie up a few pieces in cheesecloth and store them with your good silver to slow any tarnishing.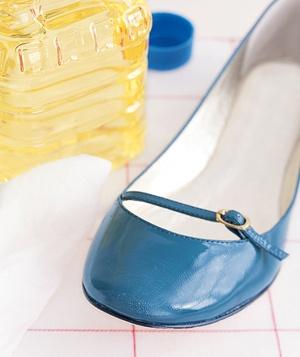 VEGETABLE OIL AS A SHOE SHINER. Vegetable oil will put a shine on leather shoes. Use a damp cloth to remove any dirt, then run a soft cloth with a drop of oil over the surface to (literally) add polish.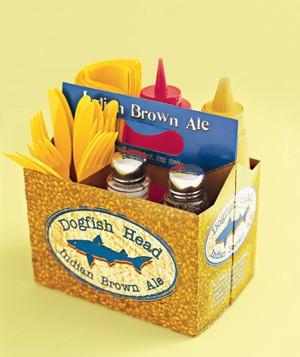 DRINK CARRIER AS A PICNIC CONDIMENT KIT. Cart condiments to a backyard barbecue or picnic. Napkins, flatware, ketchup, mustard, and seasonings tuck in nicely into the compartments for easy transport.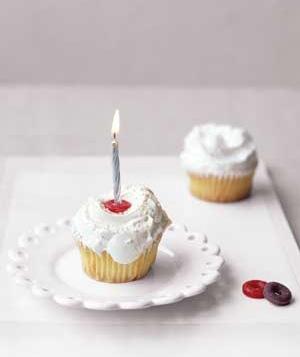 LIFESAVERS AS NO-FAIL BIRTHDAY CANDLE HOLDERS. (Candies in the original rolls provide the best fit―LifeSavers sold in big bags are larger and don't work as well.)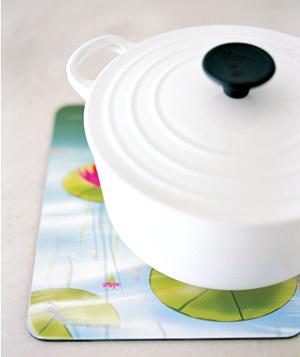 UNUSED, NO-LONGER-NEEDED MOUSEPAD AS A COUNTERTOP TRIVET. Just make sure it has a non-plastic coating, and you have the perfect countertop protection. This is so much nicer than using your pot holders.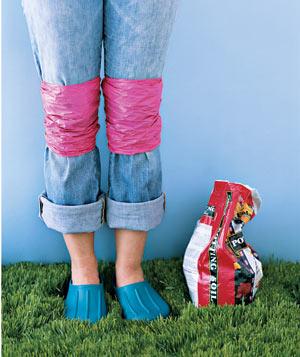 PLASTIC GROCERY BAGS AS GARDENING KNEE PADS. Gardeners can go easy on their jeans with homemade knee pads. A couple of plastic bags tied on keep them grime-free.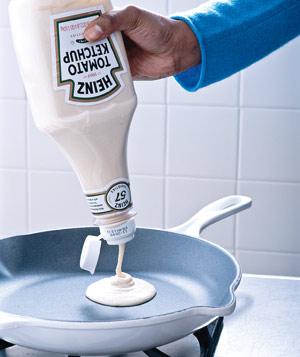 KETCHUP BOTTLE AS AN EFFICIENT PANCAKE BATTER DISPENSER. Make no-mess pancakes with the help of a ketchup bottle: Pour in batter, then squeeze out precise portions.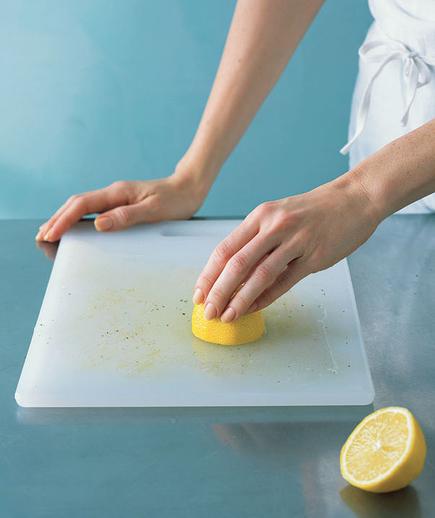 LEMON AS A FOOD STAIN REMOVER. A lemon works to remove tough food stains from a plastic or light-colored wood cutting board. Squeeze on the juice of one half, rub it in, and let sit for 20 minutes before rinsing. It'll not only end up being stain-free, it'll smell wonderful, as well.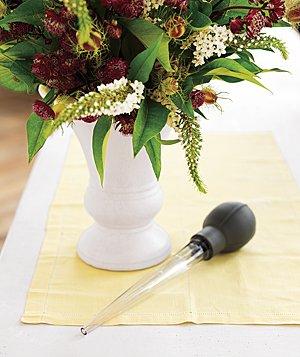 TURKEY BASTER AS A FLORAL WATER CHANGER.   Change dirty water in a flower vase by using a turkey baster to suction up the liquid without disturbing your arrangement. Add fresh water directly from the tap.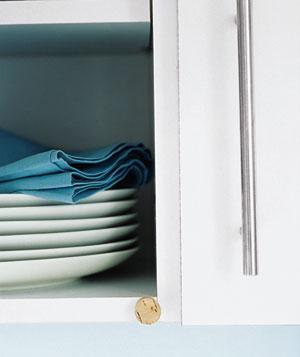 CORK SLICES AS CABINET DOOR SILENCERS. This trick not only silences cabinet doors that slam, but protects their finish as well. Just cut cork into thin disks and glue onto the inside corners.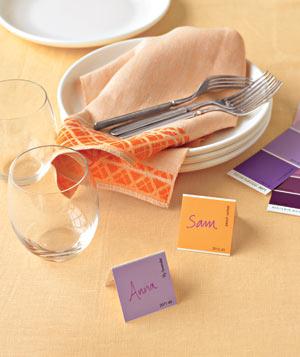 PAINT CHIPS AS DINNER TABLE PLACE CARDS. Fold the strips in half and prop them up as place cards, writing each person's name on a shade that suggests her best qualities (like "Inner Glow" or "Delicate Peach"). Or choose colors that harmonize with your table décor. It's all free and it's all good!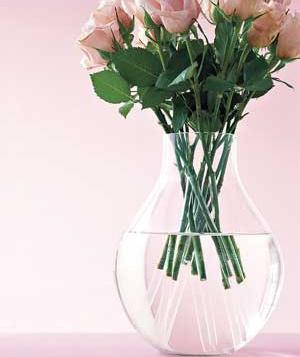 PLASTIC DRINKING STRAWS AS FLORAL STEM EXTENDERS. When you want to use a substantially large vase, but your bouquet's stems don't reach the bottom, try boosting your flowers to new heights by inserting short stems into plastic straws to give them greater stature.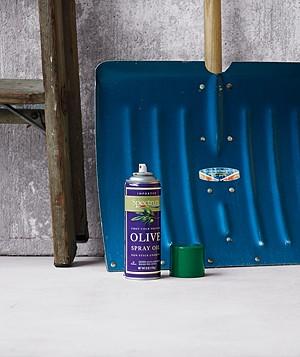 Finally, in honor of the coming winter weather: COOKING SPRAY AS A SNOW SHOVEL COATING. Liberally apply cooking spray to both sides of a plastic or metal shovel before clearing away snow, and ice will slide right off instead of building up.

Alice Osborne
Weekly Newsletter Contributor since 2006
Email the author! alice@dvo.com