Adorable Ways To Spook Out Your Kitchen Using Things You Probably Already Have!
Halloween is almost here! Is it just me or has this month flown by? However, it's never too late to get festive, right? This is my first Halloween/autumn in my new home, and I'm realizing I'm a little lacking in the festive fall decoration department! But not for long ;). I'm all about getting things all decked out for the holidays, and these ideas can help you if you're looking for some last minute ways to deck out your kitchen ;).
*When in doubt, use candy ;). Mellowcreme pumpkins, candy corn, or even orange and black colored jellybeans are all festive and can make adorable decorations when put into a glass jar! I love Brach's Autumn Mix- it's one of my favorite treats for one, but I love all the colors it adds! (Yellow, orange, light brown, and dark brown (almost black). Are you can use an assortment of all kinds of things ;).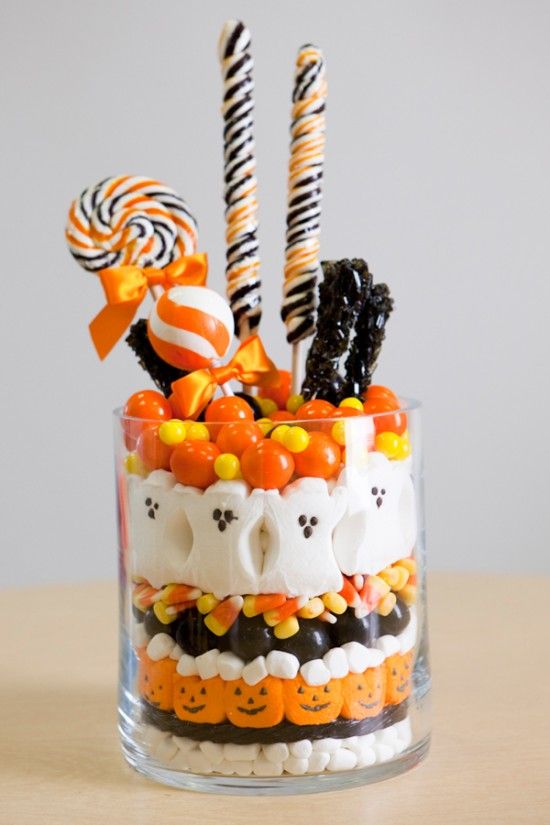 You can always add a candle to give it a little extra something, too ;).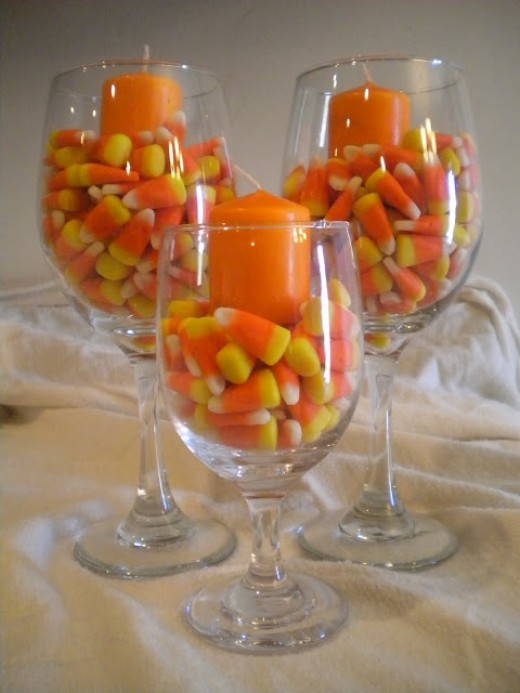 *If you're worried your kids may be too tempted by the candy (*ahem- like mine), then try using beans/lentils instead. They definitely have a more elegant look, and littles may not be so tempted by a glass jar of candy sitting on the table ;).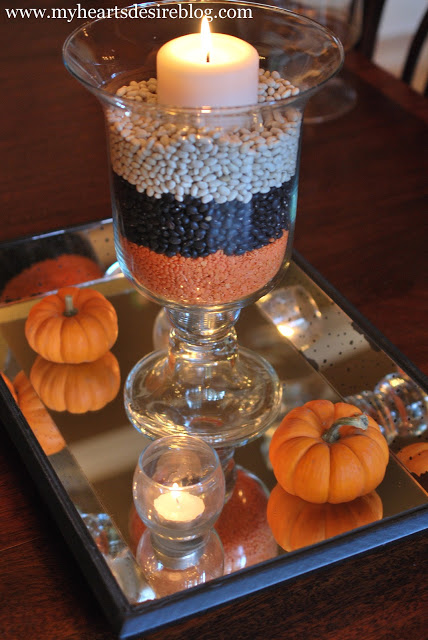 *And if you still want to have a fun centerpiece for the kids but not deal with candy messes, you can make these adorable ghost centerpieces! A little mod-podge, some medical gauze, and a couple candles= some adorable little ghost jars! (Don't forget the googly eyes!)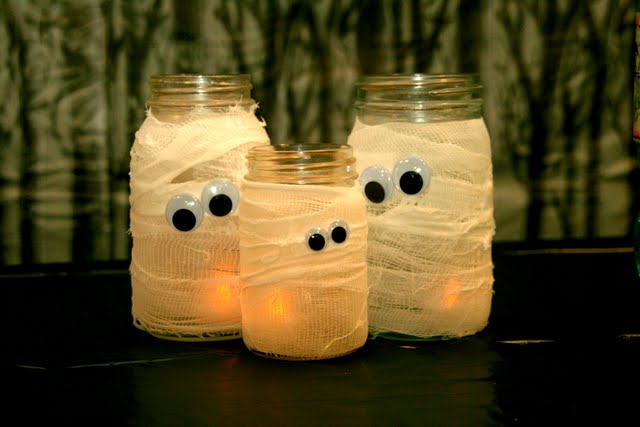 *Here's another fun centerpiece idea- Get enough rice to fill 3 mason jars. Divide the rice into 3 Ziploc bags. Leave one section alone, put yellow food coloring in one bag and orange in the other. Close the bags and shake them around until the rice is completely covered. Then layer the rice in each jar so you have a layer of orange, a layer of yellow, and a layer of white rice. If you have them, place a tealight on top of each one to complete the look.
*Don't limit yourself to the table! Using felt/paper and magnets, you can easily transform your white refrigerator into a spooky ghost ;)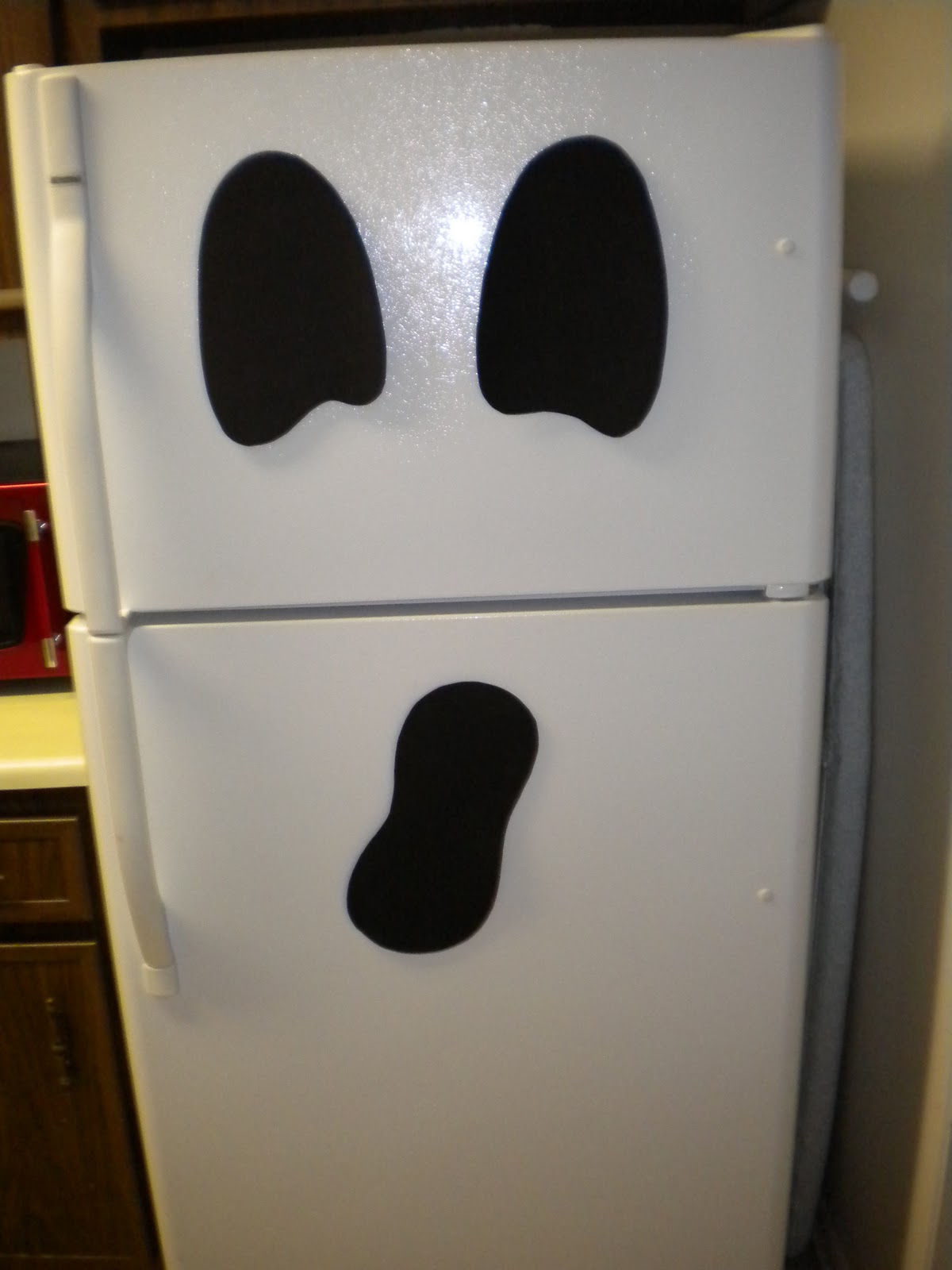 *And to top off everything, you can hang these adorable little guys everywhere! Just cut out 3 egg spaces from an egg carton, adding a few triangles on the outside ones and adding a couple googly eyes and ribbon (after painting it black), and you have some cute little bats with which to deck out your kitchen! And you'll be recycling, too ;).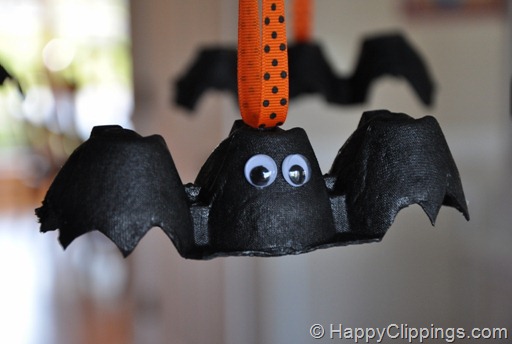 As you can see, there's all kinds of ways to deck out your kitchen- and it doesn't have to be expensive or tricky! Have a safe and happy Halloween :).
Sources:
http://onecharmingparty.com/
http://hubpages.com/holidays/Super-Cute-DIY-Project-Ideas-Decorating-for-Halloween
http://www.woohome.com/diy-2/42-last-minute-cheap-diy-halloween-decorations-you-can-easily-make
http://www.amandajanebrown.com/?s=halloween+centerpiece
http://jeanscraftycorner.blogspot.com/2010/10/day-7-of-halloween-projects-ghost.html
http://craftsredesigned.blogspot.com/search/label/Halloween
http://www.happyclippings.com/2011/10/diy-halloween-egg-carton-bats-and-leaf-ghosts-kids-craft.html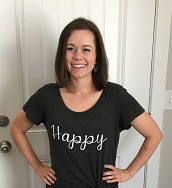 Camille Hoffmann
Weekly Newsletter Contributor since 2014
Email the author! camille@dvo.com