Stuffed Breads—Oh What a Surprise!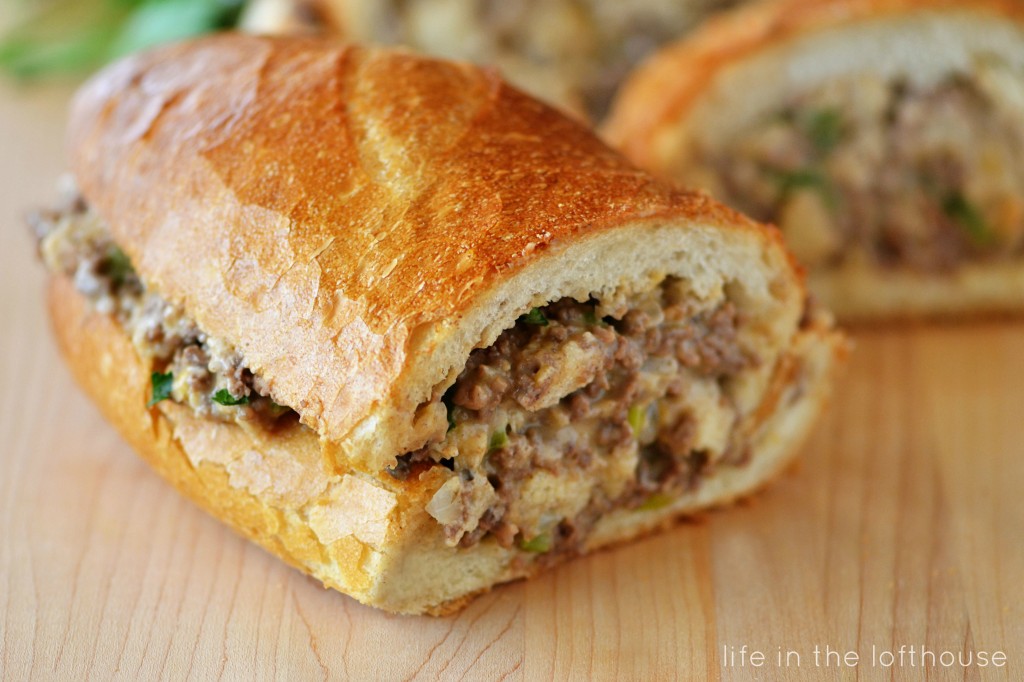 One of the best hot-out-of-the-oven trends has to be fancy toast will always have a special place in our hearts, it's time to consider this yummy alternative. From breakfast to dessert, these treats pack a flavor-filled surprise in every bite.
Let's start with naan. It's perfect for stuffing. This is such an easy bread to make and is so versatile. Here's a terrific recipe for making your naan bread at home. Following the recipe are the steps for stuffing them.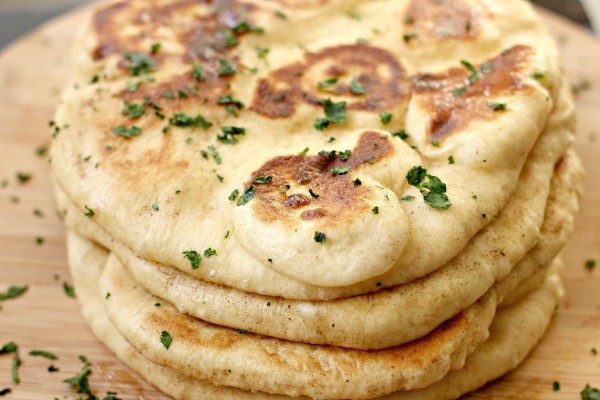 NAAN
5-1/4 cups unbleached all-purpose flour; more as needed (optional: sub 1 Cup whole wheat)
4 tsp baking powder
1 T kosher salt
1 tsp sugar
½ cup plain yogurt
1 large egg
¼ cup olive oil and more for brushing.
1½ C water
Combine the flour, baking powder, salt, and sugar in the bowl of a stand mixer fitted with the dough hook. In a medium bowl, whisk the yogurt, egg and add 1-1/2 cups of lukewarm water and the oil. Mix.
Pour the yogurt mixture into the flour mixture and mix on low speed until a soft, sticky dough starts to clump around the hook, about 5 minutes. If the dough seems too wet, add more flour, 1 tsp. at a time.
Line a baking sheet with parchment and dust lightly with flour. Turn the dough out onto a lightly floured surface and divide it into 10 equal pieces. Form each piece into a ball and arrange them on the baking sheet. Lightly brush the dough with oil, cover with plastic, and let sit 1 hour before shaping.
Bake in a 350°F preheated oven for approximately 12 minutes. Watch closely so they don't over-bake. You want them a golden brown.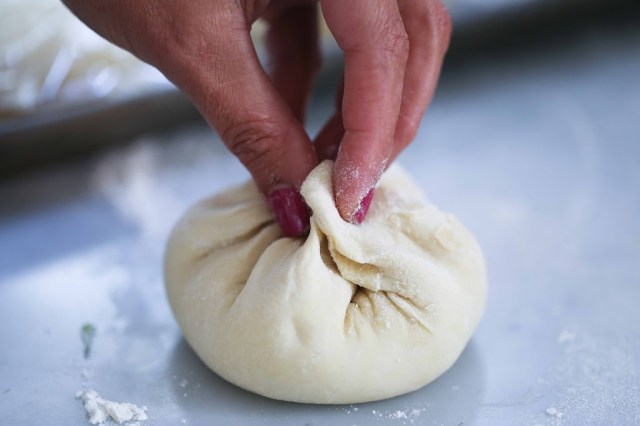 Once proofed, roll each ball to a thickness of about ¼-inch. Then place a dollop of whatever filling you'd like to use. I've gone as simple as shredded cheese mixed with thick chili. You're limited only by your imagination. But any cooked meat mixed with grated cheese and chopped onion is good—just combine that foundation with cream, cream cheese, or even seasoned tomato paste, for instance.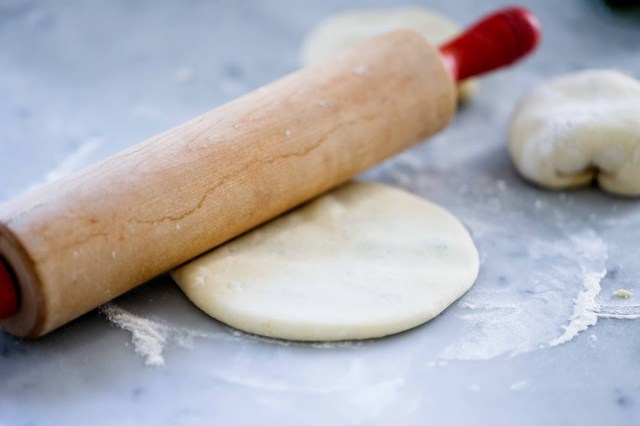 Next, pull the sides of the dough up over the filling and seal well. Place each filled dough ball seam-side down on a floured surface and gently flatten each ball to about a ½-inch to 1-inch thickness. Place each flattened ball on parchment-lined baking sheet. Let dough-filled naan rest while the oven is preheating.
Bake in a 350°F preheated oven for approximately 12 minutes. Watch them closely, however, so they don't over-bake. Serve hot. Leftovers can be refrigerated and and eaten cold.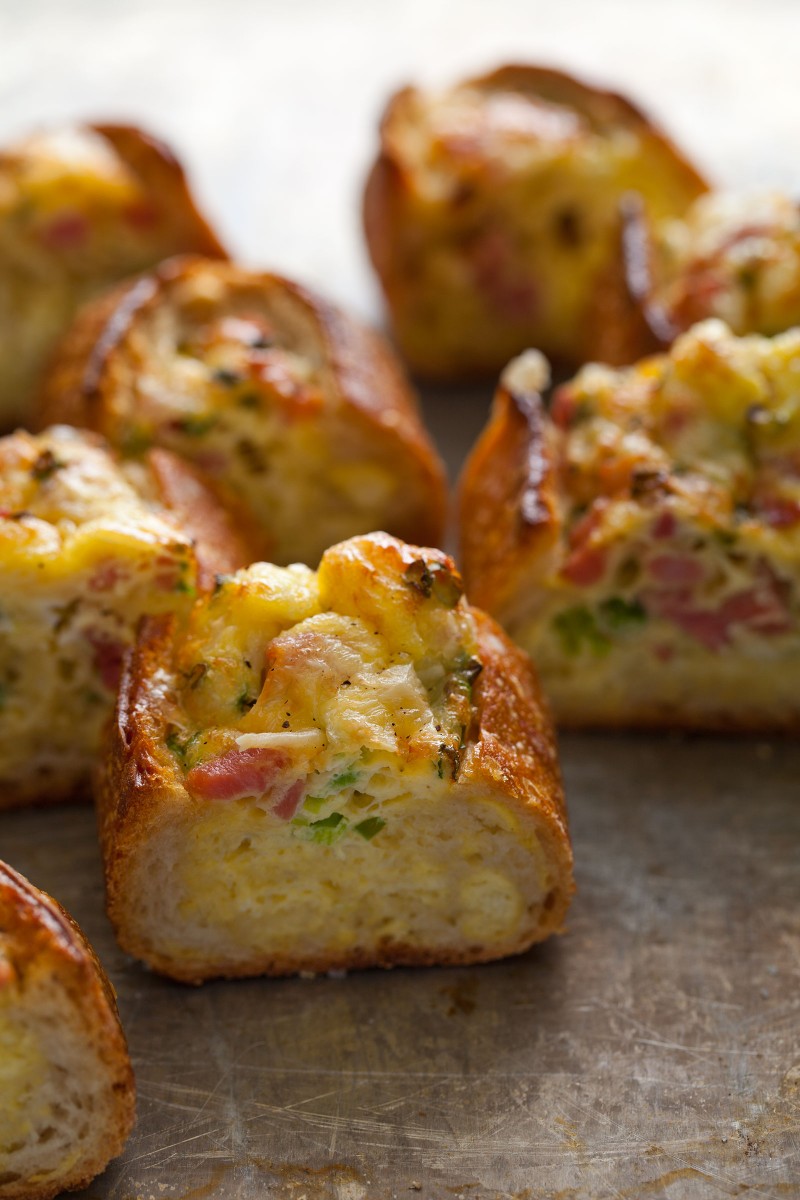 Moving on from naan, another very simple idea is to consider stuffing mini baguettes. For instance, how about baked egg boats? Stuffed bread for breakfast? You bet, or supper, for that matter. Filled with eggs, some leftover diced ham, shredded cheese, and a smattering of diced scallions, these bread boats are way better than anything you could order at the diner. 
All you need is 4 mini sourdough baguettes (or as many as you're planning to serve). Mix eggs (about 1 egg per baguette) with some cream (about 1/3 cup per baguette). Into this mixture add diced ham (maybe ½ cup per baguette—this is really to taste), grated cheese (any will work, but gruyere is especially delicious), and some thinly sliced green onions. Add salt and pepper to taste and there's your filling.
To fill baguettes, cut a deep "V" through the tops of each baguette until about a 1/2 inch to the bottom. Partially unstuff the baguettes. Set aside. Divide and pour the mixture into each baguette boat and place onto a parchment-lined baking sheet.
Bake for 20 minutes, or until golden brown in a 350°F preheated oven. You want them puffed and set in the center. Allow to cool for about 5 minutes, then cut and serve.

There are so many ways to stuff bread, but here's one last idea that is so simple your children or grandchildren can do this. It's Chicken Alfredo Rollups. These are perfect when it's dinner on the run, too. 




You start with a can of refrigerated crescent rolls. Remove rolls from the can and separate them into eight triangles. Top each triangle with a heaping tablespoon of your favorite chicken salad mixture (Costco has a great one if you don't have time to make your own). And by the way, I've done this with tuna and ham salads as well. You can't go wrong.

Starting with the wide end, roll up each triangle, tucking the ends underneath, and dredge in bread crumbs, pressing to coat. I also like to sprinkle grated Parmesan cheese atop these. Place seam-side down onto a prepared baking sheet and bake until golden brown, about 10-12 minutes.
Add Recipe to Cook'n
Sources:
www.lifeinthelofthouse.com
www.cleverhousewife.com
www.feastingathome.com
www.spoonforkbacon.com
www.damndelicious.net

Alice Osborne
Weekly Newsletter Contributor since 2006
Email the author! alice@dvo.com