The Soup Even Soup-Haters Will Love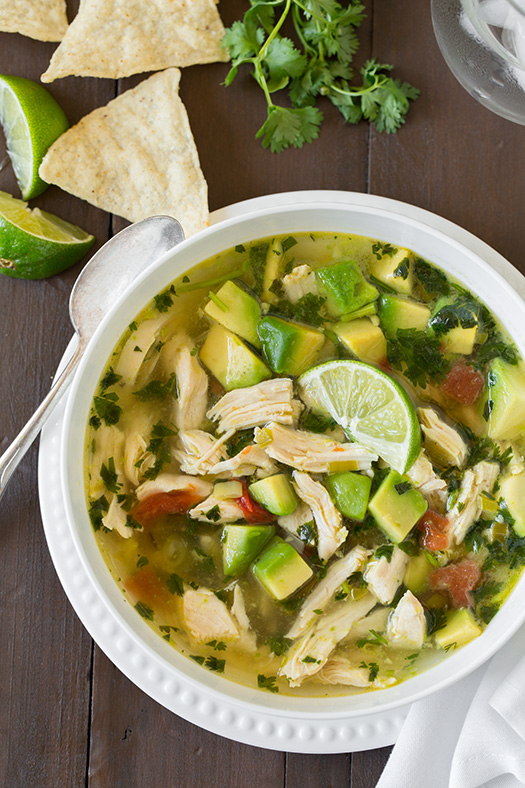 I love soup- my husband, not so much;). It's not that he doesn't like soup; it's just that he doesn't consider it a meal. I usually have to serve it with a whole bunch of bread, and even then he sometimes raids the fridge for a second dinner. He's usually not that excited when we have soup on the menu, but I still make it occasionally because I love it;).
However, I found a recipe that will definitely be a regular at our house. I'm sure he'd still appreciate a side of bread (who wouldn't!?), but this particular soup recipe actually had him going back for seconds, and in his words: "For being soup, this is actually pretty good". I'll take that as approval;).
I thought I'd share this recipe with all of you- Chicken Avacado Lime Soup. I knew I had to try this because it sounded so intriguing and my husband and I are BIG fans of the lime/cilantro combination- and especially when you throw in some avocado! The other great thing about this recipe- it's full of vegetables, and my kids actually ate their entire portion! That is huge at my house. If a 2 and 3 year old can eat a soup full of vegetables, you can too;). You will definitely want to try this recipe. Especially because things are cooling down and it's definitely time to start pulling out all the good soup recipes. This one is so unique, easy and flavorful that it just can't be left out of your meal plan!
This recipe is also super easy to make- the hardest part is just chopping all the vegetables (which is much easier if you have a manual food processor!). You can also put it together quickly, so it's the perfect recipe for a weeknight when you have a bunch of things going on but don't want to spend money on eating out.
Word to the wise: Don't forget the avocado!! You add it in just before serving. I served my kids and my husband their bowls and loaded it with avocado. Then I had to nurse my baby and by the time I went back to eat my bowl of soup, I had totally forgotten about the avocado until my bowl was gone!! Luckily there was a little remnant of the soup in the pot l so I could at least sample the flavor. The soup was good enough to stand on its own, but if you are a fan of avocado, you will definitely want to make sure you remember to add it! I also personally loved the addition of cheese and tortilla chips, but you definitely don't need these to make this soup incredible.
Chicken Avocado Lime Soup
Prep Time: 15 minutes
Cook Time: 20 minutes
Yield: About 6 servings
Ingredients
1 1/2 lbs boneless skinless chicken breasts*
1 Tbsp olive oil
1 cup chopped green onions (including whites, mince the whites)
2 jalapeños, seeded and minced (leave seeds if you want soup spicy, omit if you don't like heat)
2 cloves garlic, minced
4 (14.5 oz) cans low-sodium chicken broth
2 Roma tomatoes, seeded and diced
1/2 tsp ground cumin
Salt and freshly ground black pepper
1/3 cup chopped cilantro
3 Tbsp fresh lime juice
3 medium avocados, peeled, cored and diced
Tortilla chips, monterrey jack cheese, sour cream for serving (optional)
Directions
In a large pot heat 1 Tbsp olive oil over medium heat. Once hot, add green onions and jalapenos and saute until tender, about 2 minutes, adding garlic during last 30 seconds of sauteing. Add chicken broth, tomatoes, cumin, season with salt and pepper to taste and add chicken breasts. Bring mixture to a boil over medium-high heat. Then reduce heat to medium, cover with lid and allow to cook, stirring occasionally, until chicken has cooked through 10 - 15 minutes (cook time will vary based on thickness of chicken breasts). Reduce burner to warm heat, remove chicken from pan and let rest on a cutting board 5 minutes, then shred chicken and return to soup. Stir in cilantro and lime juice. Add avocados to soup just before serving (if you don't plan on serving the soup right away, I would recommend adding the avocados to each bowl individually, about 1/2 an avocado per serving). Serve with tortilla chips, cheese and sour cream if desired.
*For thicker chicken breasts, cut breasts in half through the length (thickness) of the breasts, they will cook faster and more evenly.
Add Recipe to Cook'n
Do you have any soup haters at your house, and if so, do you have a special go-to soup recipe? I'd love to hear all about it!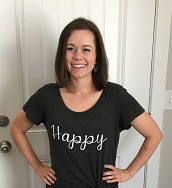 Camille Hoffmann
Weekly Newsletter Contributor since 2014
Email the author! camille@dvo.com