Delicious and Unique Side Dishes for Ham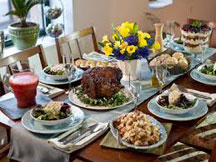 Whether it's an Easter dinner, or just a special family gathering, it's kind of nice to have some out-of-the-ordinary side dish recipes on hand, don't you think?
We traditionally serve ham for this holiday - in fact, we serve ham a lot for Sunday dinners. And honestly, I'm a little tired of Green Bean Casserole! It's time to get reckless and try something else as our ham accompaniment.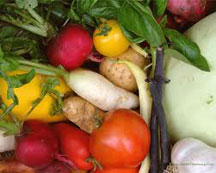 On myrecipes.com I found some recipes for unique side dishes that we'll be trying over the next few months. The lovely thing about these recipes is that they incorporate foods that are coming into season now - a welcome relief from the long cold winter we've endured.
The Two-Cheese Squash Casserole is my choice for this coming Easter dinner. Here are 4 suggested recipes, and THANK YOU myrecipes.com for saving us from yet another Green Bean Casserole!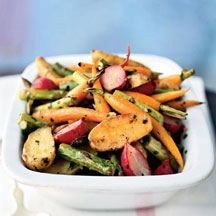 Roasted Baby Spring Vegetables. White balsamic vinegar is used to maintain the vegetables' vibrant hue. Look for baby carrots with tops, which have tender texture and subtly sweet flavor. Small carrots packed and sold as "baby" carrots are actually whittled-down mature vegetables. Prepared veggies, tossed in olive oil and your favorite herb blend (we love Spice Hunter's Deliciously Dill) are then roasted in a 500°F oven for about 20 minutes or until nicely browned.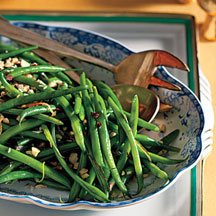 Whole Green Beans with Shallots and Hazelnuts. These green beans are easy to make and a healthy variation to the classic green bean casserole. The green beans can be blanched up to a day ahead and then sautéed just before serving. It takes 1 1/2 pounds of green beans to 4 shallots. Blanche the beans for about 3 minutes or until crisp-tender. Plunge beans into ice water; drain. Then in a large nonstick skillet over medium-high heat, heat oil and coat pan. Add shallots, and sauté for 3 minutes or until golden brown. Add beans and favorite seasonings - a little salt and pepper is all that's really needed. Toss everything well and cook for about 2 more minutes. Then sprinkle with hazelnuts before serving. Really fancy cooks will even take the time to toast the nuts before adding to the beans.
Fresh Peas with Mint and Green Onions. The combination of fresh peas with mint yield a harmonious and nutrition side dish. Peas are in the legume family, and these vegetables are typically high in protein and fiber, yet low in fat and cholesterol.
It takes about 4 pounds of fresh peas (and frozen will work) to 2 green onions. I used 12 chopped mint leaves and chopped chives (about 1/3 cup). Steam peas until tender, drain, and add chopped green onions and chives. Add some room-temperature butter (maybe 3 teaspoons) and a little salt to taste. Add in the mint leaves and combine lightly. Delicious!
Two Cheese Squash Casserole. This squash casserole recipe is a hit. You can make it for everything from family dinners to holiday buffets. It's rich, creamy, and sure to satisfy. I originally found it in a Southern Living Magazine, and it's showing up all over the place now, it's that good.
---
Two Cheese Squash Casserole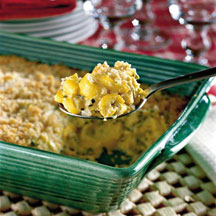 Ingredients:
4 pounds

yellow

squash

, sliced
4 tablespoons

butter

, divided
1

large

sweet onion

, finely chopped
2 cloves

garlic

, minced
2 1/2 cups

soft

bread crumbs

, divided
1 1/4 cups

shredded

Parmesan cheese

, divided
1 cup

shredded

Cheddar cheese
1/2 cup

chopped fresh

chives
1/2 cup

minced fresh

parsley
1 (8-ounce) container
sour cream
1 teaspoon
salt
1 teaspoon

freshly ground

pepper
2

large

eggs

, lightly beaten
1/4 teaspoon
garlic salt
Directions:
Cook squash in boiling water to cover in a large skillet 8 to 10 minutes or just until tender. Drain well; gently press between paper towels. Melt 2 tablespoons butter in skillet over medium-high heat; add onion and garlic, and saute 5 to 6 minutes or until tender. Remove skillet from heat; stir in squash, 1 cup breadcrumbs, 3/4 cup Parmesan cheese, and next 7 ingredients. Spoon into a lightly greased 13- x 9-inch baking dish. Melt remaining 2 tablespoons butter. Stir together melted butter, remaining 1 1/2 cups soft breadcrumbs, 1/2 cup Parmesan cheese, and garlic salt. Sprinkle mixture evenly over top of casserole. Bake at 350° for 35 to 40 minutes or until set.

Recipe formatted with the Cook'n Recipe Software from DVO Enterprises.
---
Sources:
www.foodnetwork.com
www.myrecipes.com
www.sf.funcheap.com