Basil: 5 Ways to Heal with It, 5 New Ways to Cook with It!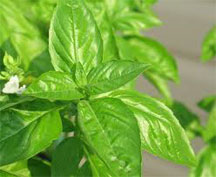 Sweet, silken and fragrant, basil is queen among healing herbs. And it's one of the most popular herbs grown in the home garden today.
Native to tropical nations such as India and Iran, it has been used for centuries in combating a staggering range of health problems. Grandmothers from times past prescribed it as a cure for almost every ill, ranging from coughs to cuts to malaria, and everything in between!
This was an ayurvedic way of healing, and we've come full circle now, giving basil a reverential status almost. While basil is fantastic in dishes, people aren't just cooking with it; they're using this lovely herb as an alternative to common over-the-counter medications.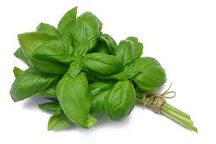 In case you didn't know, here are 5 ways to heal with basil, as found on the Care2 website:
• Pound 6 to 7 basil leaves with a pestle and mortar. Mix the paste with 1 tsp honey. Take this first thing in the morning to boost immunity and get relief from hypertension.
• Boil a handful of basil leaves in 4 cups of water. Strain the water and sip it, warm, every 30 minutes or so. Your throat will feel relieved, your stomach settled, and your senses calmed.
• If you dip a ball of cotton in basil-infused water and dab it on your skin, you will get instant relief from itchiness and sore skin.
• Sweet and wonderfully aromatic basil essential oil brings relief from inflammatory conditions such as joint ache and heartburn. It is also reputed to sharpen the mind and strengthen the nervous system.
• Applying a dot of basil essential oil on the tip of your nose and on your temples brings quick relief from stress.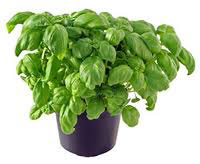 But healing or not, we still want to cook with it. So here are 5 fresh ways to cook with basil. When we think basil, it is usually in the context of pesto. There's so much more to basil than pesto, however. Here are some easy and exciting ideas on how to use this bountiful herb:
• Knead some fresh chopped basil leaves into your bread dough.
• Tear up a few leaves and scatter them upon your omelette, pizza or toast. Intensifies the aroma and flavor dramatically.
• How about trying a couple of finely chopped basil leaves in a tall glass of iced tea or a cool summer mocktail?
• Chop some basil leaves really fine, and whisk them into a knob of butter. You have delicious basil butter!
• Basil, tomato and mozzarella are a match made in culinary heaven! But you knew that, of course.