The Two Best Dish Towels Ever Made!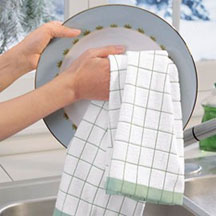 Many dish towels can't handle the smallest kitchen mishap. Some have zero absorbency, while others wipe up spills easily but stain just as readily. Then there are towels that shrink to the size of a tissue in the dryer or break delicate stemware with their bulk.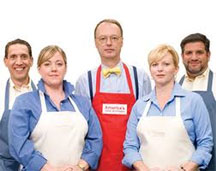 Cook's Country TV tested eight towels, from $2.50 to $8.99, in their search for a dish towel that would soak up liquid, dry dishes without streaks or destruction, and look good as new after washing. Their scrutiny and experiments were successful - they found the two best dish towels ever made. Here are their conclusions:
SOAKING IT UP: Their dish towels came in fabrics from microfiber to cotton, bamboo to rayon. Microfiber - a synthetic made by splitting polyester and polyamide fibers - stuck like Velcro to fingertips and fabrics. Cotton and cotton-blend towels differed radically, depending on the weave (flour sack, ribbed, or terry cloth). Bamboo felt cushy as a baby blanket. The most unusual was rayon, which promised to pick up 12 times its weight in water.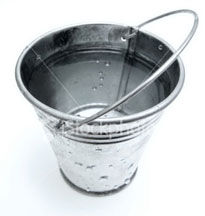 Cook's Country suspended each towel over a measured bucket of water, letting one end dangle in the liquid. After 15 minutes, they could see a rising line as towels soaked up water, except for a few towels, which simply floated. A microfiber towel was the thirstiest, drinking a full cup. But when they wiped up spilled water, it dried no better than other materials, more or less pushing the spill around. Overall, one towel performed best; its ribs created extra surface area to dry every last drop.
DELICATE TOUCH: Cook's Country dried glass and metal bowls, wine glasses, and delicate champagne flutes. Thick, high-pile cotton towels couldn't fit into narrow flutes, while flour sack and bamboo towels were so big and cumbersome (nearly 5 square feet) they were afraid they'd drop glassware. The most useful size was 3 square feet: One towel was just undersized, and another just oversized, but both were thin enough to maneuver in tight spots.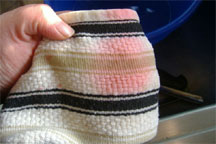 STAIN REMOVAL: To simulate messy spills, Cook's Country stained each towel with mustard, wine, soy sauce, beet juice, and oil, and let them sit over a weekend. On Monday they found a dry, caked-on mess. After one laundry cycle, only one towel was completely stain-free. Despite seven more laundry cycles, no other towels ever came clean.
SHRINKING VARIABLES: Every towel shrank a little after eight cycles of washing and drying. But bamboo towels underwent a sea change: They emerged from the machine curled, tattered, and truly miniature, with one brand shrinking by a whopping 53%. Microfiber towels, at 9%, shrank the least.
SUMMING UP: Innovative materials promised better absorption but often failed to deliver in the kitchen. While microfiber performed well, Cook's Country couldn't get past its uncomfortably prickly texture. In the end, they preferred the feel and absorbency of cotton, but some cotton towels were too bulky, and some couldn't stand up to demanding kitchen work.
Only a couple towels passed all their tests with near perfect scores: These are the towels we've all been waiting for. Now, there's no throwin' in the towel - we have no excuse for not drying the dishes!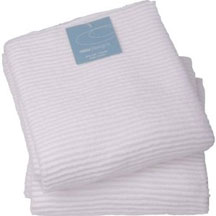 NOW DESIGNS RIPPLE TOWEL: A champion at soaking up spills, this well-proportioned towel left glassware streak-free and easily slipped into the smallest champagne flute. While it shrank slightly, its shape didn't distort, and just one trip through the washer and dryer got the stains out. ($7.95)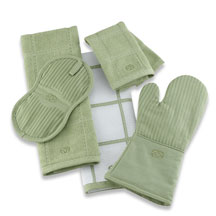 CALPHALON KITCHEN TOWEL ENSEMBLES: Extremely sturdy, this towel remained almost stain-free and new-looking, even after multiple washes. However, the thick material made drying champagne flute and wine glasses treacherous. ($6.99)
---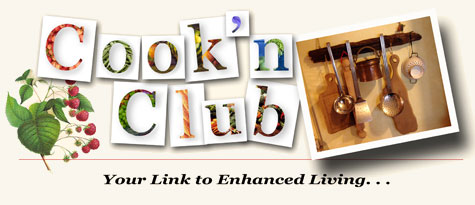 Contribute to the Cook'n Club!
DVO would love to publish your article, prose, photography and art as well as your cooking, kitchen and nutrition tips, tricks and secrets. Visit the Newsletter Submission / Win Win for All section in our Forum for more information and details.