Recipe Exchange -

What a Concept!
Recipe Exchanges have been around ever since folks started cooking. Since the advent of the Internet, these exchanges have gotten more specific, prolific, and terrific (sorry, couldn't resist the opportunity to toss in some alliteration).
You know what I mean: Just go out into cyberspace and you discover slow cooker recipe exchanges, Mexican food recipe exchanges, cookie recipe exchanges (one of the most popular), and so on.
Not too long ago I got an email from a friend who was passing on a general, what-have-you recipe exchange. "Don't break the chain" was the request; believe me, hundreds of folks kept this chain going. Me too. Who could resist the anticipation and excitement at what you might end up with, recipe-wise, in your in-box?
Here are just a few of the recipes that landed in my in-box. While I don't know them, I have to thank these two contributors — Babbett and Emarene, because these recipes are just delicious. Maybe you know these gals? If so, tell 'em I'm passing their treasures along and I am so glad they came my way! You pass them along, too, and voila! We've started our own recipe exchange!
---
Cheaters Enchiladas
Babbett Shewell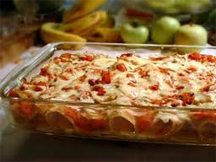 1 small container sour cream
12 ounces shredded Monterey Jack cheese
1 can green enchilada sauce
18 corn tortillas
1  can chopped black olives
cooked chicken or cooked hamburger (optional)
Preheat oven to 350 degrees F (175 degrees C). In a small bowl, combine the sour cream and 3/4 of the cheese. Into a 9x13 inch pan, pour a small amount of enchilada sauce to coat bottom of pan. Layer 6 tortillas on bottom of pan. Layer half of the cheese-sour cream mixture and 1/3 of the olives over the tortillas. Repeat this layer once more. Pour the remaining enchilada sauce over the final layer of tortillas. Bake for 20 minutes. Cut into squares and serve.
---
Chocolate Torte Cake
Emarene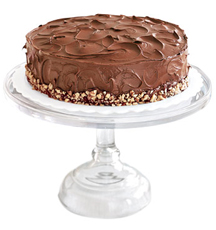 1 ½ cups finely chopped walnuts
1 ½ cups vanilla wafer crumbs
1 ½ cups brown sugar
1 cup butter
1 Swiss or German chocolate cake mix
1 pint whipping cream sweetened with powdered sugar and 1/3 cup baking cocoa
Melt butter and stir in nuts, crumbs and sugar. Press equally into four 9 inch round cake pans lined with parchment paper. Make cake according to directions on box and pour over crumb mixture in the 4 cake pans. Bake at 350 for 20-30 minutes. Cool 10 minutes and turn out of pans and remove parchment paper. When cool assemble with whipped cream between each layer (torte side up) and frost top and sides. Keep refrigerated. Best when prepared earlier and torte is allowed to soften.
Instructions for sheet cake: 2 jelly roll pans (15 x 10 inch), 2 cake mixes –one for each pan 1 ½ times the crumb mixture. (Divide between 2 pans)
---
Fruited Chicken Salad
Emarene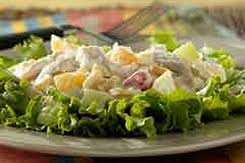 1 ½ cups uncooked wild rice
9 cups cut-up cooked chicken or turkey
3 cups thinly sliced celery
¾ cup sliced green onions
½ pound whole green seedless grapes (1 cup)
1 ½ pounds whole red seedless grapes (3 cups)
3 to 3 ½ cups mayonnaise
¼ cup lemon juice
½ teaspoon salt
½ teaspoon white pepper
1 teaspoon of sugar
Cashews
Cook wild rice in boiling salted water (2 quarts water, 1 teaspoon salt) until almost tender (5-8 minutes); drain. Rinse with cold water; drain. In large bowl, combine rice, chicken, celery, green onions, and grapes. In small bowl, combine mayonnaise, lemon juice, salt, sugar and pepper; fold into chicken mixture. Refrigerate, covered.
To Serve: Line large serving platter with kale leaves; spoon salad onto greens. Sprinkle with cashews. Amount 20 cups.  
---
Cream of Tomato Soup
Emarene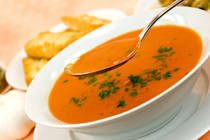 1 tablespoon chicken base (paste form)
1 cup water
1 oz butter
2 tablespoons sugar
1 tablespoon chopped onion
½ tsp baking soda
16 ounce can diced tomatoes in puree
16 ounce can crushed tomatoes
8 ounce heavy whipping cream
8 ounce liquid coffee creamer
Combine chicken base, water, butter, chopped onion and sugar. Simmer until onions are clear. Add tomatoes, baking soda and stir well. Add cream, liquid creamer and heat to serve.
---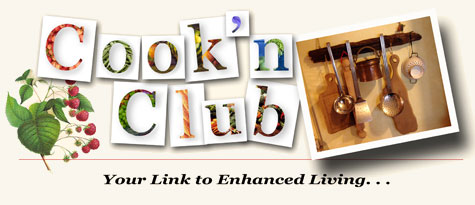 Contribute to the Cook'n Club!
DVO would love to publish your article, prose, photography and art as well as your cooking, kitchen and nutrition tips, tricks and secrets. Visit the Newsletter Submission / Win Win for All section in our Forum for more information and details.