My Aunt Annie got a big kick out of surprising us with yummy things to eat when we'd visit. No effort was too much for her favorite nieces and nephews. And she was the "scratch cook par excellence," which made what she had to share all the more awesome, because we knew whatever it was didn't come from a jar or box.
One favorite treat we still talk about to this day is her Homemade Fudge Sauce. We poured this sweetness over everything—pie, cake, pudding, cream puffs, donuts, and especially ice cream. (We even dipped spoonfuls of old fashioned peanut butter in it—Resse's Peanut Butter Cups had nothin' on us!)
What was really cool about Aunt Annie, too, was that she was way ahead of her time. She was using stuff like agave syrup before it became the latest thing to do. Here's her recipe for what we considered absolutely decadent fudge sauce:
Aunt Annie's Amazing Fudge Sauce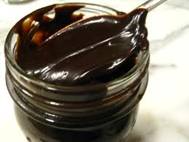 1 cup agave or maple syrup
Pinch of sea salt
1/2 -2/3 cup powdered unsweetened cocoa or bakers unsweetened cocoa (or more to taste)
1 tsp vanilla extract
Measure 1 cup of maple syrup or agave and warm in a sauce pan on the stove – on low or in a double boiler (a double boiler will make sure that it won't burn – it is a 2 pan set with water below so that the chocolate never gets above 212 degrees, which is the temperature of steam). Add a pinch of sea salt to the warm syrup. Add powdered unsweetened cocoa or bakers unsweetened cocoa – add little bits at a time until YOU like the balance of sweet and chocolaty. (Use only unsweetened cocoa – everything else has added sugar.)
When you have it perfectly sweet and chocolaty, turn the heat off and add a teaspoon of vanilla extract l – this brings out the flavors. Your fudge sauce is done and will last in the fridge for at least a month. It WILL thicken in the fridge but don't worry. To make it more liquidly, just place some fudge back on the stove and warm slowly – it will become liquid again (the viscosity/thickness is decreased).

Download this recipe.
---
(If YOU have a smart idea, won't you share it? Life is so much easier and we accomplish so much more when we pool our resources. And after all, we're all in this together. So email
patty@dvo.com
or
alice@dvo.com
with YOUR The Glorious Asparagus Spear!)
---
Contribute to the Cook'n Club!
DVO would love to publish your article, prose, photography and art as well as your cooking, kitchen and nutrition tips, tricks and secrets. Visit the Newsletter Submission / Win Win for All section in our Forum for more information and details.
---