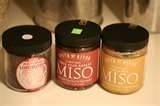 I would bet that the only time we hear the word "miso" is when we go to a Japanese restaurant and the delicious miso soup is brought to our table. In reading up on this ingredient, I discovered that miso comes in a variety of colors and variations.
According to one of my favorite web-sites, Care2.org, red miso has a rich, savory, salty flavor; light yellow miso is less salty with a subtle tartness and smooth texture; and white miso features a more delicate flavor. You see this variety because some misos — in addition to their base of legumes or grains, and the mold, called koji, added to ferment them — can contain brown rice, white rice, barley, wheat, buckwheat or ginger.
Today, we can find miso in health food markets, Japanese markets, and even in some local food markets. When purchasing miso, avoid the pasteurized version and spend the extra money on the live enzyme product with is, according to Care2, "loaded with beneficial microorganisms."
The 10 scientifically researched benefits of eating miso

1.
Contains all essential amino acids, making it a complete protein.
2.
Stimulates the secretion of digestive fluids in the stomach.
3.
Restores beneficial probiotics to the intestines.
4.
Aids in the digestion and assimilation of other foods in the intestines.
5.
Is a good vegetable-quality source of B vitamins (especially B12).
6.
Strengthens the quality of blood and lymph fluid.
7.
Reduces risk for breast, prostate, lung and colon cancers.
8.
Protects against radiation due to dipilocolonic acid, an alkaloid that chelates heavy metals and discharges them from the body.
9.
Strengthens the immune system and helps to lower LDL cholesterol.
10.
High in antioxidants that protects against free radicals
Chef Cary Neff, president of the consulting firm Culinary Innovations and the author of the
New York Times
bestseller
Conscious Cuisine
(Sourcebooks, 2002) shares some of these ideas for using miso in our every-day use.
Eat Up!
Miso is a delicate, living food, so take care to add it at the end of cooking. It's good practice to remove your dish from heat and then stir in miso. If reheating, use low heat and bring to a light simmer. Avoid boiling.
For a quick and easy miso broth, mix 2 cups of water with 2 tablespoons of miso. Adjust the amount according to the type of miso used and your taste preference. Add any desired ingredients.

For miso mayonnaise, combine 1/3 cup of mayonnaise with 2 tablespoons of white miso. Use in salads or on sandwiches — anywhere you would use mayonnaise.

Miso marinade or basting sauce is delicious with tofu, chicken, beef or salmon. Mix 2 tablespoons of red miso, 1 teaspoon of canola oil, 1/2 teaspoon of agave nectar, 1/2 teaspoon of grated ginger, 1/4 teaspoon of minced garlic and 2 tablespoons of water.

Kitchen Tricks


If smaller containers are available at your grocery store, try buying a variety of miso flavors to test in different recipes.


Miso paste will keep several months in the refrigerator. For miso in plastic bags, take care to remove excess air from the bag after opening, or move the miso to an airtight container. If purchasing in bulk, buy from vendors who practice safe food handling and be sure the miso is fresh.

Healthy Miso Dressing



1 teaspoon Dijon type mustard
2 1/2 tablespoons rice or cider vinegar
1/2 cup extra virgin olive oil
1 tablespoon unrefined flaxseed oil
1 tablespoon Sweet White Miso or other light variety

With fork, mix miso, mustard, and vinegar in small bowl. Slowly add olive oil while stirring with fork until oil is well mixed or emulsified. Add flax oil. Pour into jar with lid and shake vigorously. Use immediately.

Download this recipe.
Miso Soup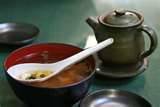 2 teaspoons dashi granules
4 cups water
3 tablespoons miso paste
1 (8 ounce) package silken tofu, diced
2 green onions, sliced diagonally into 1/2 inch pieces
1. In a medium saucepan over medium-high heat, combine dashi granules and water; bring to a boil. Reduce heat to medium, and whisk in the miso paste. Stir in tofu. Separate the layers of the green onions, and add them to the soup. Simmer gently for 2 to 3 minutes before serving.
---
Contribute to the Cook'n Club!
DVO would love to publish your article, prose, photography and art as well as your cooking, kitchen and nutrition tips, tricks and secrets. Visit the Newsletter Submission / Win Win for All section in our Forum for more information and details.
---
---